| | | |
| --- | --- | --- |
| | Reciprocal invitation and exchange ideas between Siroua Hotel Inn at Taliouine (Taroudant Province), Morocco and L'Etoile Guesthouse in La Bastide-Puylaurent, Lozere, Occitanie, France. | |
Siroua Inn on the High Atlas in Taliouine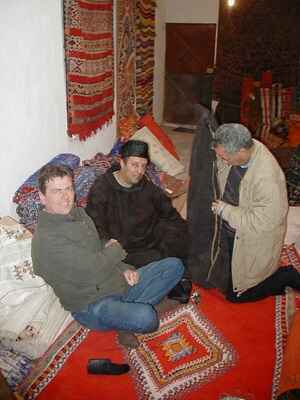 From one taxi cab to the other one, I finally reach Taliouine from Zagora via Agdz, Ouarzazate, Taznakht by the Agadir road. This way of transportation is really efficient and it's a good deal. You just have to find a front seat so that you don't get sick on winding mountain road (especially in Peugeots 504 break). We were 12 between Ouarzazate and Taznakht, it comes to 12 by seat. I was lucky on my front seat together with the driver holding the steering wheel, his neighbor changing gears and. the "berber" music coming out from those old cassettes and making us patient. Anyway, even if there are many car accidents in Morocco we are all in Allah's hands. So go ahead, life goes on.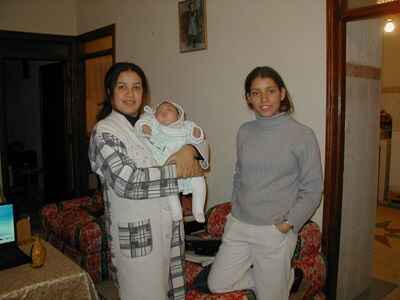 By chance, I arrive to Taznakht during the market day and immediately I plunge into this atmosphere worthy the best movies or the best Tintin. A half an hour of waiting for my next taxi cab (the time space necessary to fill up the car) is a good occasion to breath a bit. I also taste a delicious "tagine" at 20 dirams on the terrace of a small coffee shop in the very center of the "souk" surrounded by carpet salesmen.
At last Taliouine,.I found the Siroua guesthouse in a tiny street on the left side from the main avenue. I pass through the big glass entrance and here I am, my second visit can start. Mohammed Gheris, the boss, and his two friends, Monssef - an artist and Hamid -a philosopher. The three of us are comfortably seated in this huge restaurant lounge remaking the world above a cup of coffee and cookies. Three personalities with whom I really appreciated to share the meals and spend time on hikes and visits. I was a kind of d'Artagnan joining the three Musketeers.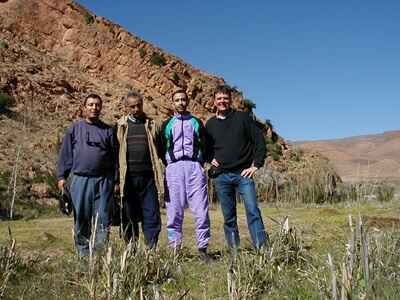 Mohammed told "Med" is an innkeeper and professor at the university of Marrakech at the same time. He lives in this big city with his wife Samia and his two children. He has a vision of modern Morocco opened towards abroad. I would see him very easily as a freelance journalist . I really appreciated his invitation ! Monssef is a real character ! Artiste and intellectual, he drags us in a vision of the world which is kind of surrealistic. He is a great mate, he'll accompany us for a few days during our trip. Hamid, he does not talk much, a bit older, he irradiate certain serenity as if he was yielding up the young generation... Walking in our company is enough for him and then.he has so many friends in Marrakech, he who used to be a receptionist in a big hotel in Ouarzazate.
In spite of draughts the valleys around Taliouine are green and the life in small villages is very lively. You can always see crowds of playing kids and working women whose smiles and kindness thrill me every time I meet one. Few men seated on the terrace of a bistro invite me to share their couscous. We are going from one village to the other by tiny dirt pathways crossing the creeks wading. Here, three women are doing the laundry and a man pass by with his mule. After pick-nick on a terrace with the view of the valley and in a shade of blooming almond tree, Mohammed leads us to a small and nice synagogue and to an old and deserted Kasbah which seems nothing else than to be restored so at once the projects are being set...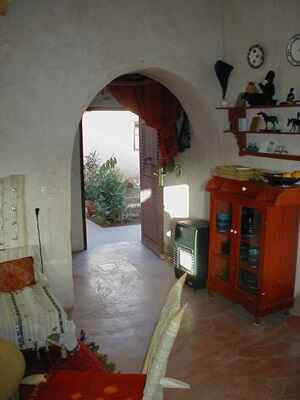 On the way to Marrakech, we stop in Taznakht and drop by some friend's antique store. The entrance of his house is hidden by a large hanging carpet; it's a magic place where only friends of the friends can drink the tee.
Very proud of his last discovery, the antiquarian let us see a berber "djelabah" originated from 19th century which is worth small fortune. Here, we are really welcome, the artificial tourism has not yet polluted the relationship between human beings. The lesson which I keep for myself for "L'Etoile Guesthouse".
We bump on a tiny road on our right after few kilometers from Ouarzazate. It leads us to Ait Ben Haddou. A breathtaking Kasbah covering whole side of the hill. Mohammed knows the manager of the hotel "La Kasbah" situated right opposite with a gorgeous view of the monuments. Big tourist attraction by excellence with small souvenir and collectible boutiques on each side of the main street selling to the tourists from all over the world. Abderrahmane Tebbou, the boss invites me to stay my last two days in Morocco at his spacious hotel. Very kind but too busy,. I won't have occasion to see him very often. It's going to be two days of rest and transition between Africa and Europe.
Before crossing the high mountains I stop for a while at Ahmed & Catherine to have a tee and small cookies. This french-moroccan couple opened a great guesthouse on the mountain side. We are comfortably seated on the terrace and the outlook towards the valley ahead of us is magnificent. The interior of the guesthouse is attentively and nicely done, a small inside yard full of charm leads to the rooms.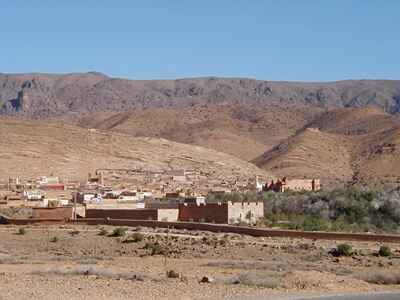 Mohammed Gheris has a real sense of welcoming people and we spent together 4 great days in Marrakech. His whole family has the heart opened and I really appreciate to meet all of them. I met Salua (Mohammed's sister) and Samia in the kitchen and they spoiled us with their small delicious dishes and also with their presence.
Mohammed's father is a retired colonel and he knows the whole history of Northern Africa very well. We are leaving for Egypt and Nasser's nationalization in 1956.
An important date for my family because my grand father lost at that time his whole fortune in a few hours just before having left for Belgium. He owned l'Hotel de Paris in Cairo, big prestigious palace for intellectuals and businessmen. We can still feel this atmosphere of 30s walking in the streets of Cairo and Alexandria.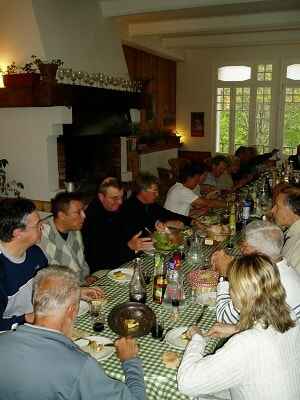 Two streets further lives an other friend: Khalid, we'll discover hidden and mysterious places of Marrakech and go to Medina with him. The crowd here does not scare storks nesting peacefully in heights.
Khalid is telling me about his 17 years spent in Canada and next departure for Jakarta in Indonesia where is waiting for him his girlfriend, architect. This guy is extremely interesting and we had passionate discussions together !
Next day in the morning, Mohammed meets me at the Business University of Marrakech and I will talk to his students about my vision of business and about "L'Etoile Guesthouse". Half an hour in each of his two classes let me plunge to an other world and to see in what extent my opinion is coherent. The students are open-minded and interested. They have lot of questions and I feel immediately their motivation and energy to open themselves to the world.
Once more, I spent an enriching moment thanks to my host !
Siroua Hotel Inn at Taliouine, Taroudant Province, Morocco - Map

L'Etoile Guesthouse is looking for 1 motivated trainee, with training course contract from May 20 till September 20. Internship in France

Old romantic Hotel, L'Etoile Guest-House is a mountain retreat in the South of France. With a beautiful park along the Allier River, L'Etoile Guesthouse is located in La Bastide-Puylaurent between Lozere, Ardeche and Cevennes. Many hiking trails like GR®7, GR®70 Stevenson trail, GR®72, GR®700 Regordane way, Cevenol, GR®470 Allier river, Margeride. Many hiking loops. The right place to relax.

Copyright © etoile.fr