| | | |
| --- | --- | --- |
| | Reciprocal invitation and exchanges ideas between Flying L Ranch in Glenwood, Washington state, USA and L'Etoile Guest-House in La Bastide-Puylaurent, Lozere, France. | |
Flying L Ranch Country Inn, Glenwood, Mont Adams, WA, USA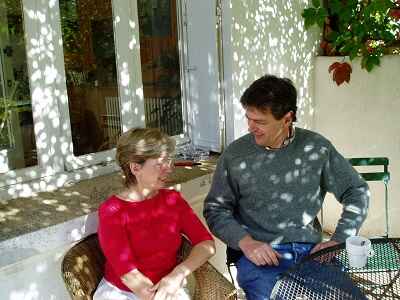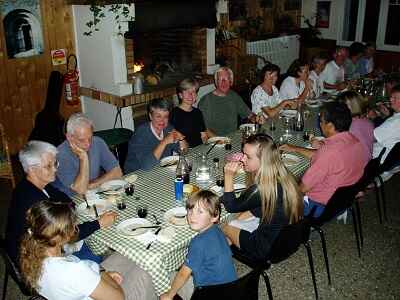 Drive 4 hours from Prairie City and you will reach the Columbia River and the border between Washington state and Oregon. Highway 26 follows the current flow of the John Day River to Daysville and then Highway 19 takes over the relay down to Condon.
I drive through the place called "Service Creek" where I meet Jana and Rich Zwicker, owners of the "Service Creek Stage Stop", cafe, restaurant, B&B, grocery store and raft rental place. Then I attain the heights with giant wind power plants before going down to Wasco and Biggs.
The cold is dry and energizing, the majestic machines generating electric power are turning on full load. The electricity is not expensive here, it is supplied to a high degree by hydroelectric dams and light technologies.
After having crossed the Columbia River in The Dalles, 1 km wide at this place and 1 mile before it flows into the Pacific Ocean, you follow the Highway 14 going through Lyle, Bingen and then White Salmon. The last stop in the "modern civilization!" before climbing up the north flank by Highway 141 towards Trout Lake, BZ Corner and Glenwood and before plunging into preserved valleys .
A slightly undulating plateau with Mt. Adams covered with snow (12 276' feet high which is about 4000 meters) rising far above on the horizon. It is like a picture. Farms, ranches, trailers, cabins interspersed here and there. Two consecutive gunshots resounded and reminded me that we are in full hunting season. The Americans are crazy about these small vehicles called "quad" in France and an "ATV" here. It enables farmers to gather the livestock very easily and to go hunting by all trails. As soon as the snow falls down it is replaced by snow scooters.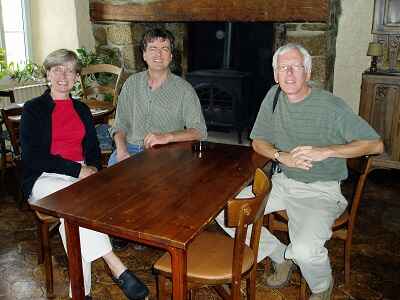 Glenwood is a half ghost town; still there are two cafe-bar-restaurants, a gas station, a grocery shop, a small post office being worth a visit and a tiny school being worth its pupils. Some huge conifers, ponderosa and lodgepole pine are dominating the wooden cabins partly abandoned and dilapidated.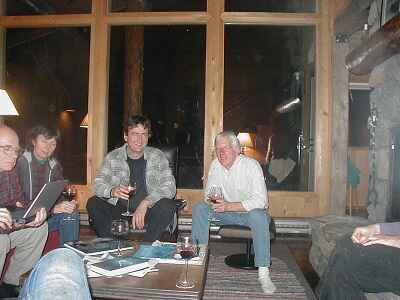 Winter is endless here, the snow stays for some months and as a native proverb says "if the white man's cutting a whale of wood the winter is going to be rough !" On your right, about 1 mile from the road, you will find the "Flying L Ranch", a "Country-Inn Bed and Breakfast" run by Jeff Berend and Jacquie Perry.
They settled here 6 years ago and the majority of their clients are hikers, couples looking for tranquility and business people on meetings here. Mostly they come the 2 hours distance from Portland; few French, some Japanese, Australians, English and Canadians. 80 acres of land with 9 wooden buildings, the principal one has a big lounge with a fire place and an old piano. The piano has a perfect resonance and keys for my music style, a sound giving me a pleasure to play and play again.
The lounge is spacious and cozy, large sun windows allow you to enjoy the view of Mt. Adams with dogs lying in the sunny prairie in front of the house. After the breakfast (orange juice, bread with nuts, fruit salad, new roasted potatoes, stirred eggs and coffee) Jeff drives me in his truck to the forest to cut the wood. His dog Bailey can not miss the trip.
Jeff will come to La Bastide-Puylaurent next May and he would like already to know a few words in French. It is not easy, we would say he has a hot potato in his mouth when he's trying to pronounce the "r"... Finally, with a big effort, "assis" for his dog, "je ne parlai pas français", "bon" or "bien" ? I do not know the real difference, either; the French is really complicated. But Jeff insists and wants to give a good image of the United States in France.
There is a wood stove in each cabin and a small but efficient and silent electric radiator in each room. All the heating wood is from their property but it's long and hard work. Cutting, cleaning, picking up, stacking up, drying... No doubt, it is better to do and not count the labor... But it is true that the place is really nice and it's a pleasure to stay outside all the day.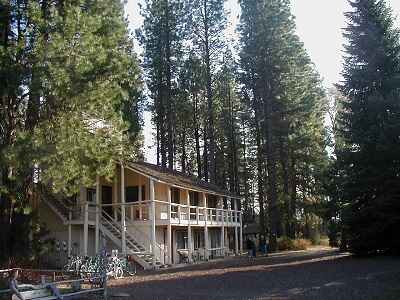 Jacquie just came back from Mexico where she stayed a week to take a breath and forget for a while her busy life. She is in good shape and has a lots of new ideas. Her specialty is to attract groups of business people wanting to meet for seminars. She knows many people in Portland and its surroundings. She is an interesting woman, she has also a big heart and treats me as if I were a member of her family. She has this global way of seeing things which is common for successful people. I am curious about what is she going to think about my L'Etoile next May.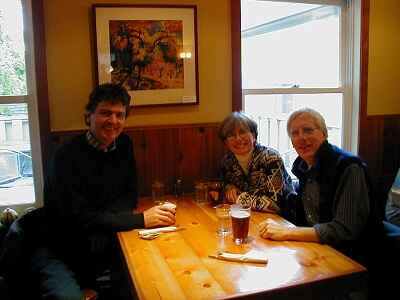 If you want to go shopping you have to go down to White Salmon in Washington state or Hood River in Oregon state. In Oregon they would serve you the gas, in WA you have to serve it by yourself. Hood River is more important than White Salmon and Bingen together.It is the place where we cross the Columbia river by a suspension bridge and you have to pay the toll of 75 cents or 65 cents if you have prepaid coupons.
There is everything for farmers, ranchers, hunters, hippie communities, gold-diggers, for all this people living in those deep forests and valleys or alongside the creeks. All clients have similar features ; long beards, logging boots, big and dusty pickups with happy dogs sitting in the hull full of merchandise and wares.
The hippie generation of Americans is now about 50 years old but still keeps a bit their look of Neil Young; they don't travel so much any more, they meet each other in couples of different life style, they invite each other to have a tea or dinner, one is cultivating wine, the other produces wine or aperitif. They are talking politics and recent government but also the last recipe for the delicious fruit cake prepared by Elisabeth.
And what does our French friend think about the American position in politics ? Response: "No much idea..." Maybe the diplomacy is not monopolized any more by "diplomats with diplomas". The inn-keepers exchange is the way of exchanging ideas and also the way how to appreciate each other. Why not create more partnership among people.
Flying L Ranch à Glenwood, Trout Lake, Mt Adams, Washington states, USA - Map
L'Etoile Guesthouse is looking for 1 motivated trainee, with training course contract from May 20 till September 20. Internship in France

Old romantic Hotel, L'Etoile Guest-House is a mountain retreat in the South of France. With a beautiful park along the Allier River, L'Etoile Guesthouse is located in La Bastide-Puylaurent between Lozere, Ardeche and Cevennes. Many hiking trails like GR®7, GR®70 Stevenson trail, GR®72, GR®700 Regordane way, Cevenol, GR®470 Allier river, Margeride. Many hiking loops. The right place to relax.
Copyright © etoile.fr