| | | |
| --- | --- | --- |
| | Reciprocal invitation and exchanges ideas between Le Rendez-vous B&B Restaurant in Tucson, Arizona, USA and L'Etoile Guesthouse in La Bastide-Puylaurent, Lozere, France. | |
Jean-Claude Berger and his welcome open hands and open heart
It is the third time I am in Tucson and the third time, I am spontaneously and really welcome by Jean-Claude and Martha, his wife.Jean-Claude comes from St. Dizier in Haute Marne district, eastern France and Martha is of Maxican origin.She came to the United States from Hermosillo in Sonora district. Their Tucson B&B, "Le Rendez-Vous", is not big but very comfortable and pleasant; a large room, a balcony heading towards Lemon Mountain in Coronado National Forest, a swimming pool and a large terrace with a view of Tucson.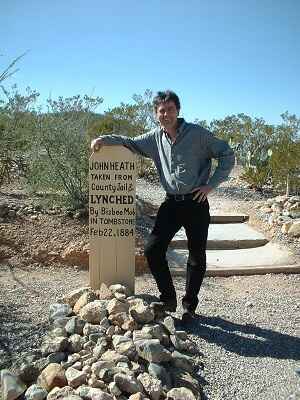 We left for Jean-Claude's restaurant on Fort Lowell Avenue in his beautiful Mercedes. Everything is different with Jean-Claude; he takes you to his own world, his own space and to his life dynamism.
Maturity, wisdom, always eager to take advantage of new opportunities, ready to invest and accept challenges. This is Jean-Claude. Being with him, it means taking a real life lecture. Have large-scale plans and young spirit, be able to grasp the chance and stay positive. A kind of organized and mature anti-conformity.
We all have our "older brother" and mine is Jean-Claude. We would say that he knew how to make use of attractive features of both, France and United States. I have always thought these two countries were complementary.
Sunday, 8 o'clock in the morning. A Mexican Mass is celebrated in the St. Augustine's Catholic Church. "Mariachis" (musicians in folk costumes) accompany the sermon with their string instruments and with songs. The church is crowded and I find myself buried in a different world. The believers' zeal is as strong as their passion for brand new off-road cars waiting for them in the parking lot. Martha feels good here, she finds all the humanity and tenderness, "commodities" which tend to be put rather aside in the United States. The business is the first.
Family, screaming children, singing, talking and a good Mexican meal washed down with a good "vino" afterward. Making party in a simplicity and spontaneity, this is the Mexican art of living. A half of population in Tucson is comes from Mexico and the immigration doesn't seem to slow down. It is an hour drive to Mexico from Tucson. The border town is Nogales, the market place 'par excellence'.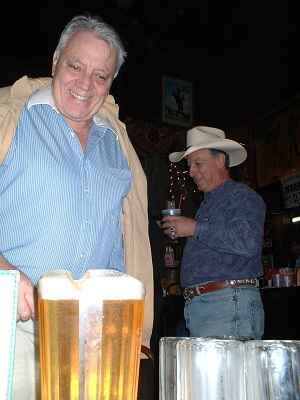 Back in B&B, Jean-Claude makes us visit his friend; father Henry, from black monk monastery The Holy Trinity in a small town of St. David. Father Henry is just coming out from a small church, dressed all in white and smiling: "Come in and have a coffee", he invites us in perfect French. He is a radiating, 46 years old man in charge of this tiny monastery with 7 monks. He leads it with wisdom willing to fulfill his 6 years mission of father prior. You can stay in the community as long as you wish and pay a derisory amount of money (some 40$ a day in 2003) for full board service.
Do you know Tombstone? It is a famous village of American Far West where a number of western movies were shot. A meeting place of travelling bikers, most of them on Harley-Davidson. The main street hasn't changed since 1852 except for the blacktop that replaced beaten, dry and dusty road. It was windy that day and tufts of grass and twigs rolled in front of me like in a western movie. There were cowboys as well on wooden sidewalks and then, the saloon, crowded with people drinking beer to the sounds of the country music.
Further off, the cemetery where Billy the Kid and Mully brothers were buried. The same life story as of all the others; they didn't die a natural death. Hanged, killed, lynched or simply dead with thirst. Nowadays, they belong to the American history and even to the national heritage.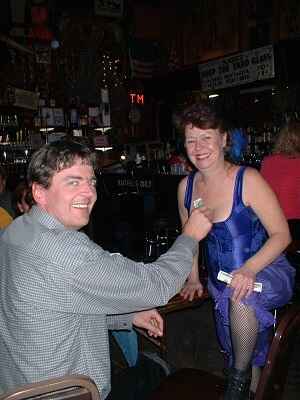 What to visit in Tucson? Without hesitation, I propose you to have your lunch at "Sweet Tomatoes" For some 7$30 you can have all you can eat, all kinds of vegetables, delicious pasta as well as special desserts such as brownies accompanied with vanilla cream and chocolate sauce. The place is clean and spacious, people are nice and the food is of a good quality. If only we could have this in Europe. You can't miss it; it is on Stone Avenue opposite the Tucson Mall.
There is "The Bun Steer" on Oracle Avenue; a big hangar painted in wine red color thus remaining farms in Ohio State. Inside, there is a big saloon on three stories.
A real flea market hung up to the ceiling where you can find everything and in an important quantity. It has been opened since 37 years and this is really a place to be visited.
The cowboys meeting place is "Maverick" on Wilmont Avenue close to Speedway Avenue. Everybody there is dressed up to the nines and we would say nothing here has changed since. A strong country culture without surprise. I feel myself closer to the Blue grass music of North Carolina, in the region of Cherokee tribe. Not only the size and width of roads, parking lots, cycling tracks and sidewalks but the space in general - university campus, desert, sky and people's brightness and open way of perceiving new opportunities - is what I like in Tucson. The Eldorado has remained in American people's minds and is well integrated to their system.
Jean-Claude Berger is an innkeeper I really love to meet; he gave me a generous welcome in its very moment. The innkeepers exchanges allow questioning themselves, learning and reviving. The art of welcoming is something lifelike which keeps developing. It's up to us to discover its charm.
"Le Rendez-vous" Bed & Breakfast Restaurant, Tucson, Arizona - Map
L'Etoile Guesthouse is looking for 1 motivated trainee, with training course contract from May 20 till September 20. Internship in France

Old romantic Hotel, L'Etoile Guest-House is a mountain retreat in the South of France. With a beautiful park along the Allier River, L'Etoile Guesthouse is located in La Bastide-Puylaurent between Lozere, Ardeche and Cevennes. Many hiking trails like GR®7, GR®70 Stevenson trail, GR®72, GR®700 Regordane way, Cevenol, GR®470 Allier river, Margeride. Many hiking loops. The right place to relax.
Copyright © etoile.fr