| | | |
| --- | --- | --- |
| | Reciprocal invitation and exchanges ideas between Riverside School House B&B in Prairie City, Oregon, USA and L'Etoile Guesthouse in La Bastide-Puylaurent, Lozere, France. | |
Riverside House Cowboy life in American Far West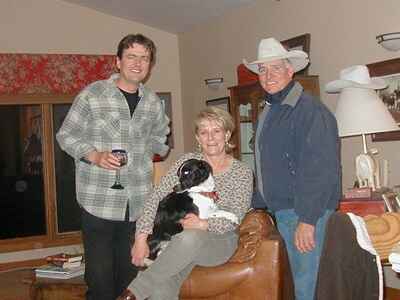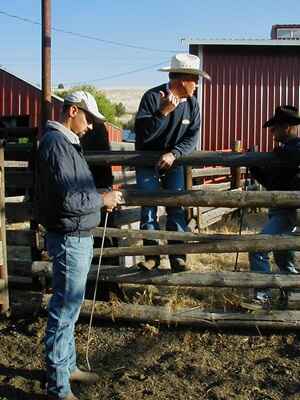 Embarked in Alan's big truck transporting 10 calves we are heading towards I do not know where but we are well-disposed and in a good company. Alan knows where is he going and is familiar with his job of a rancher.
As the tenant of 10 000 acres and as the owner of other 2 000 acres of land, 1000 pieces of livestock and 8 horses he is running his ranch with easiness, reliability and with everlasting smile. His son Jim - with his hulky appearance but great personality - is driving the other big truck in which you can load up to 50 animals.
After having passed three peaks slightly covered with snow we arrive to the gold and silver mining area. There are a couple of villages similar to "Ironside" along the Highway 26 but many abandoned houses making our trip more interesting.
Alan is interested in everything. Driving carefully he explains to me that during a few years in the 40s his father was renting a placer mining in Columbia together with his sister-in-law. He did not really make a fortune with the gold but washing the earth with a help of a hundred workers he bumped on a quantity of precious objects left there by Indians.
The majority of this treasure was composed of earrings, nose-rings and other jewels made from pure gold. After having crossed the border with the treasure hidden under the coat the Jacobs ' family kept it carefully in a suitcase and now it is a part of a family property.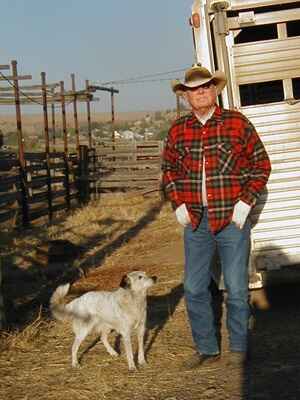 More than one hour ride and we arrived to a broad valley with wooden enclosures on our right hand surrounding already about 250 pieces of the cattle.
As soon as the yellow-colored truck with the name of "Riverside Ranch" stopped the discharge of calves begun and we could only hear the reverberating noise of hooves resounding on the metal floor.
Then pounded by four at the same time the calves are led towards a corridor and then to a strange hand tool where the calf finds itself caught. Immediately it receives two shots; one to the neck and a dose of a liquid in each nostril.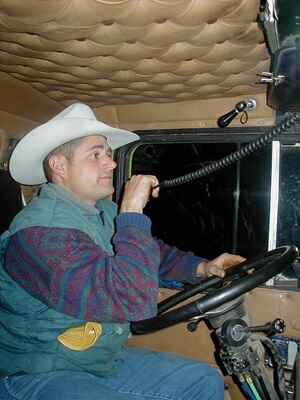 Although I really do enjoy being with the ranchers I have to shelter myself in Alan's truck after one hour of sharing the working atmosphere to defrost my body chilled to the bone. I turn a bit the key in the ignition and right away I can capture the local radio station transmitting permanently the country music. There's no doubt; I am not in France any more and even less in La Bastide Puylaurent.
On our way back I am in Jim's truck and Alan follows us 200 meters behind, the night starts to gain on the daylight and we hardly avoid a deer going to cross the road covered with snow.
The interior of the truck cabin is worth an inspection; it is very rough with tough seats, a headlight controlled by the left hand above the car door, 15 speeds, 2 engine brakes, a radio set and, of course, I cannot miss the horn switch.
Jim could drive the truck since he was 10 years old and so when the truck ahead captured us on the frequency 19 the discussion is very lively.He comes from California and has to load the timber in Prairie City. He is very anxious about slippery road. "He must be driving since only short time" says Jim who knows perfectly all the region.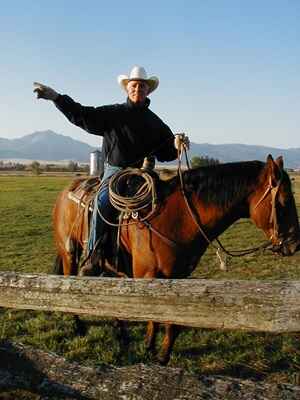 The truck driver will load his delivery tomorrow morning and this night will sleep in the back of the cabin with slightly running engine to provide a minimum heating since it is getting colder and colder.
You can perceive the pleasure and motivation to chat about this and that in their discussion. Those lone wolves of the road are like the cowboys long time ago; counting around the fire stories they experienced or asking if he knows this and that....
Meeting every year in December in Las Vegas., Nevada for the rodeo championship (one day I would like to attend it). Alan, Jim and Justin take part in the competition. The youngest brother, 22 years old Justin, is the champion, he rides broncos, wild horses, and catches with the lasso a calve let out in the arena. The walls of the family house are decorated with his numerous trophies.
Riverside Ranch B&B is an ancient town school and at the first sight its small bell tower gives the impression of a chapel. We pass through a big door to a vast apartment with a high ceiling, a small living room, 2 king size beds and a bathroom. It is decorated with a good taste and in a sober way; some photos of disciplined schoolchildren from 1934, a small desk and also an old in the middle. No TV and not even the phone as in the old times.
It is situated about 6 miles from Prairie City, the place is quiet, surrounded by woods, John Day River is at 100 meters. The ranch is at the other side of a tiny dead end road. In a high season when the ranch is full of activity and when the nature is waking up there is no better place to experience the atmosphere of the American West.
Judith came to visit L'Etoile with her friend Linda Harrington at the end of June in 2003. Linda is running the "Strawberry Mountain Inn Bed and Breakfast" 7 miles from "Riverside School House Bed & Breakfast". Two women full of energy, open-minded and, above all, really interested in this new way of travelling the "exchanges". I think they liked the Cevennes and Judith has already the intention to come back to spend a month in L'Etoile and its surroundings.
"Riverside School House B&B", Judith & Alan, Prairie City, Oregon - Map
L'Etoile Guesthouse is looking for 1 motivated trainee, with training course contract from May 20 till September 20. Internship in France

Old romantic Hotel, L'Etoile Guest-House is a mountain retreat in the South of France. With a beautiful park along the Allier River, L'Etoile Guesthouse is located in La Bastide-Puylaurent between Lozere, Ardeche and Cevennes. Many hiking trails like GR®7, GR®70 Stevenson trail, GR®72, GR®700 Regordane way, Cevenol, GR®470 Allier river, Margeride. Many hiking loops. The right place to relax.
Copyright © etoile.fr