| | | |
| --- | --- | --- |
| | Reciprocal invitation and exchanges ideas between Strawberry Mountain Inn B&B in Prairie City, Oregon, USA and L'Etoile Guest-House in La Bastide-Puylaurent, Lozere, France. | |
Strawberry Mountain Inn. Halt in the North-West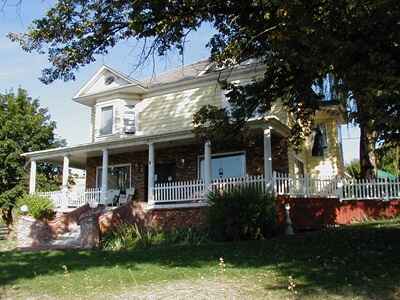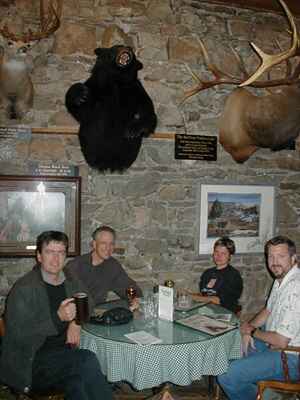 Lost between the Pacific Ocean and the Rockies, a small village nicely called "Prairie City". Face to the majestic "Strawberry Mountain" stands magnificent Bed and Breakfast owned by Linda and Bill Harrington. The atmosphere together with the surroundings witnesses the American West; large spaces of prairie, national parks, tiny western towns, huge ranches with thousands of livestock and also the mountains , the home of elks, squirrels, bears, etc. If you want to have a break this is the ideal place you are looking for. Many hiking trails, fishing for trout and salmons in wild rivers still attracting those who are dreaming of the gold panning.
Linda - comfortably seated in her lounge with a piano from 1934 - will tell you about her region. In front of you, through the sun window, you will admire the prairie and mountains; the same breathtaking view from the rocking-chair placed on the balcony.
I flew in from Europe only 2 days ago and I am still pretty jet lagged, 9 hours of difference are enough to be in a good shape at 5 in the morning and ready to start the day. Discretely, I am leaving my "King size bedroom" to prospect the community. The main street with the church, chamber of commerce and some twenty small businesses all nicely decorated alike; there is also an old gas station with a cowboy making already a full tank of his pick-up. Everything is quiet by this hour and it is good to feel the always special atmosphere at this daytime. Everything is closed yet except of the bakery shop opening from 5 am till 8 pm. pretty long day. I can see the baker through the window; she is busy finishing the decoration of a big cake for the fishing club counting about hundred members. She welcomes me warmly as all Americans do. I drink my first coffee of the day which is going to be long.
Magone Lake is about 5 or 6 kilometers from Prairie City on the top of a mountain; we do not need imagination to see a bear or a deer so much the place is wild and pure. There is also a couple of hiking trails for a day or a half a day starting from the lake. This place is really worth making a bypass; we would stay there longer to plunge to the wild nature absorbing us completely.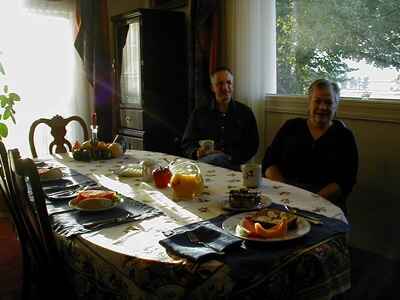 In the Bed and Breakfast, there is Linda, Bill and Aneta who has been here since three months. Aneta is from Poland and she came to the United States thanks to an organization which offers to students from the Central Europe the opportunity to stay several months in the US or in Canada. She has the work permit; it allows her to practice the English and to have a real experience. She is dynamic, willing and she has many projects. The recent accession of Poland to the European Community is of a great promise; with Aneta we can feel all this energy to go ahead without any complex.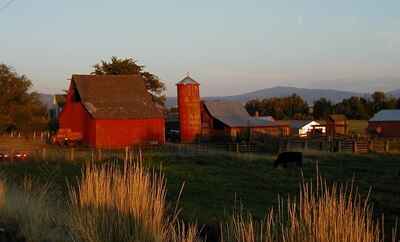 Linda's friend Judith keeps a B&B as well but only with two rooms. Why not ?! Her husband Alan has a real cowboy look; big clasp on his belt, big smile and look of a Marlboro man. A perfect cowboy for the ladies. he is always calm and well-mannered. We met him yesterday in a country restaurant in John Day, a small town you would find 8 miles to the west from Prairie City. Steaks in "Snaflebitt" are really enormous and salads as well ! Only the people from neighborhood are coming here; cowboys, fire fighters, policemen and hunters. You will find only hulks here; the atmosphere is lively and people are well-natured. Alan's smile expresses much of the joy all these peasants live through their culture of endless space.
Our meeting place at 7:30 in the morning is a corral by the route going to Boise in Idaho. The weather has been gorgeous all the time since the day I arrived, morning mist covers the prairie but we can already get the glimpse of first sun beams. In the distance towards the mountains appears a big black mass heading towards us; it is the young cattle surrounded by cowboys. The cattle will be driven elsewhere for a new pasture.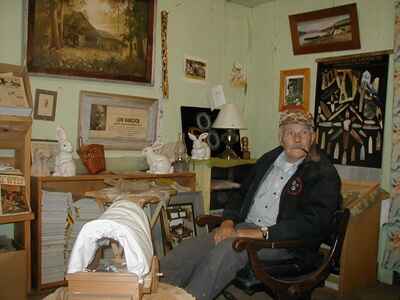 Hi Philippe! - blurts out Jim from above his horse. Alan's son Jim is a really nice and regardful person and in spite of his look he is not lightening himself up at all. Always smiling and smooth; Happy America ! 5 trucks are being waited for to load about 250 animals and they are coming one after the other at the expected time. Everybody is acquainted with the others here; Bill, Jim, Alan, Brian and the old Jack with his dog and his twisted hat still a bit dirty with the mud from the last season.There are only men and the loading of young cattle is smooth. Both sides - truck drivers and cowboys - are counting the livestock and writing down the numbers on papers. We are in a real cowboy land !
This evening we are expected by Jim Woomer in Prairie City saloon "Shoshoni Winds". A huge bar for such a small town as Prairie City is. All the way long the bar is decorated with deer, moose and grizzly heads. No doubt this is a place of hunters meetings. Jim welcomes us with a big smile and he is ready to give us all the information we need to enrich the web site of Strawberry Mountain Inn. Jim is a local professional in all concerning MTB hikes. Himself, he has a top model of a mountain bike. Sitting around our beer pints the conversation between Bill, the B&B keeper, Jim, the outdoor specialist, Aneta, the Polish trainee, and me, a non-professional reporter during 8 months and an inn-keeper during other 4 months, is very lively. Every time I feel that it is this type of life school which interests and motivates me the most. And Jim is the teacher this evening.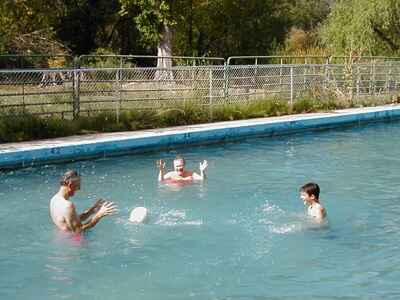 Do you know Larry Mc Graw from Hancock Ville? He lives alone in a prefabricated house you can order 2 weeks in advance and they deliver it to you in a truck. Larry is happy where he is. About 70 years old, from time to time a photographer, also a gardener-investigator but above all it is his home made apple juice which is succulent. Served in metal glasses this juice proceeds from different apple trees and is judiciously blended (in a same way as wine).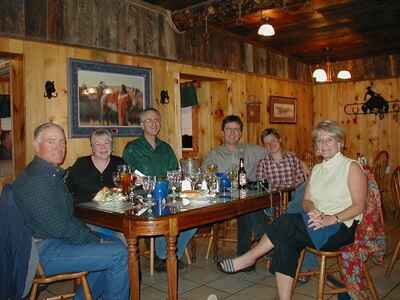 Larry is a person I would appreciate to stay with for a week, listen to him and share his life style. There is an old cabin behind his house where everything is being kept as it was long, long time ago. The floor is creaking and the old colored wallpaper is giving us an idea of the authentic atmosphere in the bedroom. The stove with the smoothing box is in the very middle of the room and a few of old magazines are laying within reach of a rocking chair. The garden, apple trees and this cabin of a "gold digger" must be a paradise in springtime.
On Saturday all of us (Linda's daughter Stacy, Tylor, his son, Aneta and me) went to the Judith and Alan's magnificent ranch. There are three ATV waiting for us and we are heading towards the prairies in the direction of Strawberry Mountain. The ATV is not disturbing the hikers here because there is nobody except of a few strayed cattle that ignore us. The cowboys use those engines to gather the livestock. The horse is still very useful but more occasional.
Sunday morning Linda is driving to a marvelous hot spring in a tiny but gorgeous valley. There is an old cure and an outside swimming pool with hot sulfuric water affluent directly from the spring. The weather is perfect, horses are peacefully grazing in a nearby prairie and the surrounding buildings are transferring us to the other era. There is nobody here in this heavenly place and surrounded with my hosts I let then the time passes by. It is great living here !
Strawberry Mountain Inn B&B, Prairie City, Oregon, USA - Map
L'Etoile Guesthouse is looking for 1 motivated trainee, with training course contract from May 20 till September 20. Internship in France

Old romantic Hotel, L'Etoile Guest-House is a mountain retreat in the South of France. With a beautiful park along the Allier River, L'Etoile Guesthouse is located in La Bastide-Puylaurent between Lozere, Ardeche and Cevennes. Many hiking trails like GR®7, GR®70 Stevenson trail, GR®72, GR®700 Regordane way, Cevenol, GR®470 Allier river, Margeride. Many hiking loops. The right place to relax.

Copyright © etoile.fr