5 days hiking loop start at L'Etoile Guesthouse in La Bastide-Puylaurent (Lozere) through Ardeche and Gard via the Abbey of Notre Dame des Neiges, St Laurent les Bains, Loubaresse, Serre de l'Estelle, Petit Paris, Thines, La Blacherette, Malarce, Chambonas, Chassezac River, Les Vans, Malbosc, Brahic, Malbosquet, La Pauze, Aujac and Genolhac.
Hiking in Ardeche and Gard on the Cevenol
by Tim Cutts, Ottawa, Canada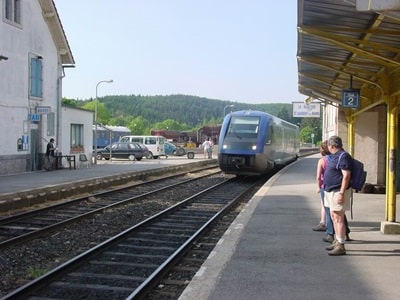 When a planned business trip to St-Etienne had the potential to combine a week of vacation with my son, Jamie, who was already in France competing in slalom whitewater canoe races, I was on the internet in a flash. I was very pleased to find searches for GR sites relatively close to Lyon included the informative pages of Philippe. I decided that a loop would be most efficient, without a car and immediately looked closely at the La Bastide-Puylaurent to Genolhac circular route.
We took a round about train ride from St-Etienne – Lyon- Nimes-La Bastide purely to arrive in time for evening meal as well as to allow my son a TGV experience. We were heartily welcomed by Philippe at L'Etoile Guest-House, who was preparing supper, and shown to our room. A walk about the small town for orientation and a few supplies confirmed that we had made the right choice as a starting point – I love small towns and the slower pace (of course broken only by the odd car tearing through town on its busy way). Dinner was a fun immersion into French, with the table full of cyclists and some car assisted day hikers. Over plates of spaghetti, soup, salad and finally ice cream, Jamie and I warmed up our little used French. Jamie had a distinct advantage with his French Immersion schooling in our home of Ottawa, Canada.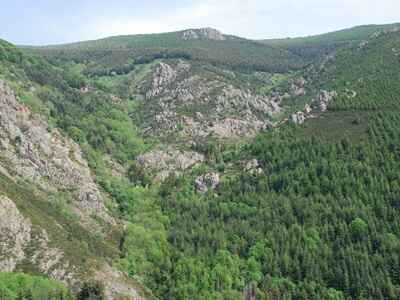 Waking to a sunny morning and full breakfast, we were full of anticipation and with our packs full, and 2 litres of water each, headed off towards Saint Laurent Les Bains (Thermal Spa). The trail starts as a pleasant climb on a paved road all the way to the Abbey Notre Dame des Neiges. From there a combination of dirt trail and loose rock meanders up and down through forest and open fields of gorse. Working gradually downhill from a wonderful height you first get a sense of how high you are, with series of switchback roads far below. The first test for my knees came as we carefully descended past the landmark tower above St. Laurent les Bains back and forth to the village square for a well earned lunch and water break, nursing a sore ligament on my left knee (old soccer injury). Other than that I felt good, and my son was having to deal with the start of some blisters, probably a result of using old running shoes (our hastily organized trip did not allow time to purchase more suitable footwear for Jamie)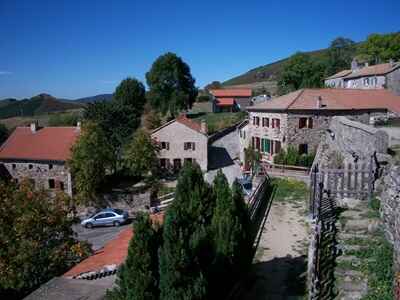 Wonderful old buildings facing the newer baths faded away as we climbed the GR®72 past small garden plots on the edge of town and continued on our first night's destination, Loubaresse. Open vistas gave way to some spooky forested paths until we stopped for lunch where the path splits. We left the GR®72 now for Loubaresse. It was overcast now and a few sprinkles of rain gave a sign of things to come. Within half an hour it was pretty steady and so we put on our rain ponchos, hoping to keep some air flowing to keep us cool. Much of the walking was in forest, however we finally came to the end of that protection. The wind picked up across the now open scrub, so we changed to raincoats. Knees complaining as we climbed our way towards the final road we would follow into Loubaresse. We passed a sinister cross and darkened bracken amidst the storm.
At last - the final road towards Loubaresse and pressed on, passing a drenched cydlist carefully braking down the hill we were climbing. The gite was a wonderful sight, with Madame Skuras Françoise there to greet us and show us to our rooms. The heat was turned on and we started the process of drying out things, while we drank a pot of coffee in the welcome eating area of Gite… Practiced our French some more with mme as well as some newly arrived hikers who had come from the opposite direction and looked just as wet. We spent a lively evening talking and enjoying a fabulous homemade meal, ready to start day 2.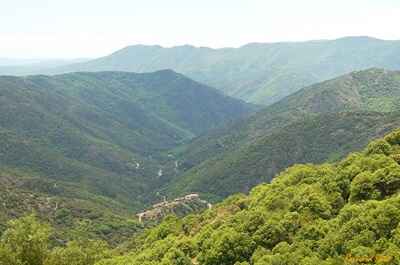 Well our dried out socks and shoes lasted 200 metres I think, as we threaded our way down the stream enhanced GR®4 towards our day's destination at Thines. Knee was better with some Advil and neoprene support bandage. Flowers and plants were very photogenic, dripping with dew from the heavy fog as we headed through mostly forest until we climbed up to an open area where we crossed the D4 road. The area – Serre de l'Estelle, follows the top of a smooth open ridge barren fields and smooth rock outcrops. Long wet grass kept our feet lubricated and loose rock aware of the risk of a turned ankle. At Petit Paris we came down to cross the D4 again and up onto another open ridge, this time quite different with the odd farm, an old lichen encrusted cross, a standing stone and our now familiar Roman road of loose rock and cobblestone. Cloud was now making way for sunshine, and gave us a bit of a lift as our feet seemed to be finally squeezing out most of the water we had accumulated so far.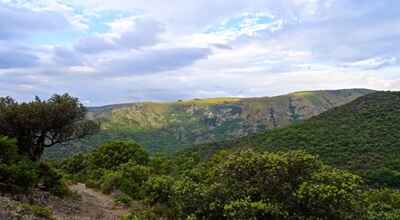 We caught a glimpse of Thines 500 metres below, from where our trail crossed the D4 for the last time. We were still 2.5 km away, and promised each other to take it slow and easy for the sake of our knees. Incredible switchbacks of loose schist made me glad I had a walking stick, and had not brought excess baggage. As we neared the town we had to take countless pictures as the sight was one of those you never forget. I can't imagine anything much more picturesque, and the view from the picnic table at the Gite was wonderful. Ice cream capped our hot journey. We had the main floor dorm to ourselves, and proceeded to cook a dry preserved camping meal of Curried chicken (it waa much better than is sounds !)
Our longest leg was about to begin, from Thines to the Gite at Chambonas. We changed the route because of knees/blisters, though they felt just fine this morning. We would continue on the GR®4. Lovely views of Thines as we hiked towards La Blacherette, passing a last glimpse at a clearing where 3 crosses stand over the valley. Now we were on a meandering road taking us higher until we reached D10 where we struck off through woods to the sound of French airforce fighter jets making runs through the valleys around us. It was getting hotter. Decided to skirt a part of the trail via the small road we were in sight of, as the trail passed through ferns, thistles, nettles and my legs already had a good distribution of scratches. Long switchback down to Malarce proved to be thankfully in shade and after finding a good shade tree with a view, took a lunch bread overlooking the valley below.
We were almost out of water, a good sign of how hot it was, so walked towards the church and found a tap at the community centre before starting out again. Some frustration finding the continuation of the trail wasted some time, and patience was not helped by the incessant cloud of flies buzzing. (a change from mosquitoes and blackflies of home).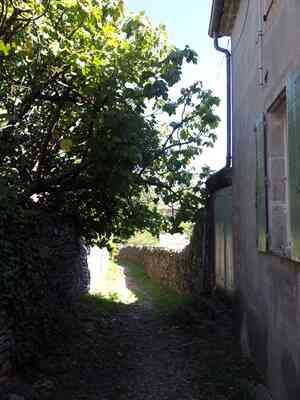 Emerging from the woods, it seemed we had entered an oasis at Luminiere. Farms, and fields of grapes, stone wall lined roads and fruit trees. The cherries were delicious, and the flowers brilliant, and as we headed back into mixed forest, the buzz of cicadas everywhere. We soon arrived at the Chassezac River, and could see the picturesque bridge upstream as we followed the trail into Salelles, past the tempting swimming spot where we cooled off by filling our hats with water. Rather than going through Les Vans we hugged the river to save some time and arrived at the Gite before it opened. We now realized how tired we were from the heat and distance and aired out shoes, drank the rest of our water. We went overboard at the grocery, with lots of salad ingredients and fruit, eggs for breakfast. The gite was a pleasant little building with only 1 other younger hiker, whose loaded backpack I didn't envy. Refreshed, we enjoyed good conversation. All I remember is that he did not have a desire to hike the Pyrenees because he had a phobia for Vipers !
The day started out a slowly, since the distance to Malbosc was not great, and we wanted to buy some more blister 'second skin' for Jamie in Les Vans. It was going to be 32 today, so we would take it easy. We were unused to seeing so many stores and traffic after having been away from it for 3 days. It was decided to take the trail as it looked longer but more gradual than the GR®44. We had a steady climb to do and arrived at Naves, a pretty little hillside village. We were drenched already and drinking lots of water. Unfortunately we were victims of some very poor trail marking as we left town and followed what seemed to be the path. Finally, with some rather precarious cliffside situations and a dead end, we gave up and came back – meeting a group of German day hikers who had made the same mistake. We had lost an hour, and ultimately noticed where we had gone wrong. A poorly placed and very faded marker had misguided us and we proceeded to climb again.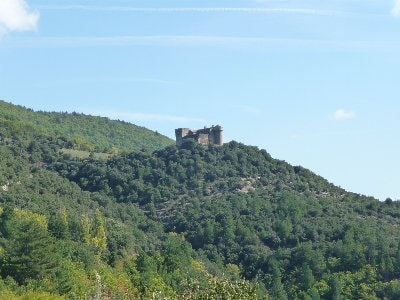 We stopped for lunch as we entered Brahic and a pleasant spot shaded by Cherry trees, and close to a water tap in the cemetary to replenish our bottles. We set off for Murias. It must have been a combination of heat, flies and steepness, but we will always remember the effort and repeated water stops of the climb after this village. Probably could have used more switchbacks. Nonetheless there was shade for the most partuntil we reached the road leading to Malbosquet. A brief rest here before heading down and up to La Pauze, with a deviation from the – we decided to follow the more gradual D216. A welcome site, with a shaded patio to sit and wait for our hosts to arrive.
This wonderful old building had been transformed into a first class accommodation, and a welcome treat to ourselves. It was capped by truly homemade and imaginative dinner made by Madame de Roo, with significant amounts of Cote de Rhone (I was to learn later).
I felt a little slower the next morning, up early for hiking but sluggish on the pation in the morning sun. We had not too far to go, but a significant climb over Loubiere and Le Bartras in store. It did not take us too long to be convinced by Madame de Roo that a ride in her old Citroen CV6 to Aujac would be a perfect start to a hot day and a big head ! We had a relaxing breakfast and be the time we left in late morning, we were both feeling much better. The trail to Genolhac from Aujac was very pleasant, and we arrived in time to purchase tickets at the train station for next morning to La Bastide-Puylaurent via Villefort. We enjoyed a shady late lunch in a small square, before getting keys for the Gite and exploring the village. Many interesting old buildings and stone carvings as well as a beet at the nearby cafe made the tour worthwhile.
Next morning we returned to La Bastide and settled into L'Etoile Guesthouse again, where we had left baggage. We decided to do one of the local hiking circuits, in time to have a late lunch and beer in town. Many avid cyclists had the same idea as we shared the sunny courtyard and wound down from our great week. We had met many interesting people, exercised our rusty French, enjoyed some fabulous scenery, shared companionship and got past a few hardships. (thank God for blister bandages, Advil and knee supports !)