| | | |
| --- | --- | --- |
| | Doing an internship at L'Etoile Guesthouse in the South of France, a unique opportunity to learn how to gain a broader perspective and take on responsibilities in a friendly atmosphere. | |
Internship in (Lozere) France at L'Etoile Guest-House
Each year, L'Etoile Guesthouse welcomes a trainee with a contract for a period of 1 month minimum and 4 months maximum, from May 20 till september 20. The aim of this course is to give to the internship the most complete experience as possible on the proper functioning of the business.

Doing an internship at L'Etoile is a bit like boarding a boat for a long passage. A great adventure where we can develop qualities of good psychological management and practical skills. A unique opportunity to learn how to gain a broader perspective and take on responsibilities in a friendly atmosphere, with the help and support of Philippe.

To succeed in this probation we need some essential qualities to start: courageous, motivated, available, open-minded, positive and welcoming.
The trainee will be able to participate in all the guesthouse tasks: kitchen, welcoming, maintenance, service, inventory management, shopping, development and improvement of websites such as www.etoile.fr, www.gr-infos.com and www.gr70-stevenson.com).
The contact with guests also offers an opportunity to practice a foreign language. The concept of L'Etoile allows everyone to share easily and simply in a good atmosphere. Everything is well organized at L'Etoile and for a trainee, it is a useful experience, complete and enjoyable.
L'Etoile Guest House
Philippe Papadimitriou
Route de Mende
48250 La Bastide-Puylaurent
06 83 99 70 86, Email
https://www.etoile.fr
https://www.gr-infos.com
papadimitriou4@gmail.com
Khakimova Lara, Samara, Russia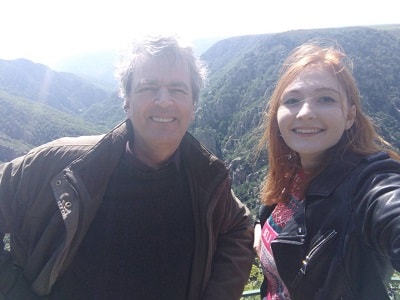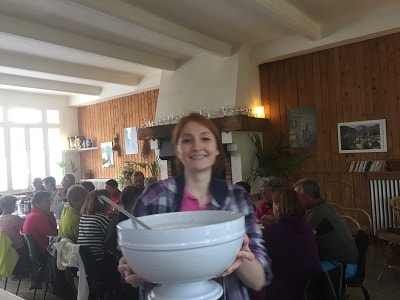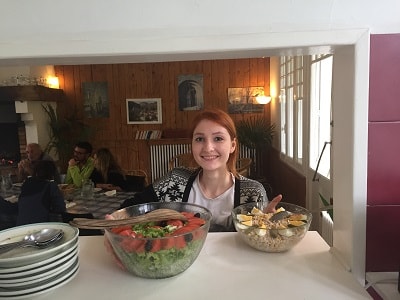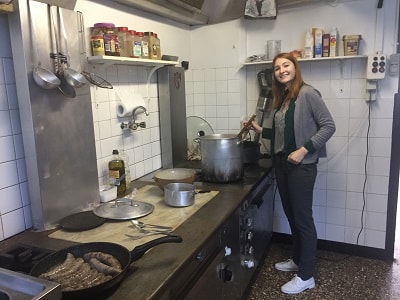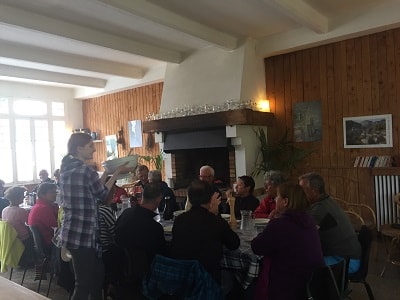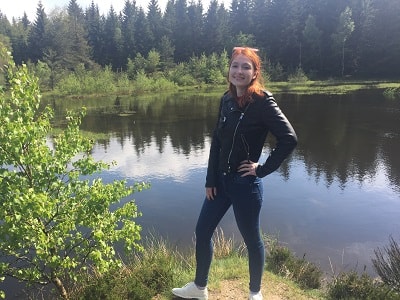 ***
Xiaoujun Zhang (Kunming, China)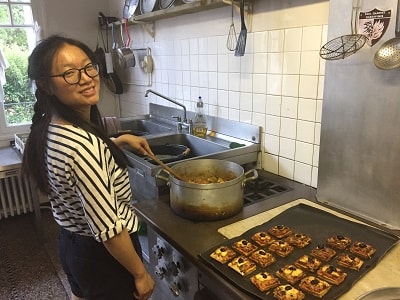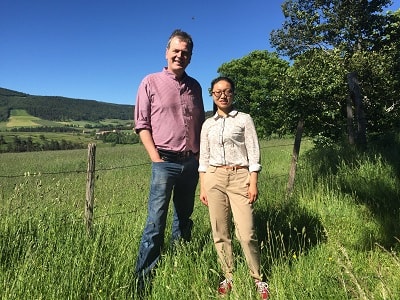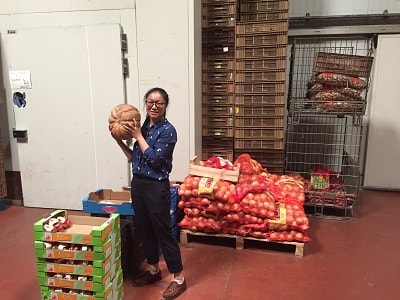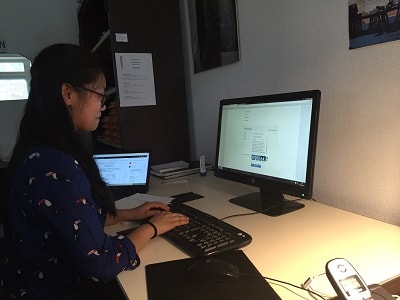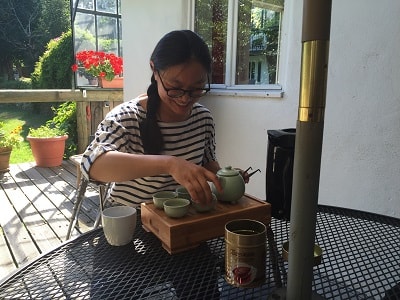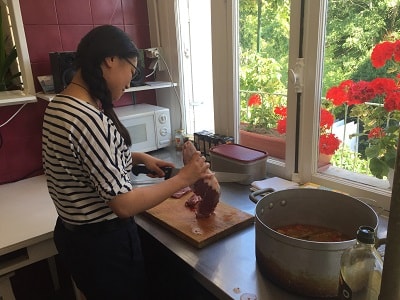 ***
Yutong Wang (Bejing, China)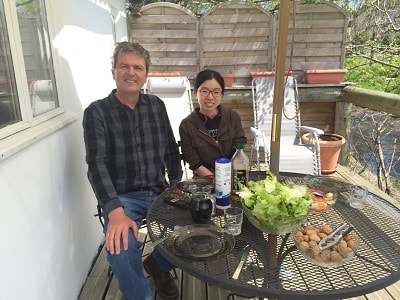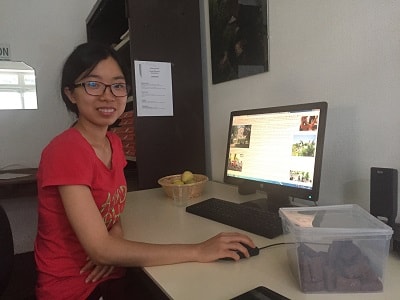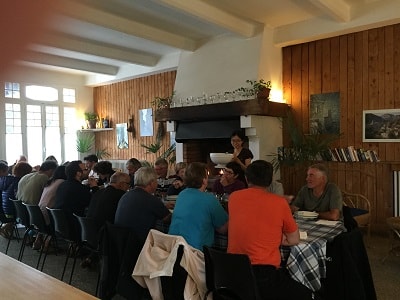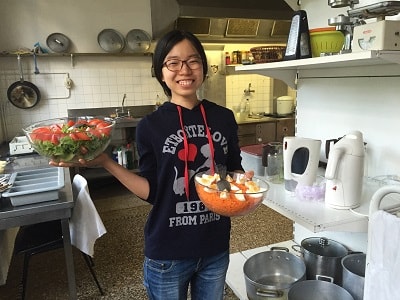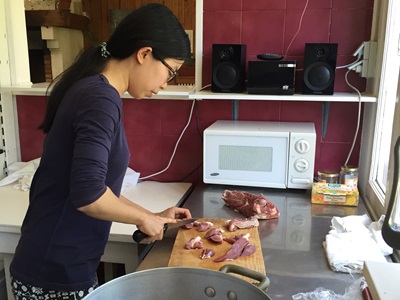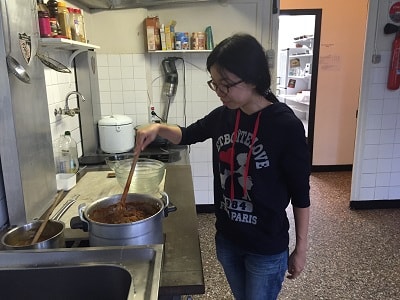 ***
Florent Galy (Paris)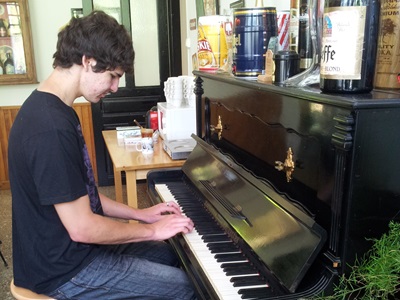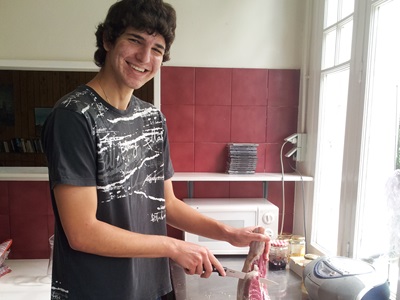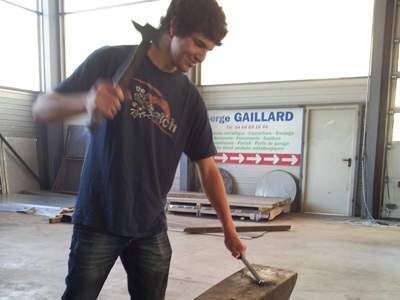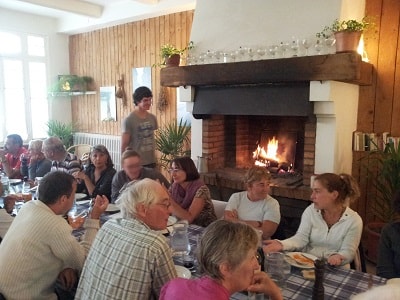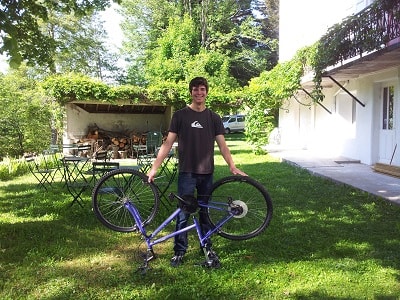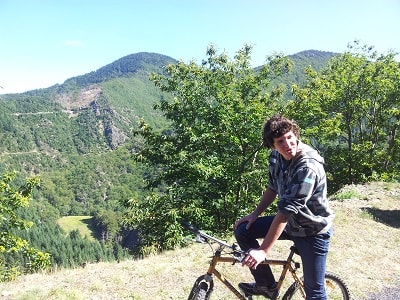 ***
Ting Wang (Jixian, China) & Nabi Rahmat (Pune, India)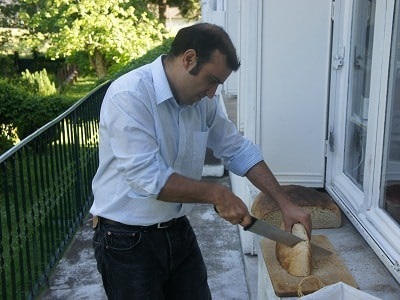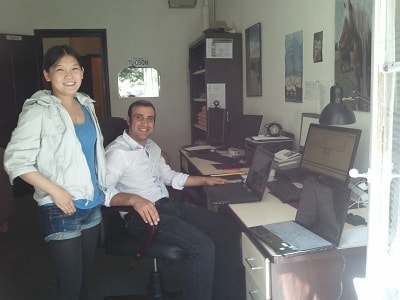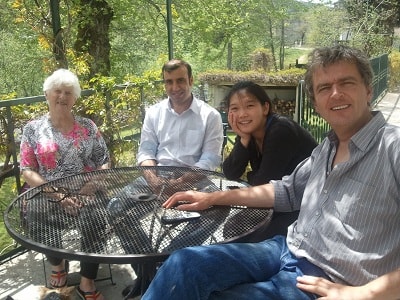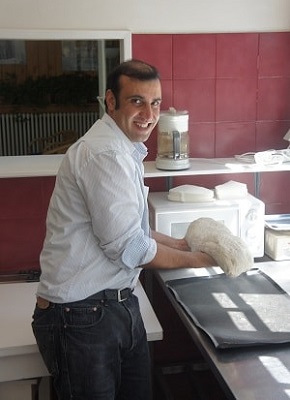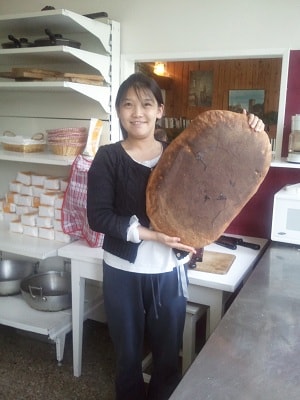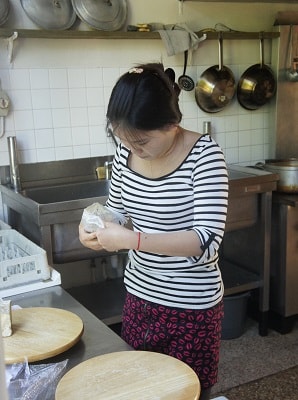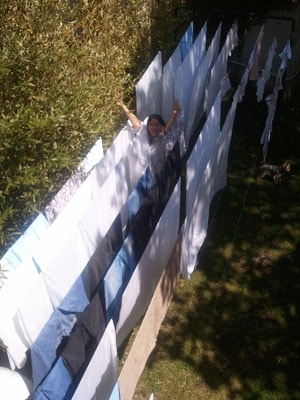 ***
Yongsin from Zibo (China)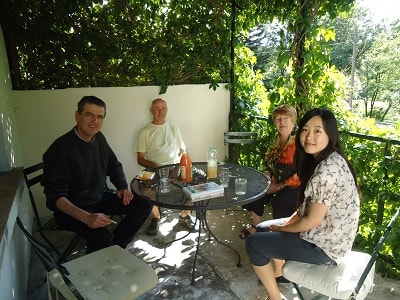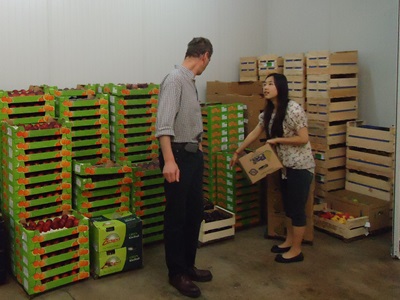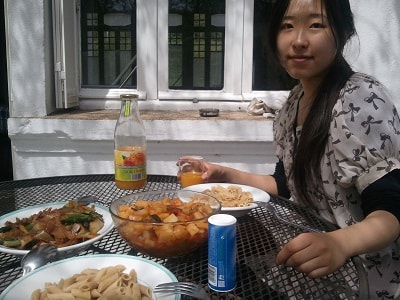 ***
Hui from Shangaï (China)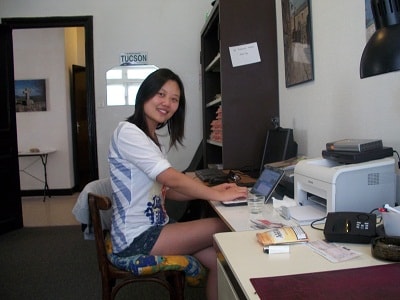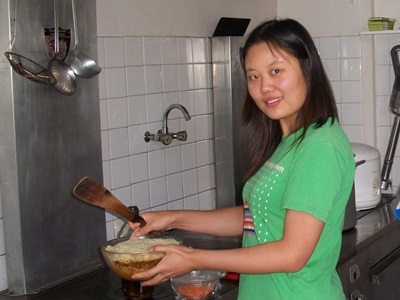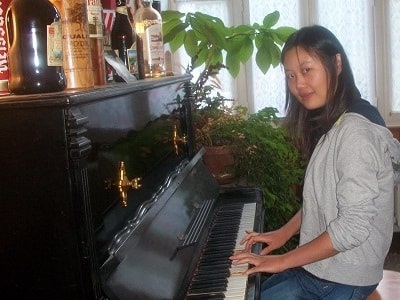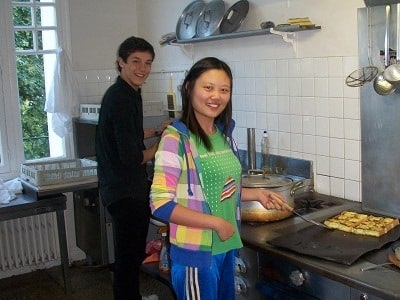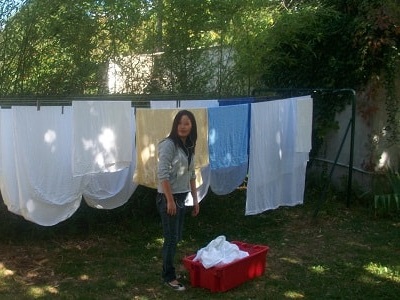 ***
Ji Ying from Shangrao (China)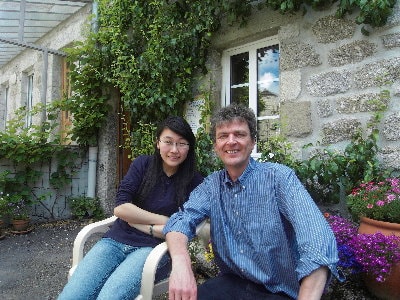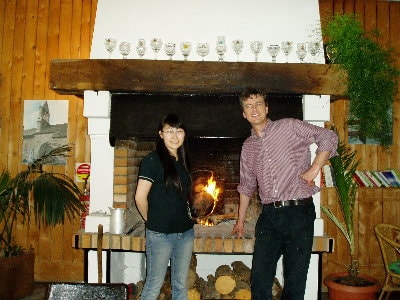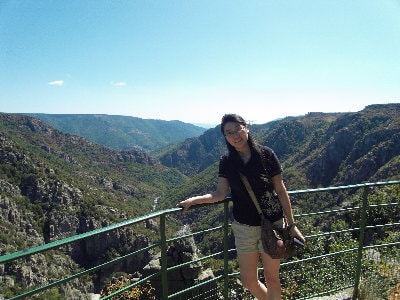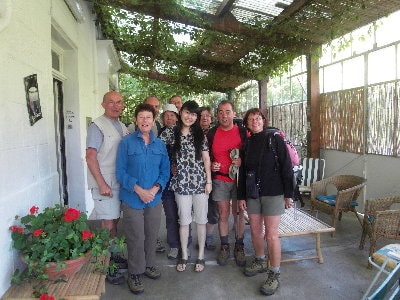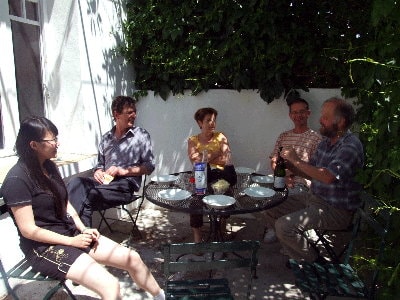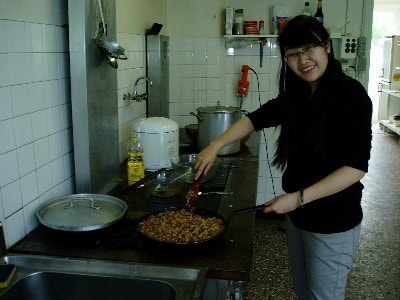 ***
Jingchao from Shangaï (China)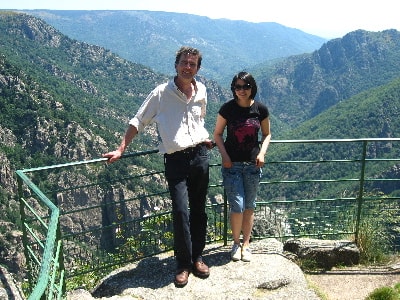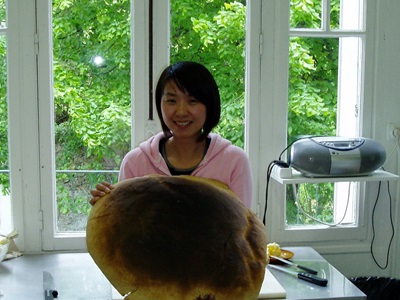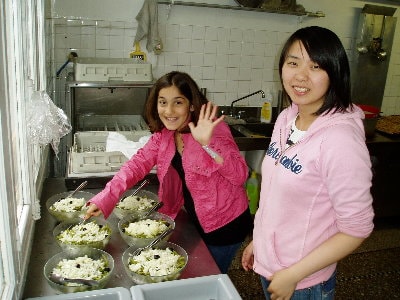 ***
Olga from Caucasus (Russia)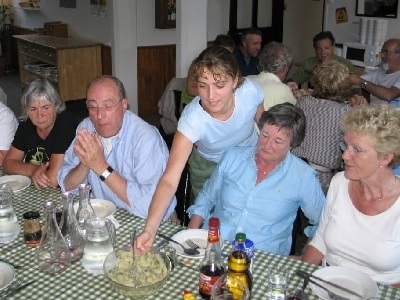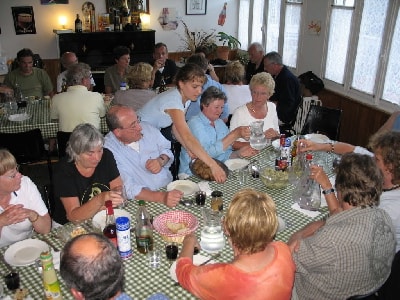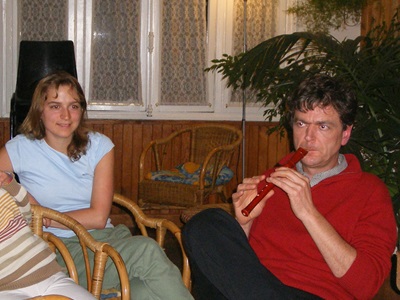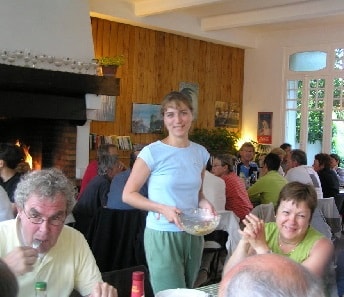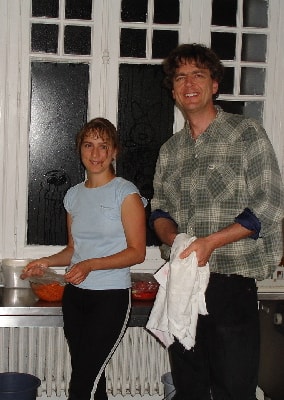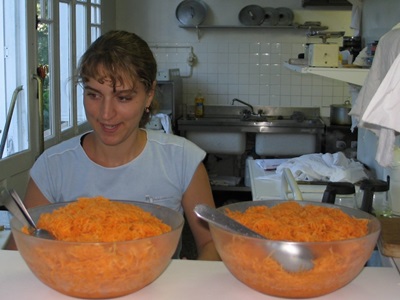 ***
Anna from Brazil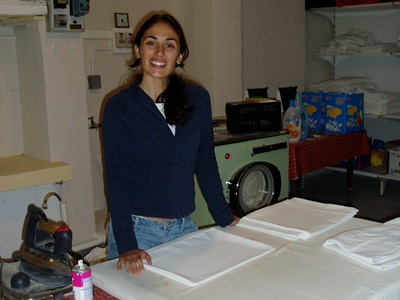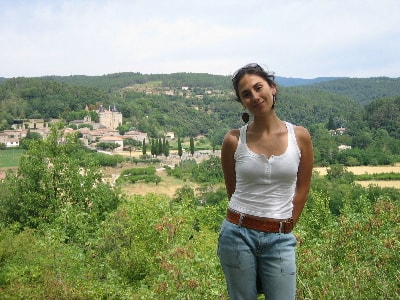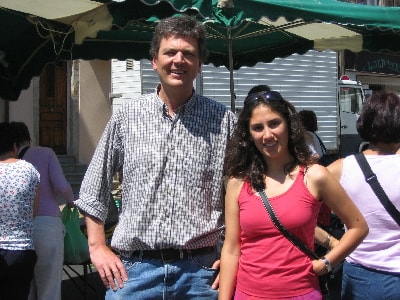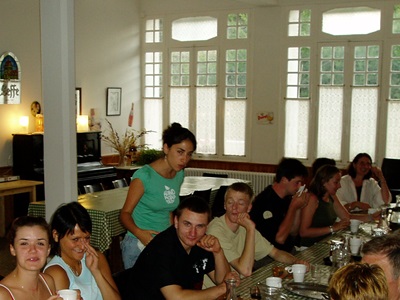 ***
Elodie from Versailles (Paris)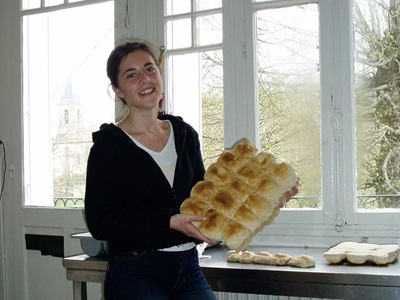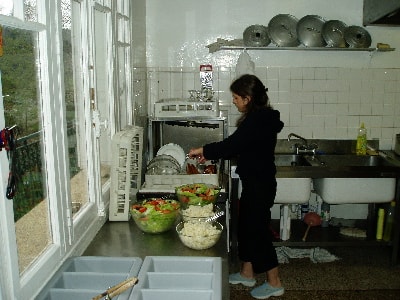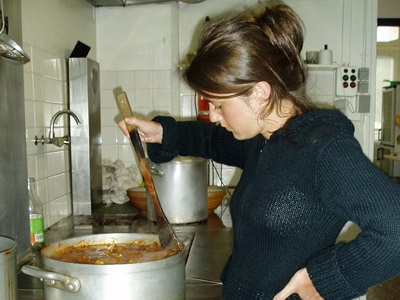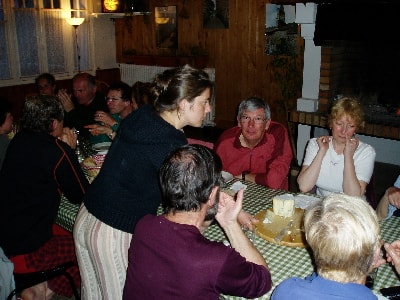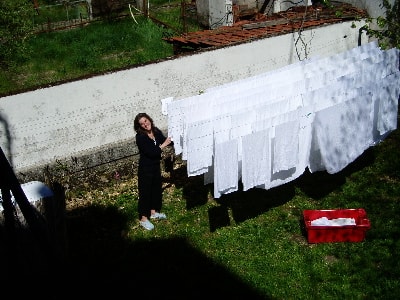 ***
Angelique from Pontault-Combault (Paris)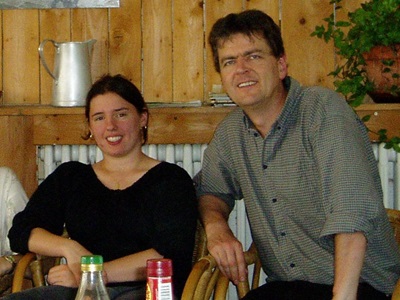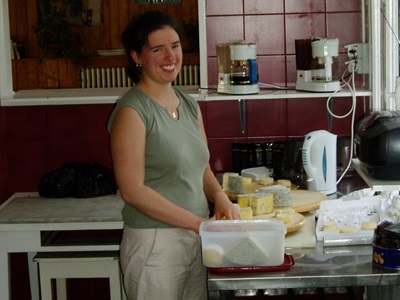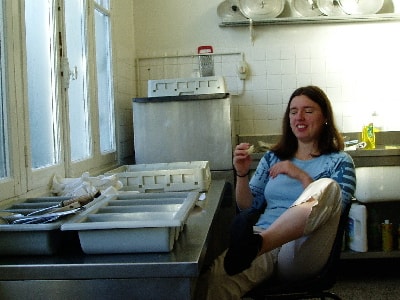 I participated in the adventure of L'Etoile... Yes, I did say adventure because for me it was no longer a job, but a real pleasure ... So, for future trainees, if you want to experience hotel-business, please feel free to join Philippe. So certainly there is work, I will not hide you... between home, the evening service, cooking, maintenance, and contact with the customers, there was never a dull moment. This internship is diversified in terms of tasks, which has attracted my attention immediately when I found the internship offer. This course provides a good overview of life in individual enterprise and all that is manageable for an independent. On a personal level, it allowed me to be more mature because it was the first time I left Paris region for so long... On a professional level, I was able to develop my self, my rigour... Finally, we meet a lot of people what is really great ! I keep very good memories ! Angelique Devaud, University of Marne la Vallee
***
I underwent a three months internship at L'Etoile. This experience added tremendously to my professional and personal growing. On the work front, i was able to learn about the planning and operation of an especific branch in the hospitality industry: the bed and breakfast business. Also, this was a great opportunity to practice some skills related to custumer services, such as receptivity, objective thinking and quick problem solving. All the skills i was able to acquire/practice through my experience at L'Etoile have been crucial to the development of my career in the hospitality industry. On the personal side, i was able to apply my french speaking skills, enjoy french cuisine, explore the beautifoul sourroundings in southern France and make many new friends, starting by Philippe. This remarkable, talentous and amusing business man sets the example of how good dosages of creativity and positive attitude may lead you to success, in the professional realm as well as in life. I'll always keep a warm and loving remembrance of those happy days being part of L'Etoile's team." Testimony by Ana Ribeiro who has recently accomplished a Bachelor of Science with concentration in Commercial Recreation and Tourism at Montclair State University (NJ, USA).
***
To get to La Bastide-Puylaurent, I took the train and I was impressed by the beautiful scenery of this region. Initially, my internship was scheduled for a month. But finally, I stayed the whole summer. With the innkeeper Philippe Papadimitriou, a good contact is installed. I participated in all the tasks: service, housekeeping, home customers, and even the kitchen. The work was never dull. The sense of team is really important in this business. And we must always remain positive. The evening, after dinner, we were gathered around the fireplace. Cyclists, travellers and hikers who came from the Netherlands, Australia, the United States or Ireland… When you talk to these people, you feel to travel with them. They were raised early in the morning. The breakfast. Apples before leaving on a hike ... "Thank you for your welcome, and who knows, perhaps we will meet again !" - they said. Olga Chulichkova, Universite Nancy 2
***
I think getting a chance to work in a french enterprise for me, who just came to France for one year and started french learning for 2 years, is a very lucky thing. I got the email from Philippe saying that he could offer me this internship in L'etoile. At that moment I said yes right away and sent my contract as soon as possible. I became the first person who found an internship in my class, plus, in a real french company. From June 8, 2009, I think my life started changing, I experienced many different and unusual things. I eased in to the working style, with the help from Philippe, and the comfortable atmosphere in L'etoile caught me right after I arrived. I never felt the anxiety or the stress as a new bird, and the 3 months after passed quite easily as well, I was working rhythmically and seeing different customers everyday, talking to them, learning everything I can see or hear with my own eyes and ears. I think this is really a very precious experience for me. L 'etoile is a very successful case as an small sized company in France. As a student of learning business administration, this is a very good company case in practice, the theoretical study at school is for one day to use in reality, to participate. But is doesn't mean that this is a easy job and it's simple, contractually, I must say this is a very challenging job, a good opportunity to practice, because you will be participating every functions and management. Under the influence of Philippe, I think I changed from many aspects, from former attitude of " not possible" to right now " perhaps". I must admit, Philippe gave me a lot of courage to consider and plan the real life I want, to make my wishes come true. I don't know if they are going to happen in the future, but I am dare to do it, it's already been a progress for me. When we were having breaks, we usually chat and have a drink on the terrace, our topics included all kinds of subjects, it's also a very good chance to practice and improve my oral expressions. And Philippe always criticize and give me advices about how did I work recently, which helped me a lot to better recognize myself and self-perfection. In one word, to experience the real french style vacations and enjoy the beautiful country views, and also gormandize french cuisine, it offers a wonderful opportunity. I think I will never forget here, L'Etoile and Philippe ! Ji Ying, IAE de l'Universite de Poitiers
***
When we talk about an internship, the first question comes in our minds is always like this: what are we going to do there? But we never know what happens the next. We couldn't plan everything, control everything, because sometimes life makes it for us. As a student doing a master degree in hospitality school, with almost 3 years working experiences in some top hotel groups, eg, Sofitel ( Accor ), Partouche, I thought I was ready to take a position in a luxury hotel , even the position as a head of one department. However, is it the career or life that I am looking forward? Is it the real thing that I am going to do in the next 3 years or 10 years? I was wondering. I was waiting an oppotunity which can bring me to a different land, widen my horizon. So this year, I was not planning to work in some high-level hotels, all my previous experience were in 4 star or 5 star hotels, my future won't be limited. Fortunately, I found Philippe's website by chance, a guesthouse in south of France, for most hotel professionals, we all have a dream of having our own hotels one day. That place looks wonderful in pictures, and actually I didn't look through everything on the website, there are too much information for me, but the atmosphere there is like a big family, even including the guests, that impressed me a lot and let me send an email immediately to qpply an internship. Before I signed the contract, I even didn't ask Philippe about my working assignments. The techniques in hospitality are never difficult, just sometimes you should take more time to practice. The biggest obstacle for me is how to connact with people. As one of the young generation, the communication is always through the internet, in real life we don't like talking with others, we don't even want to be disturbed. It is definitely not the way in this hospitality industry. Another thing, personally I have been living in France already for one year, but I knew so little about this country, I stayed in one college residence, all my friends are foreigners, we speak English everyday in France. Now, let's go back to the life ( I prefer call it a life rather than an internship) in L'etoile. As I mentioned before, the service, the purchasing, the housekeeping work are not difficulte to learn. I worked for the website every afternoon, it connects to the e-marketing knowledge that I learned before at school, and it is gonna be an advantage for me in my future career. Btw, Philippe has more than 20 websites and has already been working on them more than 15 years. Then, the most most important thing is that I did feel my heart was getting warmer, the subconsciousness of hiding myself no longer exists, I am willing to talk with the others, knowing how to make them happy to please myself at the same time. Look at Philippe, he always catch everybody's attention, no matter where he is, he is always the star in the centre. So, ask yourself at first, what are you looking for? If you are not sure or not satisfied about your current situation, just go to try something new, lots of surprises are waiting for you, for me, till now, the piano, many good friends …LOL. Don't hesitate, go to L'Etoile, find them by yourself… Hui Shen, Vatel International Business School Hotel & Tourism Managment
***
My summer school. I've been looking for words to describe my first internship at L'Etoile Guest-House in La Bastide-Puylaurent (Lozere), and I captured them just after a short thinking: "fun, surprising and challenging". People make the fun of life, and what we have the most in L'Etoile is people-our customers, the diversity of people brings in so much different information and dynamics, and also it surprises me sometime when I am standing in the other side of the kitchen, the laughter in the dinning room is so loud which gives me the impression that those people were not just met at the table but have been old friends for decades.Besides the fun and surprises of associating with people, I surely was challenged by the work itself, it was not only about how to complete a mission but also how to do it well every single time, and how to develop myself while getting along with people around me. Thanks to the great variety of people I could meet here, doubtlessly I grew my abilities and learned some valuable attitudes. And talking about the attitude, who has the most attitude, or we say "style" in L'Etoile? Philippe, he is like the coach or the captain of the team, determined, generous, passionate and having a good sense of humor. Well, I think he is representing L'Etoile pretty well.This is my real feelings without any decoration, my summer internship gives me a lot, as to understand better the real french people and the real world apart from my desk, the 4 months internship in L'Etoile is more like in a summer school, I get credits from my university and also the credits for my own life. But, even after all my words, it is surely not enough to present all what I want to express, you must see those beautiful pictures to understand where my joys are from, and someday be there to see them in your own eyes. Yongsin Bian, International Management, University Bordeaux IV
***
Overly ambitious Internship: I did 5 months internship at L'Etoile Guest House. My main working languages were French and English at L'Etoile Guest-house and the sole objective of my internship is to apply knowledge received during the studies to the particular business entity and in that way to build a relationship between theories and real Practices. Build my organizational and Managerial abilities. To Practice French Business Etiquettes, values and Norms. Experience the Customer service in French Guest-House. To participate in almost every Management Function of Small Business like L'Etoile. This Internship was a great adventure and a unique opportunity for me, I developed professional experience of inventory management, E-Marketing and especially the skills related to Customer service, such as availability, receptivity, enthusiasm and quick problem solving. I think this was really precious experience for me; I was working rhythmically and meeting different International customer's everyday, these customers were Cyclists, travellers and hikers who came from Belgium, Germany, Australia, Japan, the United States and …etc L'Etoile is a very successful Guest House in practice; where the theoretical world meets the practical world. Apart from getting experience, I must say this is a very creative job too, because you have to participate in all management functions. I was surely challenged by the work. Philippe Papadimitriou, the current owner of L'Etoile Guest House is influenced, generous and passionate manager; I learned a lot from him, he is really Strong, remarkable and a talented business man. Finally, I would say: these 5 months internship was an unforgettable opportunity for me; I practiced a lot at L'Etoile Guest House in the south of France. Thanks to my supervisor (Philippe Papadimitriou). Rahmat Nabi Ghulam Nabi Student of International Management, University Bordeaux IV
***
Though 4 months internship, I find myself a new potential. During first period, cause of I am afraid of language, no confidence. In that moment I really don't like communicating. But now, everything changed, I am interested in communicate with clients, and deal the problem. As a matter of fact, depending on my superior and my colleagues have patience taught me again and again; therefore I have a big progress. I learnt lots of theories of Management at the school, but I never ever worked with manager. Practically, the situation of the direction is not an easy job. The superior not only know everything on the L'Etoile, and can chose the right people to deal it, but also help any place which need to help. I learnt important thing is you want everything is the best; and then, you have to check and make sure it. Ting Wang Student of International Management, University Bordeaux IV
***
Now i could just copy paste and translate everything i wrote in French, but that'd be too easy, so here's another version of my stay at l'Etoile. In three months, with Philippe and Françoise, I have learned more then what I had ever hoped in an internship. The work here might sometimes be harsh but it will be rewarded; in three months here, we have done a lot of trips with Françoise and Philippe and have discovered some magnificent places and quite a lot of different roads with splendid views. If you come here, you won't be disappointed. You will discover how Philippe managed to launch the guest house, learn how to work efficiently, and much more. Here you will do a bit of everything, welcoming the clients, serve the dinner, clean the chambers, work on internet, paint whatever needs to be painted, etc. But if you come at l'Etoile, you will also discover plenty other things like how to play with a hacky sack (it does have a weird name, but is actually quite a bit of fun), the piano, the guitar, go hiking and/or biking. It is incredible to see the house change around you, and know that you were part of this. If you ever want to open a business such as this one, or even just for an amazing life experience, contact Philippe; it is really worth it. This guest house has something that the others don't; is it the good mood, the table d'hotes, the simplicity or the guests themselves who sometimes will come and help you for the wipe up? Probably all of those combined. This gave me an incredible experience, and I surely will come back even if it's just for a few days; I'll be back! Florent Galy, BBA ESSEC
***
In the end of the first year in France, I came to L'Etoile and spent 4 unbelievable months here. I'd like to say that I have learned more in those 4 months than in the last whole year at school. Firstly, I will explain my job here, hoping to help the following trainees for an impression of the internship at L'Etoile.
In the morning, Philippe and I get up early for preparing and serving the breakfast for our customers. When all the people have finished their breakfast and left the house, we need to clean the rooms, including changing the sheets, vaccum the carpet and wiping bathrooms. Then we have our lunch at the terrace of Françoise who lives in the cabane along the river l'Allier. Hearing the sound of birds and river just next to us, we get really relaxed. After a nap, I do some work on the Internet in the afternoon - Philippe own a site where we can find all the long distance footpaths in France. Meanwhile I also receive new customers, showing them the bedroom that they have reserved. And in the evening I help Philippe prepare the meal and do the service.
Besides the work, in the morning when there are less customers, we travel to other cities near by. We ate at a Chinese restaurant in Puy-en-Velay, ate super delicious ice-cream at Bez Inn, ate the sandwiche at Bleymard and also went hiking in the mountains. Philippe, Françoise and I we make a very good team at work but we are actually like family as well.
Doing an internship at L'Etoile is a special experience as it is really different than normal hotels. Here we try to make a friendly and harmonious atmosphere. For example, we light a fire in the fireplace in the morning and evening, and for dinner we make a host-table where all our clients eat together. This is a very good opportunity for them to talk about their journey and to exchange their ideas.
At L'Etoile I was pushed to be responsable. I help Philippe to manage the great family of L'Etoile. I learned little by little to get a large view, to organize all the work and finish it effectively. Thank you to L'Etoile and Philippe for giving me a such extraordinary experience. Yutong Wang NEOMA Business School
***
From April 15th till October 15th, I did a six months internship at L'Etoile. For me it's an internship to discover and recognize the France, as well as my life in France. At first, it's important to have the courage and the confidence to work on L'Etoile, all the jobs what I have done with Philippe, therefore, it is necessary to have the team spirit. Of course, at the beginning, I didn't know all the works, so I was difficult to cooperate with him ; but after all go well when I totally understand his ideas. While every trainee comes to L'Etoile with his own purpose, my the most important purpose is to improve my level of the French. In order to do that, I communicated as much as possible with our customers who come from different countries and with different stories Then, I appreciate a professional experience in the field of hotel, during the internship, Philippe introduced me various persons such as suppliers, traders and another proprietor of guest house. I have benefited a lot of conversations with them. Finally, the internship has allowed me to expand my horizons and grow in dealing with the challenges. In my opinion, if you enjoy to help clients and put your heart to L'Etoile, rather than for accomplish the training, you will get much more than expected. Xiaojun Zhang Higher Business School MBA Amiens 2 International Finance.
***
I had an internship at the hotel L'Etoile for two months. I can say that this is the most unforgettable and interesting experience I could have . Thanks to Philippe, I understood how to organize myself, you have to find your rhythm of work and be serious and responsible. Work intellectually and virtuously, not as a robot. If in the future you wish to open your hotel, you will certainly benefit from the experience gained here. I met a lot of interesting people, I learned the management system of the hotel, many details that remained a mystery to me before. For me, as a person studying international relations, it was very important to meet people from different countries, Germany, Australia, America and France, to understand their way of life and to learn how they live. Every day the work was full of new knowledge. I took part in many missions - reception, cleaning, service, shopping and it was always interesting for me. It was a real work full of responsibilities. Philippe explained to me and helped me in areas that I did not understand, so I always felt the support, he always believed that I had the potential and I hope to develop it. And the most important thing is trust and a sense of stability and positive in communication. The place it' s very beautiful but don't think that you are on the vacation here. For future trainees, it is important to understand that here you must be your own boss and feel that it is your own hotel and have such a responsible approach to the job. Having completed the internship here, I think I started my journey as an adult person and it will help me in the future to find my field of work. Thank you for the unforgettable experience that helped me to grow and for all the wonderful trips in the area, which have always been filled with happy moments. I met a wonderful woman - Jeanine with whom we had a good time and talked a lot. I will never forget La Garde Guérin and Philippe and Pierre are very remarkable people and place. I will not forget Eric who is always ready to help and Serge from the Genets bar for his generosity. I will keep good memories of this experience and maybe come back here again. Khakimova Lara, Samara University.

Old romantic Hotel, L'Etoile Guest-House is a mountain retreat in the South of France. With a beautiful park along the Allier River, L'Etoile Guesthouse is located in La Bastide-Puylaurent between Lozere, Ardeche and Cevennes. Many hiking trails like GR®7, GR®70 Stevenson trail, GR®72, GR®700 Regordane way, Cevenol, GR®470 Allier river, Margeride. Many hiking loops. The right place to relax.
Copyright © etoile.fr