| | | |
| --- | --- | --- |
| | Philippe has thought of everything, planned everything, organised everything: each guest stopping at L'Etoile is sure of a warm welcome, a comfortable room, relaxing decor and abundant information | |
Our stay in Lozere at L'Etoile Guest house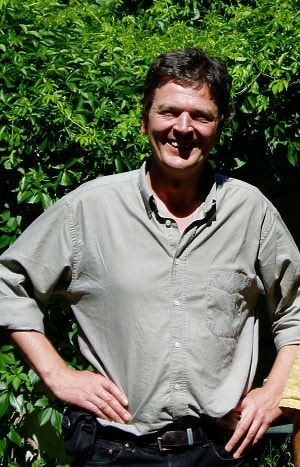 Good humour, imagination and a healthy philosophy serving an enterprise on a roll. If you thought you had exhausted the charms of gites d'etape (guesthouses) over the course of your hikes in France, and you have not yet discovered L'Etoile then think again. If just like us during the summer of 2004, your steps take you there, expect to have to change your mind. Whether you arrive by car or by train, (Le Cevenol which links Paris to Nimes stops at La Bastide-Puylaurent station (Lozere department), 300 m from the guesthouse), you will receive an unforgettable welcome and experience.
Philippe Papdimitriou, the master of the house, seems to have been born under a lucky star. He couldn't have chosen a better name for his guesthouse (Etoile means Star). Straightaway, this strapping fellow can put you at your ease, without fuss, with natural warmth. In him, Belgian good sense and wisdom, from his mother's side, combine with cheerfulness, imagination and a touch of outrageousness which come from his paternal Greek heritage, a successful mixture, saving him from parochialism and encouraging his curiosity and openness of spirit. A the start, nothing could have predestined him to take root in this corner of the mountains at the edge of the Lozere and the Ardeche Rivers. However, after numerous adventures, one of which took him to California as a gold-panner, our globetrotter while crossing the Cevenol on horseback, along the old Roman way, discovered la Regordane (GR®700), a former village hotel nestled on the banks of the Allier River, in the middle of shady parkland, at La Bastide-Puylaurent. From that moment he did not stop until he had got together the money necessary, with a huge amount of hard work, to restore the place.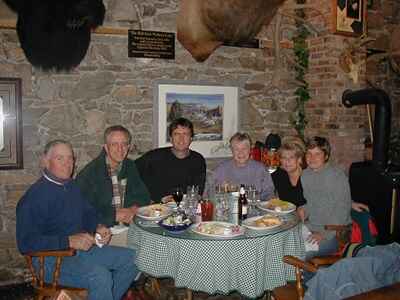 But Philippe has not for all that given up his taste for travel and adventure, since in these times of globalisation, very into electronic communication and pushed on by his entrepreneurial spirit, he has woven an intercontinental network of relationships and friendly exchanges, which he continues to extend allowing him to travel out of season and to discover other practices in the hotel business, other people and cultures. My husband and myself were particularly charmed during our stay at L'Etoile to meet a Mexican family from Oaxaca, with whom we developed a friendship. This is a great indication of the international nature of this establishment and of the openness of spirit which its owner has stamped upon it. More information about Innkeepers Exchange.
The splendid week we spent there allowed us, while trying out the healthy and varied pleasures offered in the way of hikes by this crossroads, la Bastide-Puylaurent, to get to know better this extraordinary character who is at the same time a modern and dynamic company boss, an indefatigable worker, a welcoming host, a wise man who philosophises willingly in all simplicity on the world and man, an incomparable and imaginative cook, an entertainer and a rousing musician.
Philippe has thought of everything, planned everything, organised everything: each guest stopping at L'Etoile is sure of a warm welcome, a comfortable room, relaxing decor and abundant information allowing him to choose successful hikes or to take part in the other activities the region has to offer.
But the greatest pleasure is in the evening when he will find himself at the meal which awaits him after the fatigue of a long day's walking, at the dinner table which Philippe has made a Mecca of conviviality and of healthy gastronomy. It is there that his culinary art and his organisational abilities are brought into use to the greatest perfection. The meal, put together by him from start to finish (his homemade bread alone is worth a detour) is enough to satisfy in quality and quantity the gourmet, the greedy and the hearty eater alike. The country wine comes from the nearby abbey, Notre Dame des Neiges (Ardeche department). The warm atmosphere continues in good humour and cheer. The master of the house is begged to play the piano or to accompany himself on the guitar to sing songs learnt in the American West in front of the impressive fireplace built to the same scale as his interminable legs, in the style of a Belgian taverna, where you can find all the brands of beer from his native land. And a wonderful evening is in full swing!
In brief, at Philippe's you feel really at ease, you can talk about everything freely and frankly, you enjoy the landscape and the calm, seated under the linden tree in the park which borders the river and when it's time to go, you promise yourself you'll come back to renew this first successful experience. What we really admire though frankly, is the fact that this whole hotel business which functions to perfection, rests entirely and exclusively on the shoulders of one man. For Philippe does everything from A to Z: financial management, maintenance, shopping, cooking etc., etc.
He does of course take in students to train in the hotel business and who he manages to integrate, I can testify, into the hiking community. Some of these hikers, including my husband who already knew the guesthouse, can testify: they have seen P.P. welcome to his table up to sixty guests without appearing overwhelmed, cheerfully and in great humour! This detail says it all about his sense of organisation, management, about his enormous capacity for work, and also about a wise and optimistic philosophy on life.
This has made me ask what the key to the success of L' Etoile is. The convivial welcome, the 24 hour a day, 7 days a week availability, the sumptuous cooking, the lovely decor, the variety of walks and sporting and relaxation activities available, all contribute to its reputation of course.
But there is something else, an 'extra ingredient' which personally I have hardly ever found elsewhere. It boils down to this: Philippe and each hiker establish an implicit and immediate unspoken pact which establishes itself naturally, by virtue of which both feel involved with equal rights and obligations in the smooth functioning of the guesthouse. A well understood reciprocal arrangement which everyone gets something out of and which seems to inspire the adage according to which, in order to receive you must give. It is undoubtedly this which creates a human relationship of a completely different quality from the usual hotel-customer relationship.
It is thanks to a particular gift for interpersonal relationships and a consummate art of communication that he gives his guests the opportunity to partake in the adventure on which he has decided to embark, but also to the fact that he can draw on energy resources to manage all sorts of situations, for example in very busy times, all the while preserving a climate of relaxation and good humour. Everyone, in his own way participates thus in the smooth running of L'Etoile and in particular that of the dinner table which is the jewel in its crown. Personally I think that it is partly this binding and tacit agreement between the two parties upon which lies this terrific success, and it is in this way that Philippe Papdimitriou has been able to harmonise his ideal of fraternity with the obligations of a business from which he gets his only revenue: his own way perhaps, of bringing together his double culture, Greek and Belgian.

Old romantic Hotel, L'Etoile Guest-House is a mountain retreat in the South of France. With a beautiful park along the Allier River, L'Etoile Guesthouse is located in La Bastide-Puylaurent between Lozere, Ardeche and Cevennes. Many hiking trails like GR®7, GR®70 Stevenson trail, GR®72, GR®700 Regordane way, Cevenol, GR®470 Allier river, Margeride. Many hiking loops. The right place to relax.
Copyright © etoile.fr