| | | |
| --- | --- | --- |
| | A Danish hiker in the Cevennes at L'Etoile Guesthouse. A wonderful place located between Ardeche and Lozere in the South of France mountains. | |
Hiking and holiday in the Cevennes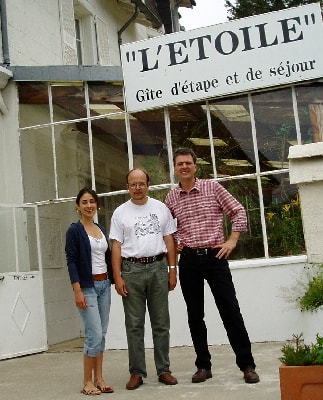 I didn't sleep particularly good tonight. Pain in my feet after a long walk yesterday, far too long. As I mentioned yesterday I was following with Philippe, the brazilian Anna (she is from Brazil but she study tourism in New York; she stay here as a trainee) who helps him, and then two couples to the old middle-age fortress and town/village nearby La Garde-Guerin.
On our way we were visiting the old church in Puylaurent, which I suppose La Bastide Puylaurent originally belonged to. Seen from outside it looked to the one side like a Greek church, to the other side it could be a Danish romanesque church, and then it was built together with a house, which seemed quite harmonically and natural, so it was worth a visit. After the church, we came to the dam across a river, the french couples used some time to guess, while we were standing there and studying the signs and maps there.
Was it Allier ? No, it couldn't be that. Well, and they were looking at the map, then it was rather the Altier, but no, it couldn't really be that one, no we were more northernly, we were at the Chassezac. Yes, we were at the Chassezac and both that one and the Altier I would later refind on the following stages on my expedition. The first stage was however by car to la Garde-Guerin. Almost without my memory we went by minor roads to the highway, D907 in the direction of Villefort and went directly through Prevencheres and past a golf course, actually.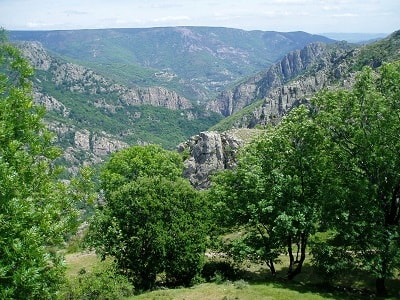 Philippe and the other people had told me about La Garde-Guerin as if it just was a tower, and I imagined something like Polignac outside Le Puy en Velay (where start the Stevenson trail GR®70), I never came to but could see from the two rocks there, le Rocher de Corneille and the rock with St.Michel's chapel on. It seemed like the middle-age tower Kérnan in Helsingborg, Sweden, not so far from Copenhagen (from the 14th century, but probably older and much smaller.
From the tower there was a good view, and it was also placed very good strategically on the Voie Regordane, Philippe told me about, the only real road from Paris to the Meditteranean Sea. And even today you don't overlook the relatively small tower as it is placed very high. The well kept middle-age town around made contrasting to the tower a great impression to me, and not surprisingly, a part of the company spent a long time to study the area a little closer.
Another part of the company wanted, however, to leave the area on a walk back to la Bastide-Puylaurent, and they in fact invited me, and they had a map and compass, so it could perhaps not be so difficult to find the way back. But I would rather walk on my own, and when they stood there and asked me to join them, Philippe had left to meet the other couple and Anna, and I had my bag in the car which was locked. Later, and after I had been sitting and waiting in the warm car, I asked Philippe whether it was possible to find the way back without a map, and he thought that was possible but not easy. It also looked on the incomplete maps he had in the car that I just had to walk in the direction north, and it couldn't be that difficult. The route was marked as GR®72.
Yes, I forgot all these guidelines, I believe, for else it would never have gone so wrong.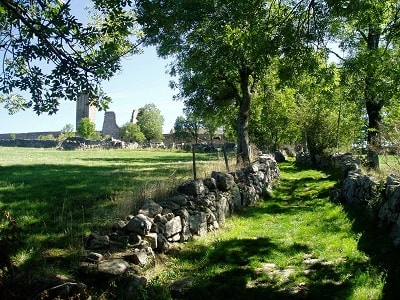 Before I left, Philippe asked whether I knew the route signs, and I confirmed that. For I thought that there were only red and white marks, and if there were other marks it would appear with more signing. Therefore it turned out a little strange when I some time after was on my own and a yellow mark seemed to indicate that the route turned down in the gorge of Chassezac (Canyon). But so many cars were there, and a path led to the gorge, so it had to be the direction of the route. The cars perhaps belonged to the golf course nearby, for I did not see a single person down there, and the route ended like a cul de sac, so I found myself on some great rocky stones after a very hard descent.
And I, damned, continued on the 'path', though the landscape which more left the picture of a deserted area in Canada or Alaska, and it cost many efforts, not only to walk down there but also to walk along the gorge, and definitely to ascend from it, which I did. The slopes were steep and were not as gradual as the serpentine path on my way down, and I was happy when I finally caught the road in a heat which could almost frie an egg and in a bath of sweat.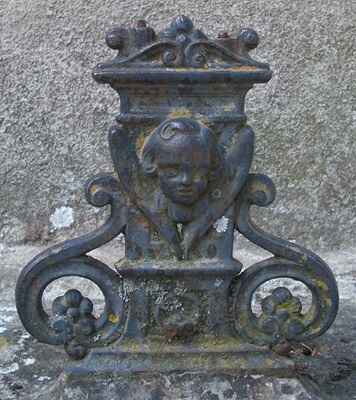 When I had begun walking on the road I had most in mind to continue on the highway to La Bastide-Puylaurent, and as I came to the town Albespeyres near Prevencheres and a Gite d' etape "La Butinerie" I almost considered to walk in there and spent the night there, although it was only half past two at that time, not more than two hours since I had parted from Philippe, but which two hours ! I had only had one break apart from the many breaks of respiration on my way up from the gorge of Chassezac. But after the village, the signs directed me back to the gorge, on a much more convenient gravel road and not as the usual stony paths. I went through a tunnel under the railway, and met a family who went in the opposite direction, so it couldn't be such a hard area.
After the railway the river followed, and then there was a bigger signpost I should have studied a bit more. It actually mislead me, because it did not lead to La Bastide-Puylaurent but to Prevencheres, I as mentioned didn't recall, and then there was a sign there "Val et gorges de l' Altier", which I unfortunately read as "Val d'Allier", the river outside the place I stayed. This meant that I walked in the direction east, where I, as mentioned, should have continued in the direction north.
I had the idea for a long time that the path just would turn around the mountain I walked close to, and then the main direction would be the same. But it did not, so I became more and more irritated. In the end I left the path but only to return, still in the wrong direction. I had lost the orientation and did not know where I were. I came to the village le Roure when it was half past four, and some hikers had written on the town sign the direction and distance to la Bessiere, and I regarded that for more reliable than the official signs along the path which continued to confuse me. After the village a path uphill lead to the viewpoint les Chalmettes, I have not been able to find on a map but which was called that and is placed south of la Bessiere.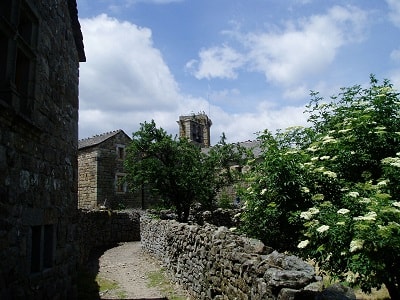 At les Chalmettes there was fortunately a tap (or a faucet), and it was to find an oasis in the desert. At this point I could also look down a valley, where I hoped to find La Bastide-Puylaurent, Villefort or another town I could connect something with, but below there was a quite different town, situated deep down with a very significant lake, it seemed like, in the middle of the town. It turned out to be the very small town of Pied de Borne, which almost is built together with Sainte Marguerite-Lafigere and therefore seems big when you watch it from above.
La Bessiere lay to the north, but it was also the only direction if I didn't want to go down to the town. I hoped to find a map of the area but found only a very local map. First a little further at a religious monument, I found a better map. La Bastide-Puylaurent was mentioned in the corner above right, and I got the name of the town, I had just seen from the hill. If I continued along the road, I would almost come back to la Roure which I did not want to see again, so I chose to walk across the fields in the direction of north-east until I reached a forest area. When I had reached that I went in the direction north but came to a steep rocky wall down. I had for a long while not had a break, in fact not since la Roure, and now not one hour had past but two, so I had a short break in the forest, but quickly I left with my bottle of water in my hand. After the break I had the choice of a road with a bar on my left hand and a road without a bar on my right (straight ahead was the dead end north direction).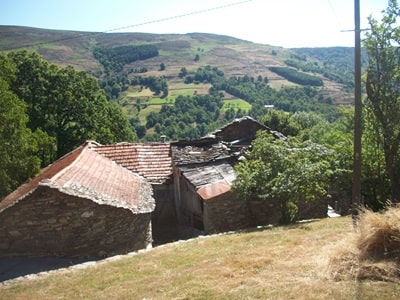 I should have chosen the road with the bar, for it would have lead me down to GR®72 and La Bastide-Puylaurent but I chose the other one. The path was again a dead end but it seemed to be possible to descend from this wall, and I hoped to come down to the valley. A valley can sometimes, however, be very differently. There are valleys where a stream flows, another where there is space for a road, a railway and perhaps some houses. But then there are also such valleys or gorges full of rocky stones over a perhaps smal stream which fights to come down there, where a river runs. And in this way was excactly the valley I came down to. It was not like the valley earlier on the day but definitely not to a sunday's walk for disabled people.
The small valley or valley or gorge was not so easy to cross. Fortunately it turned out that there was shade on the other side of it, and there was also shade when I had ascended the hill on the other side. From now on I was not more tormented by the heat, and that was at least a good thing. And a well marked path went on the other side, constructed across the impassable landscape which was very sculpturous, and I would have liked to have a camera there, but I had not, and I still didn't know where I was. In the middle of this magnificent nature I would only very much like to come back to civilization. And that was what I did. Through the serpentines I came down to the small and almost deserted village les Baumes, and there were human beings, two women who seemed like nuns and smiling at me, and I should just have asked them to lend there phone, for Philippe had said that if I had got lost he would come and get me. And it was seven o'clock, half an hour before the dinner. But I did continue, continued.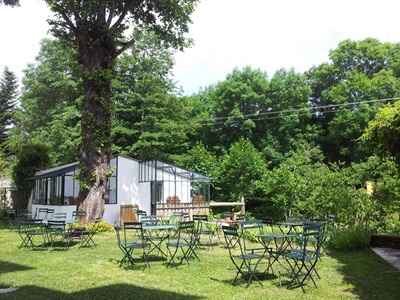 After the village there was a kilometer stone which showed to la Bastide-Puylaurent. Formerly it had been possible to see the number of kilometers, but it was almost blurred. I thought it seemed like 8 km, but when I came to the dam after some time, and where a car had stopped and a man was standing watching the view, it turned out that there was 12 km from there to La Bastide-Puylaurent, and I had already gone 3 km. He offered me to go by car with him about 7 km, so I only had 5 km to walk. He was from les Fagoux on the other side of the Born river. I don't know if it hadn't been shorter from les Fagoux than from the place he dropped me, with a 9km walk to la Bastide-Puylaurent. And it was the long and very much winding road which liked to climb the mountain.
I wished the archictect of this landscape had had better ideas or the road engineers had blown up some of the rocks or made tunnels. When I finally approached La Bastide-Puylaurent I could hear the traffic from the broad road west to me, the railway and a church bell.
At the sign of the town I had difficulties to go the last little walk to L'Etoile Guesthouse. The couple who had walked the route with a map came driving and picked me up.
I had a good time after that around the table where people were gathered, because they had spent the evening on different things. It was half past nine. Philippe and Anna had been very excited that I was so long time away, but now all were happy, and it actually became the best night I've had here.

Old romantic Hotel, L'Etoile Guest-House is a mountain retreat in the South of France. With a beautiful park along the Allier River, L'Etoile Guesthouse is located in La Bastide-Puylaurent between Lozere, Ardeche and Cevennes. Many hiking trails like GR®7, GR®70 Stevenson trail, GR®72, GR®700 Regordane way, Cevenol, GR®470 Allier river, Margeride. Many hiking loops. The right place to relax.
Copyright © etoile.fr