| | | |
| --- | --- | --- |
| | Our stay at L'Etoile, a guesthouse in La Bastide-Puylaurent, bordering the Ardeche, Cevennes and Lozere regions, run by an energetic and charismatic Greek Belgian host. | |
Australians cyclists for a week stay at L'Etoile Guesthouse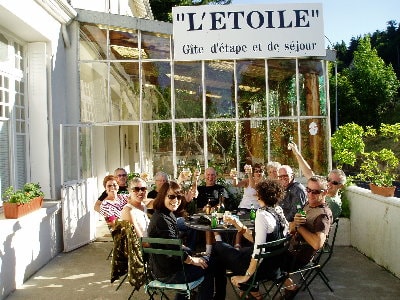 An extended riding holiday through France, Croatia and Italy in 2006 left my wife Jo and I with a burning ambition to one day return to France with our road bikes.
Early in our planning we had agreed it would be fun to include two weeks of self-guided group riding in order to share the adventure with our regular weekend riding buddies. Some had been a part of the earlier trip in 2006, some had not, however we had all enjoyed recent group riding weekends together throughout Victoria, northern NSW and Tasmania. We were confident that our party were all "team players" & would cope with the combined challenges of travel, language, cultural differences, group living and hard riding. Jo & I had managed to source a large villa near Pau on the internet that could cater for 11 people. It took time, but it was fun. As a group we all got to enjoy the growing sense of anticipation and excitement that went into the planning of our time together in the West Pyrenees. Bike bags were purchased, compact cranks and pizza sized cassettes fitted, flights booked, guide books purchased, cars hired & rendezvous points planned.
What we still lacked, however, was a location for our second week together.
Tim Crabbe's seminal cycling novel, 'The Rider', sparked our initial interest in Massif Central as an ideal base for a week of riding in a region less travelled. The description in the story of a wild landscape, atop a plateaux approximately 1000m above sea level with deep gorges, challenging climbs and stunning scenery sounded like it would be our speed. The promise of not having to compete with hordes of fellow tourists filled us with a sense of anticpation that we just might be on the cusp of a unique and memorable travel experience.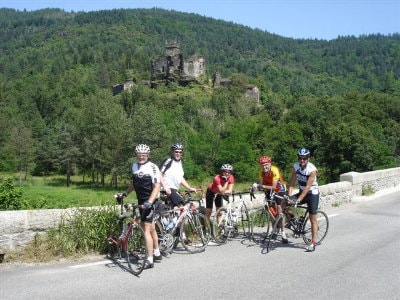 It was, however, a full day's travel from Pau. We were still procrastinating when a friend, who had recently stayed in Languedoc, spoke glowingly over a coffee of the remoteness and untamed beauty of the area. Coincidentally, much of the Massif Central fell within this little known region. As well as being a mecca for walking, she was confident it would also be equally good for bike-riding. Yes, there was a myriad of trails for MTB's, but there was also a rich network of quiet back roads suitable for road bikes, especially if you liked climbing and descending!
Sue and her partner Peter had stayed at L'Etoile, a guesthouse in La Bastide-Puylaurent, bordering the Ardeche, Cevennes and Lozere regions, run by an energetic and charismatic Greek Belgian host. Whilst they enjoyed their week following the countless trails that included some of the 256km route (Stevenson trail GR®70) taken by Robert Louis Stevenson and his donkey Modestine in 1878, they spoke especially highly of L'Etoile, in particular Philippe's charm and unique brand of hospitality. Once they mentioned lovingly prepared meals, including home-baked bread and Belgian beer, the deal was all but sealed.
Both Jo & I figured that after a week of self-catering in the West Pyrenees it would be a luxury for our group to come home after a day in the saddle to enjoy an evening meal prepared by our host. No shopping, no preparation and no dishes-it all sounded like a no-brainer.
Suitably inspired, I logged on to the L'Etoile web page with an enthusiasm normally reserved for our regular Saturday morning group ride. Although it did seem to be a blue-ribbon walking region, I was encouraged to find on the site, in english, some suggested road rides ranging from 22km to 90km in length.
The prospect of being able to benefit from the experience of others rather than planning an itinerary from scratch stirred me into further action.
Philippe responded promptly to my booking enquiry. He reassured me that no deposit was necessary for the six double rooms with en-suite - could I simply just let him know if the numbers changed over the coming months? I was starting to think that this perhaps this was all too good to be true.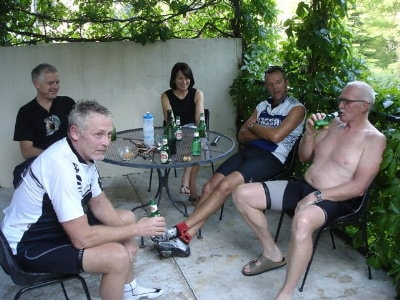 Our group set off from Pau early on the Saturday morning, four by train and eight by car. It was going to be a full day of travel covering some 700 km from the Pyrenees to Massif Central. Following an oft repeated script, the day of travel was mild, sunny and windless-why do the travel Gods mock us so? They should have been satisfied knowing how hard is was for us all to leave the stunning maison that had been our home for the past week. Great riding, food and wine to die for, and the very best of company had made for a memorable week.
In our imaginary Great Race the train travellers won the day. They were pretty happy to arrive first given the quality of vehicles (complete with GPS technology) at the disposal of those of us that had convoyed by car. After a long, hot commute they were even happier to discover that L'Etoile was only a two minute walk from the train station-a throwback no doubt to the days when guest houses all over the French countryside were a popular choice for couples and families wanting to escape the oppressive heat of summer.
Better was to come. When we finally pulled into the car park we were regaled with stories of the warm friendly welcome the train travelers had received, which included beer and complimentary snacks.
It seemed that Philippe had read the situation perfectly. Before long we were all ensconced in what was going to be home for the next week. Accommodation was basic, but all the rooms were spotlessly clean, and large enough to feel luxurious by European standards.Importantly, there was ample on-site parking and a large room where we could lock our bikes and store our gear overnight. Nothing seemed to be a problem to Philippe - he was already beginning to put us at ease in that special way understood by only very best of hosts. For twelve weary travellers at the limits of their endurance this was a god-send.
Somehow we all mustered the enthusiasm to unpack and reassemble our bikes in readiness for a morning ride-a task made easier and more pleasant by having access to the large flat lawn at the rear of the guest house. A cold beer in hand, and the sound of the Allier river flowing gently by helped revive those of us that were still a little frayed at the edges from our journey.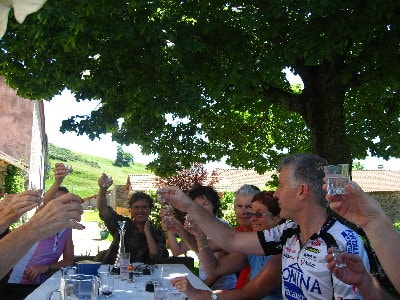 Dinner was a revelation. We shared the dining room with two tables of French walkers-repeat customers of course. I was to learn later that L'Etoile was a favourite base for walking clubs from as far afield as Paris and Marseille, the former boasting over five thousand members. Carafes of local wine were laid out on the table and homemade soup was served by the time glasses were filled.
The much anticipated home baked bread was in abundance, and obviously a hit given how quickly the big baskets were emptied. Next a fresh salad course, followed by a delicious oven baked pork and potato main, the mandatory cheese platter (we were in France after all) and an amazing rhubarb & apple tart to finish. We would definitely have to add a few extra kilometres to the planned ride tomorrow!
Our group chose to head off for an evening stroll to aid our digestion and explore the small town a little. The French walkers stayed put, hoping that our host would agree to play a tune or two on the piano to finish off their last night in style.
We all rose early, eager to ride off the lethargy of the travel day and explore the region. The Dining Room that had been laid out earlier that morning by Philippe and his trainee, Jing Chao, boasted orange juice, brewed coffee, toasted muesli, fromage blanc, home baked bread and local jam. As with the dinner for nearly 50 guests the night before, the provision of breakfast exhibited an air of unhurried efficiency.
What was even more unusual was that the French walkers, who were at the end of their week long stay, seemed to be actively involved in helping where they could. Some stacked used plates and cutlery at the end of tables for collection, others took dishes out to the kitchen. There seemed to be no shortage of volunteers happy to help with the clean up and engage in some light-hearted banter. We were already getting the sense that there was something quite different about L'Etoile. There existed here a real sense of cheerful cooperation, more akin to being a welcome guest in the home of a friend. The formality that typifies hotel accommodation, with clearly defined roles for those who provide the service, and those who benefit from such service, was missing. It was unusual, but to all of us it somehow felt right.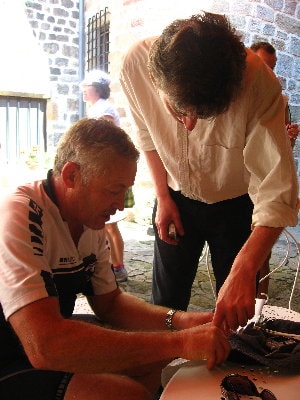 After breakfast I searched the guesthouse for a detailed road map of the local area-L'Etoile had an abundance of walking maps, but all were of too large a scale for the purposes of planning a cycling route. Philippe was keen to know where we were headed, so I mentioned briefly that to get our legs going after yesterday's long day of travel we would ride the 26km down the valley to Langogne, have a coffee and then retrace our route back to La Bastide-Puylaurent. He was mortified ! No, we must not return the same way. A return journey dotted with scenic highlights, some steady climbs, a Col or two, rich forests, thrilling descents, & remote rustic villages would be so much more enjoyable, especially as he could also recommend a number of tiny cafes to help sustain us en route. Although it sounded a bit more elaborate than we had originally planned, Philippe's unbridled enthusiasm and willingness to provide us with his vast local knowledge was irresistible. Of course, the day panned out to be everything he promised, and more. How good? So good that we all enthusiastically agreed to retrace the exact 60km route later in the week.
The riding continued to exceed all our expectations. Each day delivered warm sunny days, quiet roads, and breathtaking views. Challenging climbs were almost inevitably followed by hair-raising descents. After ride was a special time too. Hot & weary, a few hardy souls would walk a hundred metres or so upstream to a deep pool to soak our tired legs in the coldest, cleanest water imaginable. Back at L'Etoile the late afternoons were spend on the large flat shady lawn reading, tinkering with the bikes, catching a recuperative cat-nap or sampling one or more of the extensive range of Belgian beers available. Chimay, and all other beverages, were kept on a tab as part of an honour system-all you had to do was sign your name in the log provided. A similar system operated in the laundry for those guests wanting to use the large washing machines. This was typical of Philippe's relaxed attitude, as well as an indication of the trust placed in you as a guest at L'Etoile.
As we were in France before the summer peak, Philippe was able to share much of his knowledge about the region with us. One day he organised an amazing four course lunch in the jardin of Francine, a fellow Belgian gite owner in a nearby village. He was also very keen for all of us to do a full day ride in the Ardeche & was happy to volunteer to drive the "sag wagon" for those in our mixed ability group who might find the gradient a bit too challenging at times.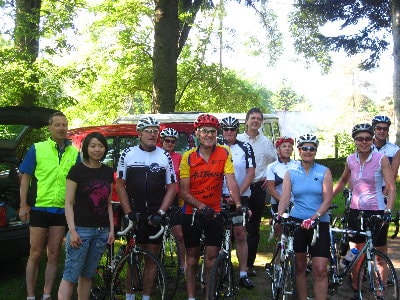 We set off in a peloton that to our surprise included Jing Chao, looking a little apprehensive on one of the fleet of mountain bikes that are available at L'Etoile for guests who arrive without bicycle. As promised, Philippe brought up the rear in his trusty van-the sight of its large interior providing some comfort to those amongst us who felt that perhaps the day's ride might just be a bit too difficult.
We climbed steadily out of La Bastide in the direction of Saint Laurent les Bains. It wasn't long before Jing Chao was feeling the higher degree of difficulty pushing an 18 kg MTB with knobbies relative to our 7 kg top-end road bikes. A couple of us waited for her at the top of the gradual climb, whilst the rest plunged over the crest and down into the spa village of St Laurent.
After Jing Chao had recovered her composure she set off down the hill somewhat shakily. Not knowing what the descent was like, we decided to give her a bit of a head start to avoid unnerving her as we hurtled past. As we rounded only the second curve, however, we were confronted with the sight we have all come to dread -"rider down", rear wheel spinning maniacally on her upturned bike beneath a plume of dust.
Mercifully, all Jing Chao's body parts seemed to be OK. Apart from being badly shaken and boasting some nasty gravel rash, damage seemed to be minimal for what must have been a high-speed "off". Two things were certain though. Her riding was finished for today. She would also be presented with the "chicken"- a symbol our group circulated to light-heartedly acknowledge the last rider unlucky enough to hit the asphalt. So serious is the ritual that a travel-sized version of the toy chicken made the trip from Melbourne for just such an eventuality!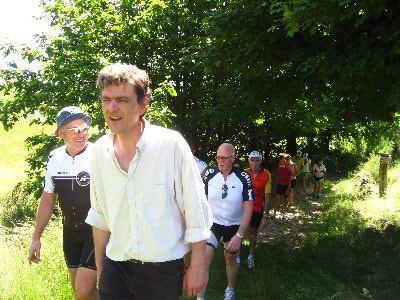 One of the group took off down the hill to enlist the services of Philippe in the back-up car. When two of the group leapt out of the van we were touched by their concern-right up until we discovered that they had hitched the ride up back up the hill with the sole purpose of having a second crack at the awesome descent!
We rested briefly in the picturesque town square to allow the adrenaline from the thrilling ride into town to abate. The water in the central fountain was not suitable for filling our bidons - a local casually informed us it bubbled out of the rock at an amazing 50C! Meanwhile, Philippe took the opportunity to lead Jing Chao down to the cool stream just out of the town centre to bathe her abrasions.
All too soon the seven of us who had decided to tackle the 10 km ride up and out of the gorge into the Chap Del Bosc Forest had settled into the lightest gear possible to handle the sometimes brutal gradient that averaged 10%. Wisely, at the foot of the climb, we had decided all bets were off, and instead we would ride together in the hope of avoiding the dreaded "red-zone" and blowing up before the summit. It was getting hot, and we weaved drunkenly up the steep incline in search of whatever shade was available. After nearly an hour of grovelling, we finally turned a corner to see our support crew cheering madly. We had made it! After easing ourselves from our bikes we wobbled into the shade on jelly legs. Happily the combination of high-fives, cool drink and energy bars quickly worked their magic. Before long the full group set off again, all looking forward to the promised long descent through the vast forest to the valley below.
Spirits were high after the extended downhill, and we hit the start of the inevitable next climb enthusiastically. The forest had given way to pasture, and the causse soon revealed the steep, snaking road leading up to the Col de Meyrand.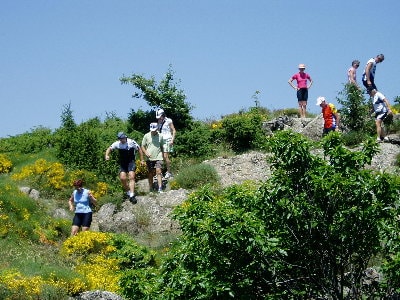 Eight kilometres on, Philippe had pulled the sag wagon into a gite d'etape in the tiny bourg of Loubaresse. He somehow wove his magic with the owners of the gite – convincing them that providing a traditional rustic lunch of bread, salami, duck terrine & cornichons for 14 people without notice was no big deal. It was all washed down with Orangina, beer and a little wine-a timely, delicious & ridiculously inexpensive lunch on the road.
Best of all, however, we were made to feel completely welcome despite our smelly lycra and the discourtesy of arriving unannounced.
Suitably refreshed, we tackled the short but steep 3km climb to the summit. Although it was hot, the full beauty of the Ardeche landscape as it unfolded provided ample reward for effort. The panorama provided by the Valee de Valgorge included stunning views of the legendary Mt Ventoux & beyond to the distant Alps. As we were ready to take-off we were joined at the lookout by a group of French cyclists, the first riders we had seen all day. No-one failed to notice their expensive kit & top-end bikes, nor that they, like us, had all suffered on the hot steep climb to the col.

After a quick exchange of greetings we pushed on whilst they soaked up the view. We agreed it was "game-on" for the descent, and despite the road surface being pitted coming off the 1371m col we had a fantastic downhill run.
We continued on up at to a steep pinch before descending into Saint Etienne de Lugdares. Although the superbly refurbished eglise dominated the village, the magnificent icy clear water on offer at the nearby town well commanded most of our attention. It was now 3pm, and all that remained was a gentle 18km ride down to into the hamlet of Luc, then the gradual 8km up along the l'Allier to La Bastide-Puylaurent and the relative luxury of L'Etoile.
The faster surface on the river road from Luc provided an exhilarating end to an amazing ride. Soon we were basking in the sweet glow of after ride endorphins. The late afternoon provided a perfect opportunity to relax and rest tired muscles, plunge into the stream, effect minor mechanical repairs or take a nap, all in the knowledge that at 7.30pm we will be called to the table to enjoy a home–cooked feast of soup, pizza slice, carrot salad, lentils & roast beef, cheese platter and apple pie. All of course accompanied by generous quantities of local wine in the company of friends old and new. After dinner we hooked up with a large table of French guests to enjoy Philippe's musical talent & celebrate life. We sing, we dance, we drink and we laugh for as long as our tired bodies will allow. Can life get any better than this?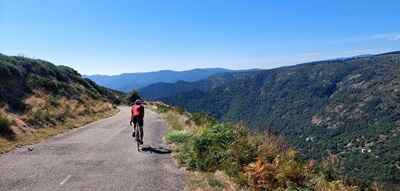 Our group holiday had been a resounding success - great company, amazing countryside, challenging riding & fine regional cuisine, all of course wrapped up in a blanket of warm French provincial hospitality. The fun of living the life of a professional rider for a couple of weeks added to the package. Each day was no more complicated than rise, eat breakfast, ride, eat lunch, sleep, plan the next day's ride, eat & drink some more, sleep and so on. Sadly, even though we briefly enjoyed the lifestyle, no pro-team is likely to offer a contract to a 53 year old domestique who weighs 85kg and averages 30kph on the flat on a good day!
However, if you are looking for quality riding on uncrowded roads, wild and diverse terrain, spectacular gorges and rich history, then Massif Central might just be the place for your next cycling adventure. It boasts a seemingly endless variety of rides that are ideal for mixed ability groups like ours, or those with loftier ambitions.
Friendly locals, high quality local produce, and the temperate climate (about 5 degrees Celsius cooler than Provence in summer) help make this vast underpopulated region one of France's best-kept secrets.
Footnotes
Philippe Papadimitriou's L'Etoile Guesthouse can be found at www.etoile.fr. La Bastide-Puylaurent is accessible by rail from either Paris or Toulouse via Nimes. The Lonely Planet's "Cycling France" is an invaluable resource for any individual or group planning a self-guided riding holiday in France. Michelin maps of local regions, available in all but the smallest of villages, are essential for planning & navigating daily rides. If possible an afternoon reconnoitre by car of the proposed route prior to riding is useful in establishing the level of difficulty, road quality & traffic volume you will encounter. Others will thank you if you also note the location and opening hours of any boulangeries or patisseries en route.

Old romantic Hotel, L'Etoile Guest-House is a mountain retreat in the South of France. With a beautiful park along the Allier River, L'Etoile Guesthouse is located in La Bastide-Puylaurent between Lozere, Ardeche and Cevennes. Many hiking trails like GR®7, GR®70 Stevenson trail, GR®72, GR®700 Regordane way, Cevenol, GR®470 Allier river, Margeride. Many hiking loops. The right place to relax.
Copyright © etoile.fr