| | | |
| --- | --- | --- |
| | A very beautiful and comfortable accommodation along the Allier river in the Cevennes mountains between Ardeche and Lozere. | |
My Week's holiday at L'Etoile and the Cevennes
My name is Rachel Dobbyn and I am from Dublin, Ireland. I would like to tell you about my stay at L'Etoile in La Bastide-Puylaurent. I stayed with Philippe for one week in June. I had an absolutely brilliant holiday. It was very relaxing and enjoyable.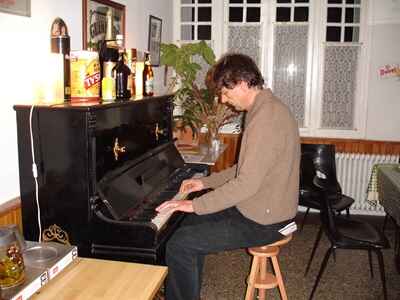 Firstly, I was thrilled to see that L'Etoile is situated right beside the small train station. I did not have to carry my huge haversack very far. Philippe proved to be as friendly in person as he was by e-mail. He speaks very good english so we soon started chatting away. As you know, there are hundreds of guesthouses to choose from on the net so it was difficult making a decision from Ireland. I knew straight away that I had made the right choice. As I was traveling alone for the first time, I am happy to say that I felt very safe and relaxed at L'Etoile.
The evening meal was always delicious. Philippe's home made soup and fresh baked bread are particularly tasty. After dinner, Philippe often entertained us by playing the piano as the customers sat by the huge log fire.
On my second night, I was lucky to meet a lovely family called the Tate's and their friend Steve (who was really like their son ) who all live in Chicago, USA. They stayed 2 nights at L'Etoile. They kindly broght me along with them to a nearby town called Alzons in Lozere and Les Vans in Ardeche.
Philippe was a great host. He brought us to the abbey of Notre Dames des Neiges (historic the Stevenson trail GR®70) where a monk showed us around the wine cellars. Philippe serves this gorgeous wine at dinner each evening. Philippe also kindly brought me to visit his friends in small villages around the Cevennes. I particularly liked the medieval town of La Garde-Guerin, especially climbing to the top of the tower near the Chassezac river. Philippe really does know the meaning of true hospitality. He was very funny and has many humorous stories of his travels. As I do not speak very good french, he always made sure that I had my dinner with customers who speak english. I do not know who I like best Philippe or his lovely dog Billy ! Billy really is the master of the gite. I will always remember my stay at L'Etoile . I am already looking forward to next visit.

Old romantic Hotel, L'Etoile Guest-House is a mountain retreat in the South of France. With a beautiful park along the Allier River, L'Etoile Guesthouse is located in La Bastide-Puylaurent between Lozere, Ardeche and Cevennes. Many hiking trails like GR®7, GR®70 Stevenson trail, GR®72, GR®700 Regordane way, Cevenol, GR®470 Allier river, Margeride. Many hiking loops. The right place to relax.
Copyright © etoile.fr