| | | |
| --- | --- | --- |
| | My stay holiday at L'Etoile Guest-House in La Bastide-Puylaurent, located between Cevennes, Ardeche and Lozere in southern France. | |
My week at L'Etoile Guest-House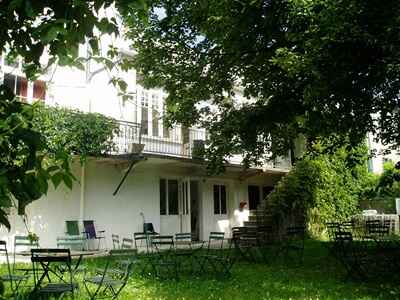 The landscape changes smoothly along the way Brussels-Nimes. As I got closer to the Mediterranean, precisely after Valence, I spotted the first Cyprus ! From Nimes, the trip continues towards the north until La Bastide-Puylaurent in Lozere at the meeting point among the trails GR®70 Stevenson trail, GR®7, GR®72, GR®700 Regordane way or Saint Gilles trail, the Cevenol, and the footpath of the Gorges de l'Allier (River Allier's Throats). The view of the Cevennes from the the windows of the ultramodern train with panoramic glass panes, is stunning. A documentary movie could not have reproduced it as well.
As I got to L'Etoile Guest-House, I was welcomed by the owner/manager, Philippe Papadimitriou, and his dog Billy (below). Philippe is an almost 6 feet tall, vigorous man, who has traveled the world, but is originally (and also by conviction), an European citizen. As he welcomed me with his blue eyes and his look mischievous, I got right away the sense that I was the most special of the guests and that he had been waiting specially for me. (Just a false illusion: he gives this impression to every new comer!)
The Guest-House, which was once an old romantic hotel, is spacious and clear. In the front of the house, there is a great porch with big veranda; in the back, there is a balcony from which you have a great view of the garden along the Allie River. The meals are served in a spacious dinning room on "tables d'hotes" (homemade bread), a variety of delicious french dishes, with a nice piano on one of the corners. Philippe is a great pianist who enjoys presenting the guests with his afternoon improvisations. But the room's greatest feature is the fire place which I very much appreciate the heat in this season.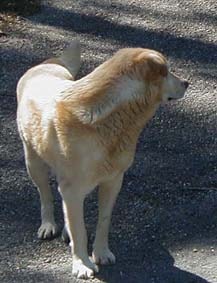 And then, there is Billy, a mixture of Labrador/Golden Retriever/??, or, as Philippe affirms: a new breed "guest-house's dog". Billy is part of the guest-house's concept. He welcomes the new guests according to his own critters: he is cordial to some guests; to others, he barks loud and strong; and there isstill those to whom he seems to be completely indifferent. I guess he knows exactly what he is doing.
Billy takes up strategic spots in the house: either the office's door (from where he can see the aisle, the main entrance, and the dinning room), or the kitchen's door (for obvious reasons). In addition, he loves to seat comfortably on his armchair in front the fire place. His technique is precise: first, he places his chin on the seat; then, his front paws; a little push and the rest of his body follows it. Once the four paws are on the armchair, he effectuates a little rotation to the right, and finally lies his head on the pillow: ouf there you go! At this point, we can shake and spin Billy on his chair, take pictures of him, he wont care.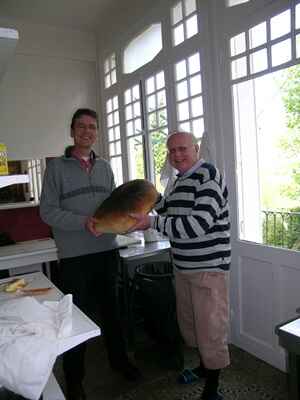 Between Billy and I, it was love at the first sight! As soon as I settle somewhere, and I must confess, I often choose the fire place, Billy comes to lie down over my feet. His lies his head on his front paws, and takes a deep breath. At this moment, I caress his ears while saying that he is the best dog on Earth. Billy accepts my commands without any comment, but I think he agrees with me. To compensate, let's put this way, he lies on his backs, so I can caress his belly. He ends up sleeping on his right side; but not before taking a deep breath.
He also loves to come say good morning in my bedroom by entering through the balcony's door. All excited, he jumps up and down. I declare that Billy is "my" dog during my stay at l'Etoile, and Philippe agrees cordially. Billy doesn't appreciate hiking anymore (he is not so young), on the other hand, he loves to go shopping with Philippe in his minibus. Except that he still doesn't know how to buckle up.
But, let's not forget that I came here to hike. We go hiking for three or four hours. Hikers have a lot to choose around here. The country is beautiful, very colorful mountains, hills, valleys, cols, etc. The fields are covered by a green carpet, with yellow beautiful flowers. On the trails' borders, there are daysis, orchises and snowdrop.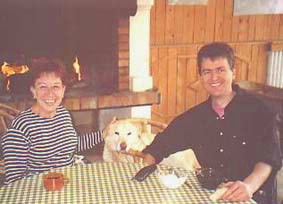 I'm fascinated by the flanks on the hills; it seems that lord has carefully created them. There are fir trees along with pines and beeches. There are flowers over trees and bushes, the genet grows on the rubble, there are tall and short versions, slim and generous, long and wide. All various green tones are in a great harmony.
Driving on narrow routes gives us the feeling of being in the kind of landscape created by those old mini-electric trains: valleys, hills, bridges, tunnels, train tracks, farms, rivers, sheeps, the landscape is always changing. And on the top of everything, the sky changes between blue and grey, the clouds open and discover a sunny blue which is again going to change. I'm surrounded by silence, interrupted just by the birds and the sound of a river. It's like heaven!
I was very sad to leave at the end of the week. Before leaving, I made a wish: to come back to the landscape, to l'Etoile Guest-House, and to Philippe et Billy.

Old romantic Hotel, L'Etoile Guest-House is a mountain retreat in the South of France. With a beautiful park along the Allier River, L'Etoile Guesthouse is located in La Bastide-Puylaurent between Lozere, Ardeche and Cevennes. Many hiking trails like GR®7, GR®70 Stevenson trail, GR®72, GR®700 Regordane way, Cevenol, GR®470 Allier river, Margeride. Many hiking loops. The right place to relax.
Copyright © etoile.fr