| | | |
| --- | --- | --- |
| | An exchange between Philippe's Guesthouse in Lozere, France and our Farmstay Rock Eddy Bluff in Missouri, USA. | |
Our visit to L'Etoile Guest House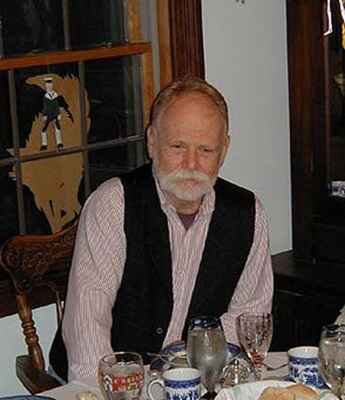 Our goal was to find -- in a three week sojourn -- some small scrap of the essential France, a sense of the countryside well away from the worn tourist haunts of Paris, Riviera, châteaux de la Loire or Provence; to discover the sights, sounds, and smells of places distinctly French. (No small feat for a couple who speak almost no French and with only a passing knowledge of France itself.)
By a stroke of amazing luck we met Philippe Papadimitriou and were able to realize our goal. We are deeply grateful !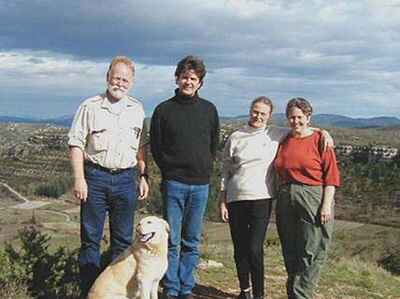 Our luck grew out of our mutual careers as innkeepers, Philippe at La Bastide-Puylaurent in Lozere (North of the Cevennes National Park) in Southern France, and we in Dixon (between St Louis and Springfield) Missouri USA. As Philippe's gite is closed in the winter, he made an email proposal to several Bed & Breakfast, Farmstay, Country Inn and Guest-Ranch in the USA, suggesting that we trade visits with the purpose of learning from each other. We were one of those inns who received his proposal and accepted. We are so happy we did !
The experience has been both enjoyable and educational for both of us. We are both changed by it -- I think we (Kathy and I) have perhaps gained the most. (We have come to a more robust view of what is truly hospitable; a glimpse of what could be for the American hospitality industry that, truthfully, is becoming worn, repetitive and over-wrought.)
But we must tell you about our trip ! The picture above shows me (Tom), Philippe, Philippe's mother, "Virgine", and Kathy (oh yes, and "Billy" the dog). We are on a day trip to the Saturday market in Les Vans, along roads winding down canyons of the Chassezac and beside rushing rivers.
The countryside is awe-inspiring and authentic. Tiny stone hamlets with terracotta roofs cling to the sides of mountains.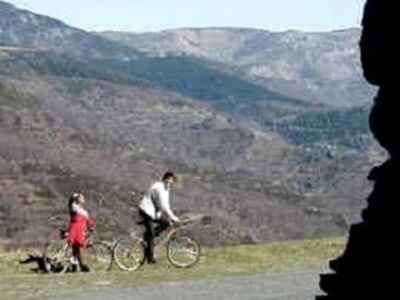 Countrymen, in these part of Ardeche, tend sheep and goats in stone biers beneath groves of chestnut trees. Vineyards hang precariously to the slopes.
In summer, the area (called the Cevennes) is filled with hikers from all over France, Belgium, England, Germany and Nederland.
While visitors come from many European countries, the pleasures to hike on the GR or GRP of Ardeche, Lozere and Gard in the Cevennes mountains are virtually unknown to Americans. (We hope in some small way to change that).

In 1878 a young Robert Louis Stevenson came here. While not as famous as his other books, "Travels With A Donkey In The Cevennes." provides an account of his trip.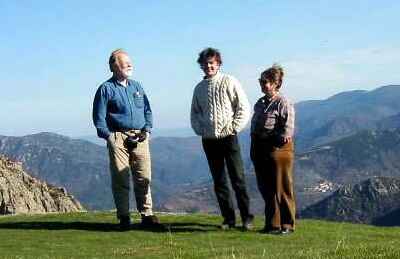 You can follow his footsteps by hiking the Stevenson Trail from Monastier sur Gazeille in Haute Loire untill St Jean du Gard via Pradelles, Langogne, Cheylard l'Eveque, Luc, La Bastide-Puylaurent, Bleymard, the Mont Lozere, Pont de Montvert, Florac, Cassagnas and St Germain de Calberte. La Bastide-Puylaurent where goes many hiking trails like GR®70 Stevenson trail, GR®700 Regordane way (St Gilles trail), GR®7, GR®72, Le Cevenol, Margeride loop and Allier river trail.
We reserved three weeks for our visit to France -- a few days at L'Etoile Guest-House then on to tour other areas, we reckoned. We wound up staying a full week with Philippe. His hospitality was warm. We regretted leaving ! He is a superb host !
The trip was begun by car from Paris, leaving Gare de Lyon with our little red Citroen. To reach Philippe's gite one can also board a thru train to La Bastide from Paris. Or, take the speedy TGV to Nimes, then back by slower train to La Bastide. Since the elapsed time is nearly the same, Philippe recommends the slower, more-scenic through-train. Of course there are even quicker options involving combinations of flying machines and trains or cars.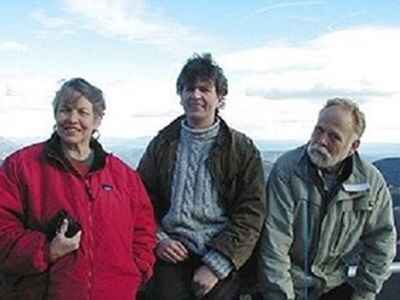 As in America, auto touring involves a choice between slow and scenic or slick and fast. We choose slow, meaning we followed yellow roads on the Michelin map. A tip: forget road numbers. Instead, have in mind the names of several towns ahead on the route you plan. And, have a detailed map.
Hiking is the main recreation around La Bastide. But the weather was rainy and changeable in March. So, with Philippe, we toured by car and bicycled. We suggest the following things to do:
Visit the abbey "Notre Dame des Neiges" (Our Lady of Snow) tucked back in the hills where lives around 15 monks.
Visit Pradelles, a fortified town with view to Naussac Lake.
Load bikes aboard the train at La Bastide, unloading them at Chasserades or Belvezet, up the line. The trip back is a luxurious downhill ride following Allier river.
Visit Philippe's friends in small villages and hamlets like Loubaresse or Aujac scattered about the Cevennes. He is well-know hereabouts because of his friendliness, his worldliness, and because he is a unique sort of fellow.
Visit Druid stones at Le Thort scattered over the Cevennes on the line of watershed.
The Medieval town of La Garde-Guerin and the Gorges of the Chassezac -- relatively unknown as a tourist destination -- is a must if you want a sense of how life might have been here.
For a truly wonderful outing, bike 22 kilometers down the canyon to Alzons and Pied-de-Borne. The scenery is magnifique and the gentle downward slope through small hamlets along the road lends a truly French flavor to your ride.
Pretend you are a pilgrim at Le Puy en Velay and ascend the high hill to the abbey.
Saturday is market day at Les Vans, along roads down the canyon that definitely have "pucker factor".
Enjoy each day awakening to the gurgle of the swift steam running beside L'Etoile.
We can't wait to go back and see L'Etoile during the season when it is open for business and see Philippe in action. If you are considering a visit or an exchange with Philippe, we'll be glad to tell you all we know about this wonderful place.
From "A High Sunny Place". The book may be obtained at the following web address: http://www.lulu.com/spotlight/rockeddy
If you plan to visit Philippe in La Bastide, let us offer any information that would assist you. Contact Tom & Kathy Corey, Rock Eddy Bluff Farm, Dixon, Missouri USA. Email at corey@rockeddy.com or phone (573) 759-6081 (Map)

Old romantic Hotel, L'Etoile Guest-House is a mountain retreat in the South of France. With a beautiful park along the Allier River, L'Etoile Guesthouse is located in La Bastide-Puylaurent between Lozere, Ardeche and Cevennes. Many hiking trails like GR®7, GR®70 Stevenson trail, GR®72, GR®700 Regordane way, Cevenol, GR®470 Allier river, Margeride. Many hiking loops. The right place to relax.
Copyright © etoile.fr