| | | |
| --- | --- | --- |
| | Philippe Papadimitriou arrived from Belgium to Cevennes Region in Southern France by accident. How he founded his Guesthouse is a story in itself. | |
Meet our friend Philippe Papadimitriou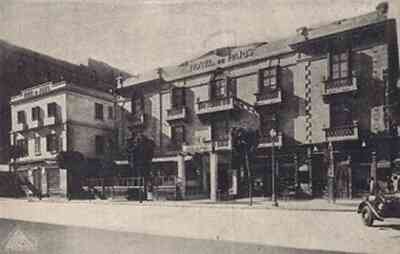 Being the boss of a Guest-house, Bed and Breakfast or a Farmstay is the realization of an ideal for one and a necessary source of income for another. Here is a lover of adventure, Philippe Papadimitriou, who managed to join these two objectives in a small village north of the Cevennes.
"A young man of high stature whose grandfather was at the time the owner of the Hotel de Paris to Cairo in Egypt (8, rue el-Maghraby, el-Abaseya district, near the University of Ain Shams)," was the description given by Nicholas Crane in 'Clear waters rising' after a long walk during a year and a half from Cape Finisterre in Portugal to Istanbul in Turkey with a stopover at L'Etoile.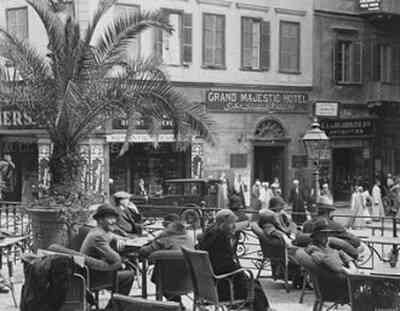 He enjoys a meal with wild mushrooms when Philippe is playing piano near the open fire. During his stay, he wrote the story how Philippe bought and transformed this former resort hotel. "It was, he said, an intuition, not a scientific experiment."
Nicholas Crane was clearly fascinated by the Belgian-Greek Philippe Papadimitriou. No wonder this because the history of the life of this former gold prospector to the many small jobs is full of twists. How he landed in the Cevennes is a story in itself.
While living in Brussels, the opportunity presented itself to him during his 29th anniversary of working in a small village in the Gard in southern Cevennes. "And that was good because I wanted to work abroad, I was ready."
At the end of his contract, Philippe wanted to walk from the south of France to Brussels. But he stopped after thirty kilometers in the small village of Bordezac in the Gard. "I met Olivier, the young owner of "Mas du Lauzas" farmstay, which wanted to halt its activities. Enthousiastic with new perspectives, I wanted to share the rebuild of the business with the owner. But without success." Philippe stayed six months longer than expected, and then decided, thanks to Olivier who lent him his two horses and his dog, crossing the country on horseback with his girl-friend. The team has follow the old Roman road "The Regordane" (GR®700) who goes across the Cevennes through La Bastide-Puylaurent. They stayed there for two summer months in 1989 and then following the GR®7 trail to the Vosges (North-East France). One month and a half adventure who stimulated Philippe to change life. Nature, contact, dynamism, adventure and quality of life was the engine of our friend.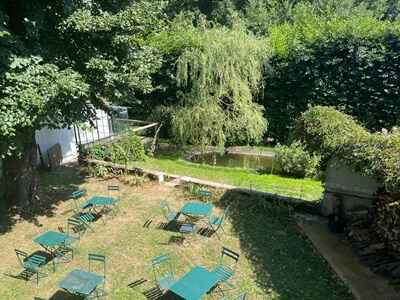 During his travels, the idea of open a guest-house was more and more alive in his mind. He went around Pyrenees and Cevennes looking for a nice place to open his new business. But he allways returning to La Bastide-Puylaurent where the old "Hotel du Parc" or "Ranc Hotel" was for sale. In a short time, he acquired the proprety and he has spend five years to restore the building.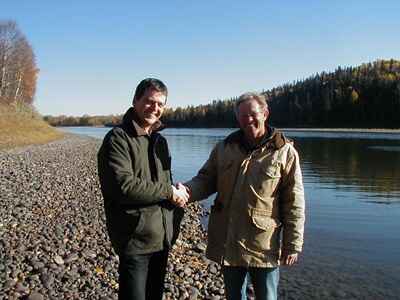 For the owner, this is an ideal well done. From May to September, he does the cooking, housekeeping, baked bread, serves Belgian beers and managed to create an atmosphere of "like at home".
"When I open, I feel like on board a sailboat that will cross an ocean," he said. "It is not a work anymore but an experience !" adds happens.Philippe stay available to the proper management of its large "boat", 24 hours a day and 7 days a week. He also works hard on its web site to promote its concept and share its motivation for another way to live together, work and develop this adventure that follows as a gold-prospector. "I am perhaps a businessman but not a commercial; money will come if the idea is good and rich" ...The small entrepreneur keeps busy and loves providing an enjoyable and convivial experience for his guests. There are still many ideas in his head. "Mais il me reste encore plein d'idees."
When the gite closes, he travels to meet other gite-owners such as Strawberry Mountain Inn B&B, Prairie City, Oregon, USA; Mowbray Park Farmstay, Picton, New South Wales, Australia; Horse Creek Ranch, Fort Assiniboine, Alberta, Canada; Mr. Benlhou, Hotel Zagour, Zagora, Morocco. More information about International Innkeepers Exchange.

Old romantic Hotel, L'Etoile Guest-House is a mountain retreat in the South of France. With a beautiful park along the Allier River, L'Etoile Guesthouse is located in La Bastide-Puylaurent between Lozere, Ardeche and Cevennes. Many hiking trails like GR®7, GR®70 Stevenson trail, GR®72, GR®700 Regordane way, Cevenol, GR®470 Allier river, Margeride. Many hiking loops. The right place to relax.
Copyright © etoile.fr