| | | |
| --- | --- | --- |
| | Reciprocal invitation and exchange ideas between Benbellen Farmstay in Hannam Vale New South Wales Australia and L'Etoile Guesthouse in La Bastide-Puylaurent Lozere France. | |
Benbellen Farmstay A new farm and a new job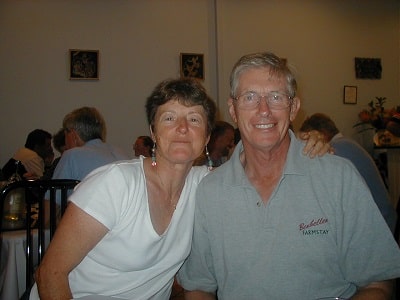 Peter is a tall and a quiet man. He talks calmly, something like a company manager who would have gathered lots of degrees and a lot of experience. He kind of impresses me. I didn't even get to the half of my secondary school, and although for ten years I have been putting up tourists, I feel like he's a master to me.
From the morning on, we set out for a golf competition. It was my first step on the greens, the first time I would hit such a ball or cast a piece of turf.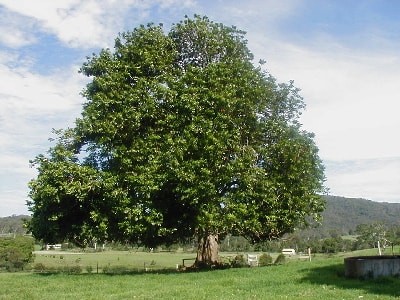 The match is too tight among our "four musketeers" and I'd rather make some pictures and take care of the buggy. Truly, with these old friends, we're in a pleasant mood. Peter plays and wins. I feel as if I were a coach. "You got it !"
But the sun is warm and the beer is cool. After 9 holes and 4 kilometers walking, I point out the club bar for a Guinness, viewing at the same time the - Australian, of course - game of bowls. Here, one is not used to pointing neither to throwing. Here one rolls, silently.
Peter is always working. He is methodical, somewhat slow but efficient. He mainly takes care of breakfast and of desserts as well as of preparing jam. He speaks about his job and about "flashing money". In about two years, he will not have any more to endure his two-ways journey to Sydney.
On his telephone line, his Internet connection turns at 24000; Peter doesn't hope for more. His desk is roomy, next to the hen-house. A quiet place and ideally appropriate for writing and working. The wood stove in the dining-room will do as a winter back-up. The weather never reaches the freezing point, he says. Maybe a piano close to an English style couch would suit, but I acknowledge that always I instinctively seek to find one in someone else's home. I mean a good looking furniture that, tackled with some improvisation, may bewitch the mood. There are also these two nymphs that look at me like Mona Lisa. They match my glance and seem to come from another world, far away from such a hard and remote Australian adventure.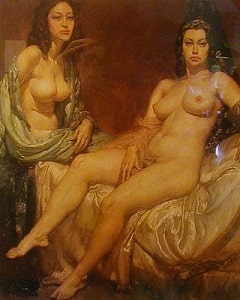 Open since two years, Sherry and Peter have admirably arranged their property where one can see the ponds and the pasture where pass lamas and cows. Geese and ducks scour the land; it's like Noah's Ark. The main house has been built completely on piles. One can enjoy an unrestricted outlook on ponds, meadows and on the eucalyptus forest nearby.
Kaiser, the old house's dog feels warm; he looks for his place, once inside, once outside. He barks twice when someone comes, and then lies down. Caroline fears dogs. but it's lying down that Kaiser chooses to sit.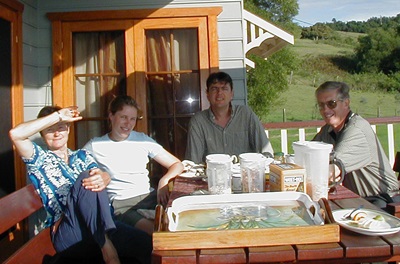 Sherry does not believe in God, she thinks we are just passing by and it ought not to be important. All this while driving her big Toyota towards the hill above the sea at South Brother.
Sherry has such an energy that I can hardly follow her. Fortunately, Caroline is quieter and gets soon in tune, so I can breathe while hoping that the turns will smooth down.
Back at Benbellen comes a couple from San Francisco. Sherry is having a shower, so it's Caroline who greets them. Soon we fraternize. Donna, about 55, originally from Japan, has already been laying the table.
Stephen, a jeweler by trade, has found the library and the little corner that plunges you into a unique universe. They already want to book a room at L'Etoile for their next journey to Europe.
Sherry et Peter are our guests tonight; they proposed a thaïland restaurant close to the ocean. The waitress are pretty and efficient, the meal is excellent and the wine i bought in a store is perfect. I like Australia, i will come back !
Sherry & Peter, Benbellen Farmstay, Hannam Vale, New South Wales, Australia - Map
L'Etoile Guesthouse is looking for 1 motivated trainee, with training course contract from May 20 till September 20. Internship in France

Old romantic Hotel, L'Etoile Guest-House is a mountain retreat in the South of France. With a beautiful park along the Allier River, L'Etoile Guesthouse is located in La Bastide-Puylaurent between Lozere, Ardeche and Cevennes. Many hiking trails like GR®7, GR®70 Stevenson trail, GR®72, GR®700 Regordane way, Cevenol, GR®470 Allier river, Margeride. Many hiking loops. The right place to relax.
Copyright © etoile.fr