| | | |
| --- | --- | --- |
| | Visit and exchange with Bed and Breakfast, Guesthouse, Farmstay and Country Resort Innkeepers in NSW and QLD through Canungra, Uki, Taree, Walendbeen and Picton. | |
Journey in Australia, exchange and discoverey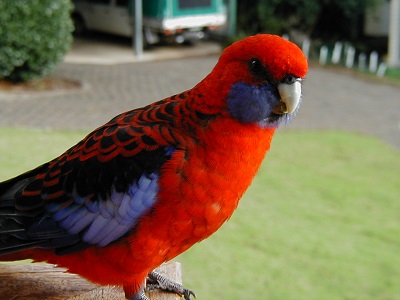 Sitting on the terrace in front of my room, I am catching the first beams of this faithful sun which shines gloriously every day while over in France it is now cold and windy. In front of me are 3 magnificent eucalyptus trees, an english style house and a well cut lawn. Albert, the free pig and a small black dog recently came up here to visit but have since left. Only this parakeet taken out of some wood observes me and feels well on the rail. I copied some Eagles and other anthologies to my computer, a small coffee machine is by my side and the swimming pool only 50 metres away. I can relax and take my time.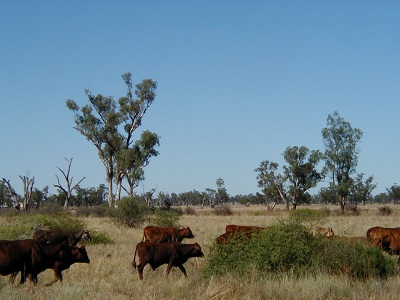 Australia is an unique country, everywhere is nice and clean, houses and gardens are well maintained, restaurants are rarely crammed but always have sufficient staff to serve and welcome customers. One eats well and healthily here, even if the kitchen is not high range! The meat is excellent and the vegetarian can also find happiness.
Sydney is the only city in our journey where we really saw a part of the outside world. Sydney is always a bustle of activity. You can circulate all day long by ferry in the bay with a "pass".
Life is enjoyable in Australia, it is easy to feel the spirit of the people who seem open and friendly. Australians indeed look like they are indeed in the skin. The temperature oscillates between 20 and 30 degrees, and there is always a small breeze. The sky is a gorgeous blue.
Australians mix the culture of America and Europe well. I feel that their heart goes towards Europe even though their lifestyle is more Americanized.
***
Gold-diggers and adventurers.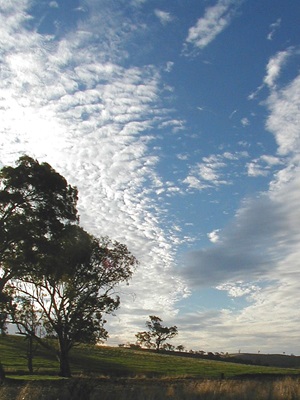 Where are the convicts of past times, the gold-diggers or diamond-diggers? Travelling to the the brilliant Dire Straits concert, (across 350 km in a Holden car 8 cylinders at maximum speed) which was held in the pouring rain in Darwin and the open air gold mines in Katherine.
A car accident occurs in the Northern Territory due to flooding on the road, the driver with a typically Australian hat on his head exits the car with wet cigarettes desperately asking me for a lighter. There are the men in the skin reddened by the earth who stop and then go down from their 4x4 to move a two metre snake asleep in the middle of the road. 7 o'clock in the evening. In Katherine, millions of bats cover the sky and plunge us into darkness for 15 minutes.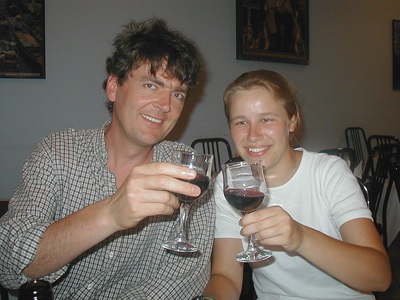 Where are the women? One female to five men. I have been told by this carpenter who come from New Zealand, that women work as waitresses while the men build or work in mines under a heat bordering 40 degrees. The air-conditioning is rigorous during the night, with a permanent buzzing noise, sleep does not come easy in this place. It was in March 1987, and on the same track as the future film Crocodile Dundee .
***
Flying-doctors and Belgian girl's dream
Caroline is a nurse in Belgium, she dreams of working with the flying-doctors in Australia who travel through The Outback or the Bush as it is called. The flying doctors fly in small planes to advice centres. Caroline is a lucky girl as two female nurses and a male nurse encourage her and give advice on the best way to fulfill her dream. It is always difficult to grab opportunities when we do not know what lies ahead. There is a thin line between dreams and reality. Can one be creative and truly be one's self or do we have to be serious and be like everyone else just to be accepted? Can serious people become adventurers? Caroline has a great ability to adapt, she acts with simplicity and loves to learn. She catches life with both hands, always willing to change and grow. She is surprised at her own development and has learned a lot in Australia.
L'Etoile Guesthouse is looking for 1 motivated trainee, with training course contract from May 20 till September 20. Internship in France

Old romantic Hotel, L'Etoile Guest-House is a mountain retreat in the South of France. With a beautiful park along the Allier River, L'Etoile Guesthouse is located in La Bastide-Puylaurent between Lozere, Ardeche and Cevennes. Many hiking trails like GR®7, GR®70 Stevenson trail, GR®72, GR®700 Regordane way, Cevenol, GR®470 Allier river, Margeride. Many hiking loops. The right place to relax.
Copyright © etoile.fr