| | | |
| --- | --- | --- |
| | Reciprocal invitation and exchange ideas between Mowbray Park Farmstay in Picton New South Wales Australia and L'Etoile Guesthouse in La Bastide-Puylaurent Lozere France. | |
Mowbray Park A Domain of ancient english farm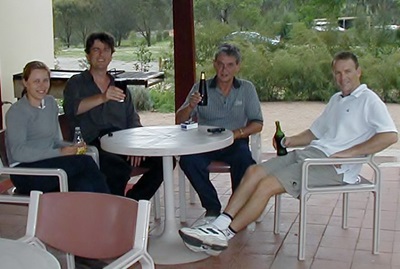 Played part of a round of golf with Terry and his friend John after a one hour quiet ballad on horseback taking us on a tour of the property. Both are very nice and patient for my introduction. The golf is convenient for me, I have the "feeling", got some technical advice from Terry and already it is one to 3, I take out in 6 strokes there... Not bad!
The French are funny, we have a great time together. Around a "black" and two "gold" beers, we speak about business and about geopolitics. Our two countries are so different; 20 million inhabitants in Australia in one and a half times the space of Europe and 65 million people in France.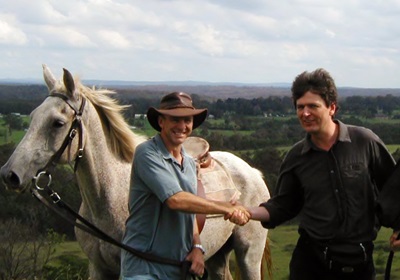 But Terry likes the big spaces and the tranquillity even if according to John, the hospital of the nearby small village does not have a nurse, or this highway connecting Perth WA > Alice Spring NT > Sydney NSW which they will not be able to build due to lack of sufficient taxes.
They are both dynamic and full of spirit. 42-year-old Terry: the stylish young baron, owns a top of the range Land Rover, unmarried and very nice. Charmer of the ladies, he seems more interested in the journeys, a good friend and in finding ways to make life easier. John is in finances, he is an open and interesting lad, he has a great sense of humour and there is always a good atmosphere when he is around. A father of 7 children and a husband to a very beautiful woman called Lisa, he does not get a big head.
Mowbray Park Farmstay is a big domain, a sort of village abbey of english style, brick-built and painted white. Fifteen persons work there; the cleaning ladies, the gardener, the cook, the waitresses, the secretary and finally the guides or the presenters (driving forces).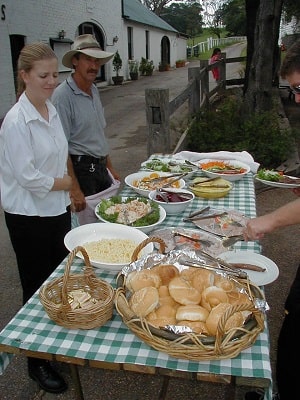 This evening, 60 Japanese students accompanied by their professors come for a few days to the domain, complete board, horse riding, exchanges with a school of the region. Terry tells me that the Japanese are intelligent, they do not stay in their own area of the world, they try to learn about other countries and places. The links between Japan and Australia are real, the second language here is Japanese.
The cook is Dutch, he is called Abraham with a big stomach and wearing typical chef's trousers . He speaks Dutch well but does not seem to want to practice it. Some words of Flemish of the country of my childhood have no big echoes there...
We have a substantial breakfast in a small dining hall. We miss a little bit the boss and his presence as he lives a few kilometres away from here.
The little horseride has long passed, now the time for a real "ride" with Terry and his girlfriend Jane, who is a very good rider who came from Boston last June to work and who was charmed by the boss !Talking about her region, New England, where I had the opportunity to make an exchange with Doris Clark, Innkeeper at Twin Oaks Inn Martha's Vineyard Massachusetts (good friend of Bill Clinton), one feels Jane's homesickness, she likes her city and her connections to the Europeans. Launching at top speed, my horse is followed by Jane's horse. Happy, but nervous, I feel like an exceptional American rider who carries the mail across the US. My last ride was at Eugene Green, Innkeepers at Green Acres Ranch, Royse City, Texas (good friend of Georges W. Bush). He gives me the privilege of riding his best horse. I succeed in following Jane, my horse has a lot nerve, he usually trots but today he is full of energy so he gallops. Terry is more relaxed and follows us a few paces behind. His "Outback style hat" suits him very well, he is the true actor and the boss of this domain.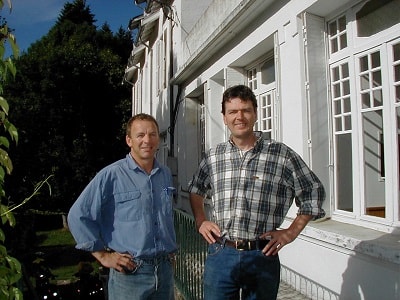 ***
G'Day Philippe,
Had the experience of a lifetime, it was great to see you again, loved staying at your place it has such a good atmosphere, you were right I could have stayed there much longer, the mountains, villages and people were just amazing.
Enjoy your trip and I can not thank you enough for your hospitality.
Cheers to you !
Terry Digger
Mowbray Park Farmstay, Terry Digger, Picton, NSW, Australia - Map
L'Etoile Guesthouse is looking for 1 motivated trainee, with training course contract from May 20 till September 20. Internship in France

Old romantic Hotel, L'Etoile Guest-House is a mountain retreat in the South of France. With a beautiful park along the Allier River, L'Etoile Guesthouse is located in La Bastide-Puylaurent between Lozere, Ardeche and Cevennes. Many hiking trails like GR®7, GR®70 Stevenson trail, GR®72, GR®700 Regordane way, Cevenol, GR®470 Allier river, Margeride. Many hiking loops. The right place to relax.
Copyright © etoile.fr