| | | |
| --- | --- | --- |
| | Reciprocal invitation and exchange ideas between Corang Bed and Breakfast in Wallendbeen New South Wales Australia and L'Etoile Guesthouse in La Bastide-Puylaurent Lozere France. | |
Corang Farmstay Oasis in Australian bush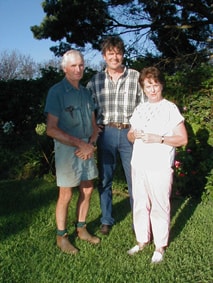 Bush, this endless space where some outback station owner has in their possession a half a million acres. There are fewer trees but always eucalyptus. Not many cows in the outback, but always sheep. Roads are straighter and sky is bigger. We left the tropics of the north eastern coast and travelled south to Sydney, then through burnt out forests to look inland.
Harden (not Holden as the car make which won the 24 Hours of Le Mans in France 20 years ago) is a small town with 2,301 souls seeking to get settled again because here, young people do not have much fun any more. And at 100 km distant, Canberra, the Capital city of Australia, is too far away to hope its residents will come for a week-end here.
Small library kept by young woman who shows us, just after we came in, the computer where we can check our e-mails. She goes outside to smoke a cigarette on the bench opposite and left us alone in this strange place.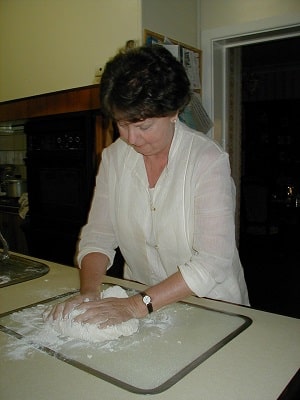 Clothes salesman is happy here, his shop is big but not many people seem to meet here. We are talking about the country and life feeling that he would dream about travelling out of Australia. Apparently, it was not for him at one time.
Outside, in the full sun, the car gets hot.
The main road in Harden is about 50 metres wide. Cars are big and aged. Road-signs are running out but people are very kind and the contact with them very easy.
We drove over to Wallendbeen without ever changing and a little road-sign leads us already to Corang (Aussie) on the right. Now, we are in the real bush where the red mould routes lead you towards the horizon without ever coming across any petrol stations. Suddenly, we come to an oasis, it is our Bed and Breakfast Inn "Aussie", 3 and a half hours from Sydney and 6 hours from Melbourne.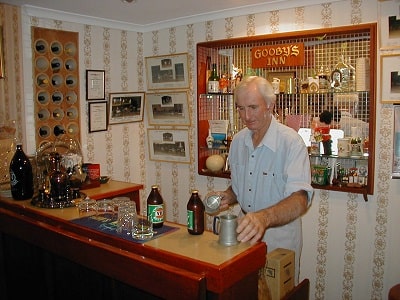 Colleen welcomes us in her house with heartiness and enthusiasm. An old farm rebuilt to a B&B in an old style with family photos on the wall and with a small bar which surprises you directly after having entered the dining room. They have retained 300 acres and they are still cultivating cereals, gathering hay and making pasture for the sheep on the 5 km distant neighbouring farm. Here, the extent is real but it is nothing in comparison with "stations", big farms owning half a million hectares.
Swimming pool, tennis-court, clearview and flower garden, everything has changed since the time of the first far-east colonizers. After one day in the sun nothing but a small flop to the water, the place is very nice and our hosts are very pleasant.
Leant against the bar, Greg, Colleen's husband, is telling us about his nostalgia of the past, laborious work and mutual aid that had disappeared one day. "The real Australians are not in Byron Bay" he tells us. "There, they're just fooling around all the day and waiting for state assistance..." They are called "dole bludgers".
Greg is the type of man who does not know how to stop working any more. His face is graven by vast space and by effort. He has just had a shower and he put on his occasional clothes. We are touched by all this reception.
Colleen, always busy, makes us comfortable and invites us to her kitchen where the atmosphere is always more authentic and more embalmed. The meal is served in the dining-hall with napkins and silver cutlery. Colleen has a big heart and good will in all moments. We spend a marvellous evening.
During next day, Colleen shows us the region of old bushmen, prospectors and bushrangers. Young is a very nice town with its wide central street and its cars parked in "spike". The 50's are still very visible here.
Not far from here (10 km) their son Gerard has set up a store with agricultural equipment. His business prospers well thanks to farmers' profits. A flat depreciation of the Australian dollar makes mainly the meat and wheat export much easier and is what brings prosperity to Australian farms. In few years, Gerard has already built his home on the hill and has already planted a vineyard and another one is being planted now. He has 7.000 Cabernet Sauvignion and Shiraz vines and Gerard's other vineyard on the other side of the drive will be Merlot. This is the new passion of Australians: wine.
The Wine cave of Young reminds me the caves of The Monastery of "Notre Dame des Neiges" Abbey (Our Lady of Snow), the same smell and the same sonority. Even Gordon reminds me of the greengrocer of Langogne. Their wines are excellent, the Pinot Noir, the Sauvignon Blanc and the Chardonnay are the principle types. Jenny rolls wine-casks and tells me about how is she happy for having left Sydney. She wears a cowboy hat and is completely assimilated to this new life.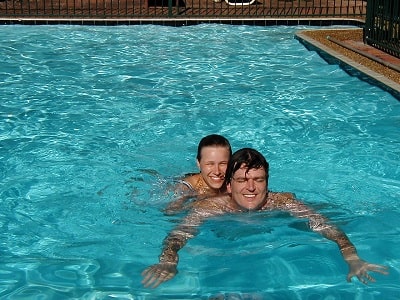 We are having small sandwiches in the garden of JD's Jam Factory - a boss who keeps his business very well and whose scope is large. He produces hand made jam, has a supermarket in the centre of Young and many other occupations. He welcomes us personally in spite of his numerous staff and offers us small jars of his jam and some leaflets about his company.
This is commonplace in Australia, people are amiable, they are never in a bad mood and always want to exchange ideas and, why not, also the business.
We returned to our favourite oasis and we did the second flop into this marvellous swimming pool.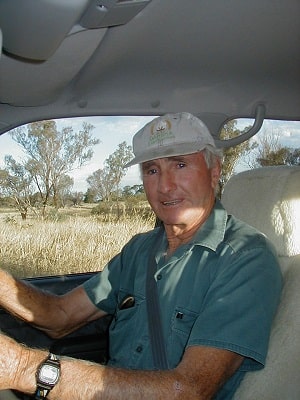 Greg suggested we go to look for kangaroos and then have a drink in a pub in Wallendbeen village. Big off-road car on straight road, thus we rushed off. We went into the eucalyptus forest belonging to Greg's farm and we drove and kept an eye out for this famous animal we have never seen except for dead ones at the roadside. Nothing to do, after having done one round of the property we did not see anything and Greg, disappointed, tells us: "Sorry guys".
We arrived at Wallendbeen at the only pub, in surroundings that used to be a hotel with 7 rooms and to run well, Greg explained to us.
The inside decoration was in colonial style paid for thanks to wood exportation and cheap manpower at that time. Our entry disturbed, a bit, the every day harmony of people drinking at the bar and of the barmaid who, with careful regard, does not let her clients die of thirst.
Greg is known and respected here, he succeeded in his life in the eye of every body and the treat of housewife show the evidence of it. Two draught beers and one black and I let the woman leaning against the bar seduce me. Evidently, she is not drinking her first beer. Her two pals sitting behind in a bar-room, wake up after the flash of my camera, too.
It is not a day like any other, the atmosphere enhances, everybody laughs and the beer flows. Even Greg is a bit surprised that I find myself making a party with my three musketeers of the pub, so quickly. All of them have infernal mug and I cannot stop any more from taking a photo of them. It is a pity that I am not a draftsman. I believe that with a piece of crayon I could narrate their lives of beer and adventure.
Housewife's mother got out of her flat after being attracted by this bloom of activity and started with introductions. She has a face of the real grand mother which safeguards you only by watching her. She will belong to the good souvenirs of the trip.
By this time, Colleen is waiting for us with a meal in the kitchen. Greg heats up the barbecue at the terrace and prepares grilled steaks. Whole Australia is here, well present.
Aussie Farmstay, Colleen & Greg Hines, Wallendbeen, NSW, Australia - Map
L'Etoile Guesthouse is looking for 1 motivated trainee, with training course contract from May 20 till September 20. Internship in France

Old romantic Hotel, L'Etoile Guest-House is a mountain retreat in the South of France. With a beautiful park along the Allier River, L'Etoile Guesthouse is located in La Bastide-Puylaurent between Lozere, Ardeche and Cevennes. Many hiking trails like GR®7, GR®70 Stevenson trail, GR®72, GR®700 Regordane way, Cevenol, GR®470 Allier river, Margeride. Many hiking loops. The right place to relax.
Copyright © etoile.fr