| | | |
| --- | --- | --- |
| | Our stay at L'Etoile Guesthouse in La Bastide-Puylaurent, Lozere, France in trade for time at our country getaway Rock Eddy Bluff Farm in Dixon, Missouri, USA. | |
Meet our friend Philippe Papadimitriou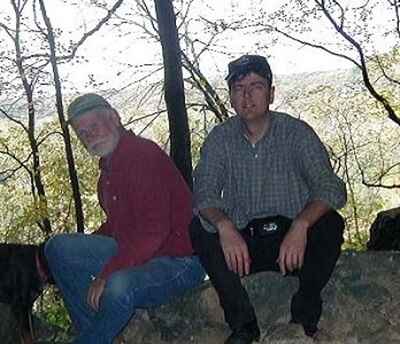 We first met Philippe when he stayed a week with us one winter after he proposed an innkeepers exchange: We would stay at his Guesthouse "L'Etoile" (The Star) in France in trade for time at our Country getaway "Rock Eddy Bluff Farm" in Dixon Missouri USA. A year later, we were at his place.
You should know that we have become very fond of Philippe. We truly like him and have a high regard and respect for him.
An adventurous spirit, integrity, intelligence are obvious qualities. But Philippe is also a comfortable person, easy to be with. He speaks good English with a strong French accent. His is an inquiring mind, free of dogmatic limitations.
Philippe will show you his true self and, I think, would ask the same of you if he is visiting in America. Be yourself and allow him the chance to see your life in a personal way. Show him what you do each day, who you have contact with. Introduce him to your friends. Allow him contact with ideas different than he normally deals with.
These events in his life illustrate the sort of fellow he is: He performed poorly in school, he told us. Wanting to quit school, he asked permission of his father, a journalist in Brussels. "If I see that you are capable of making good grades, then I will allow it," his father told him. The good grades were made easily and at fourteen Philippe was freed from school, ready to throw himself headlong into life.
He worked on organic farms for a few years. Then worked construction jobs in France and Belgium. Later in Peru, Australia, Greece and the USA.
He biked alone around France at 16 years old, from Brussels to Athens at 17 with an ecological demonstration for the Protection of the Mediterranean, and a year later he biked to Scandinavia.
At 21, following a report on television, Philippe decided to search for gold in California. He and his brother (knowing very little English) flew to New York and then hitch-hiked to Northern California. He learned a little English on the way. "When you are obliged to learn, you learn," he said. Among the first phrases he learned: "Hands up !" "When the police have a gun to your head, you learn quickly," he notes. It seems a driver had picked them up on the highway in a car that had just been stolen. They spent the day in jail. What an advendure !
In Arcata, along the pacific-coast, they met a former Vietnam soldier who hosted from 14pm till 16pm few ladies. Original job on a large bed inflated water. Tattooed, strong and gentleman, he did all his best to make those ladies happy. After few days, they found the way to reach those gold prospectors lost in the Red Wood Forest where, as hippies, they live in self-sufficient in their cabanes roofed from slats of Sequoia and their horses. We must follow Willow Creek, Denny and then the track which leads to Eagle Creek.
Once there, "you are in another world. Here, I must make my proven, adapt, see large, forgetting my prejudices ... Only the dog of Brian the boss can still allow to keep me a link with what I learned that I have sensitivity to Europe. Everything is swept, we must move forward, not waiting from the others and be creative to find a little place. All here were part of special forces in Vietnam, their sensitivity is desapointante but rich. This wealth inside feels like the beauty of nature and his real side, raw, without pity. The real life ! What could ask a 20 year old man full of energy and ready to see "something else". This is the university of life. "
"The first nuggets of 1.5 cm 2, reported to me 1500 $. The Gold Rush provides incredible strength. I was in the midst of the Vietnam Veterans who took me for a youngster. They waiting to see what you are worth. One night I smoked a joint of marijuana they grew and I emptied a bottle of vodka. I was high but I was in good company. At Saint John, we drove the bear or deer. The hippies, gold seekers, the kids of eight or nine years rode naked on horses like Indians. After I came down again, I made a peru ... "These are the last words of Philip, owner of L'Etoile Guesthouse, cousin of Jack London. He spent a long part of the night to tell us that the twentieth century can still look like the cabaret of the Last Chance. The curse of Jack London pub. Belgian talks like a writer. Damn, you move '. That's what we did ... Eagle Creek ...

At 30 years old, with his girlfriend, three horses and two dogs rode 650 kilometers across France during 2 months following the Long distance trails (GR), sleeping in the welcoming farmers barns. In fact, Philippe spent a year caring for his two horses and his dog like a real cowboy, he took the opportunity to learn how to shoe a horse, making a Texas saddle, Pack saddle and so on.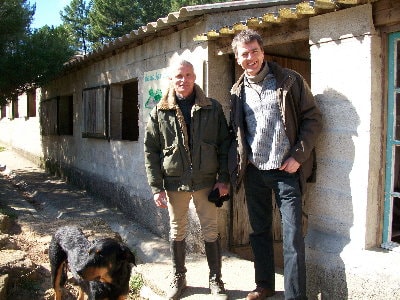 Total immersion on this opportunity gived by his friend Olivier who lended his horses for one year. Owner of Mas Lauzas, a farmstay in Bordezac, a little village between Les Vans (Ardeche) and Genolhac (Gard). He hosted occasionaly hikers in a large dormitory and proposed his table d'hote. "I felt concerned" says Philippe; this is what the ex-gold miner was waiting for !
It was on this trip that Philippe discovered the Hotel Ranc which was then for sale in La Bastide-Puylaurent, Lozere. Though he had little money he declared there and then, "This is my guesthouse !". "What is there about you that causes you to make those choices in your life ?" I have asked Philippe variations of this question more than once. Each time his answer is the same. "I do not choose; life chooses", he replies in heavily accented English.
Here is a description of La Bastide-Puylaurent and Philippe by an English writer who traversed Europe, walking on trails that took him past the door of L'Etoile: "After the Second World War La Bastide-Puylaurent faded back into the forests. For a while the village subsisted on the custom of workers from railrway and from local dam-building projects. Hotel Ranc became a holiday home for old soldiers who had served in Algeria. Now is a guest-house run by the young and immensely tall Philippe Papadimitriou Pausenberger Vanniesbecq, a Belgian-Greek whose grandfather once owned the Hotel de Paris in Cairo. After a series of occupations, from gold-panning in California to hod-carrying in Peru, Philippe had bought the Hotel Ranc, complete with contents, from bedspreads to the oak and chrome Frick refrigerators. "It was intuition, not science", Philippe laughed. "Voila !"
From Clear Waters Rising: A Mountain Walk Across Europe by Nicholas Crane, Penquin Books, 1997 From "A High Sunny Place". The book may be obtained at the following web address: http://www.lulu.com/spotlight/rockeddy by Tom Corey
Visit our two websites:
Tom & Kathy's in Missouri (USA): Rock Eddy Bluff Farm - Map
Philippe's in France: L'Etoile Guesthouse
L'Etoile Guesthouse is looking for 1 motivated trainee, with training course contract from May 20 till September 20. Internship in France

Old romantic Hotel, L'Etoile Guest-House is a mountain retreat in the South of France. With a beautiful park along the Allier River, L'Etoile Guesthouse is located in La Bastide-Puylaurent between Lozere, Ardeche and Cevennes. Many hiking trails like GR7, GR70 Stevenson trail, GR72, GR700 Regordane way, Cevenol, GR470 Allier river, Margeride, Gevaudan. Many Hiking loops around L'Etoile Guesthouse. The right place to relax.
Copyright © etoile.fr