| | | |
| --- | --- | --- |
| | Reciprocal invitation and exchanges ideas between Green Gables Loft Bed and Breakfast in Revelstoke British Columbia Canada and L'Etoile Guesthouse in La Bastide-Puylaurent Lozere France. | |
Green Gables Loft Bed & Breakfast Little Bavary in the Rockies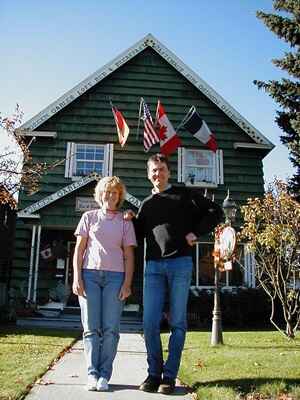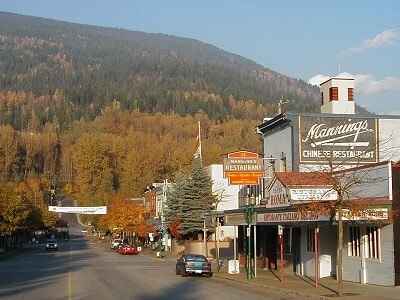 As Bourg Saint Maurice in the Alps, Revelstoke is surrounded by mountains with its national and provincial parks. The Columbia River, the Trans-Canada Higway and cargo trains are slowly crossing the small town.
The high season lasting only 4 or 5 months in this part of Canada is already over when we arrive, navertheless the weather end nature still invite us for hiking and others outdoor activities. Under the protection of UNESCO, the Mount Revelstoke National Park is the home of many mammals of which grizzly, black bear, cariboo, cougar, deer and beaver.
Once arrived in front of the small wooden house painted in green, a good-looking lady with blond hair welcome us with a large smile; it's Gundy Baty, the inn-keeper of Green Gables Loft B&B.
Gundy made this house unique by decorating it with much taste up to the slightest details and the small decoration paintings on cabinets and roof gables remind the Eastern Europe.
Gundy's journey up to Revelstoke from her country of origin (Germany) was pretty long; before landing here, in the heart of British Colunmbia, she was a german teacher in Bordeaux in France, a manager of jewellery store in Toronto, travel agent and also health care person. She adopted two children, Robert from Seychels Islands and Vincent from Columbia, studying now at the university of Toronto.
Gundy loves cooking starting by apple stroudel and pumpkin soup going up to 'choucroute' and home made jams. She is always spontaneous and ready to help her customers in spite of her work and every day worries about the business.
Gundy do not have much nostalgy for Germany but rather for France, the country she seems to know very well.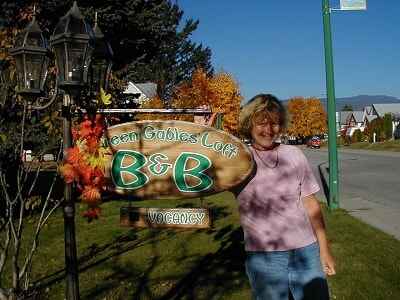 The B&B owners are always a bit special people, they might be looking more for realizing themselves or to realize an ideal or dream. Sometimes, the dream carry them away and their business suffers of it. To stay feet on the earth and the head in the sky...
The Columbia River is being regularly cut by dams. This huge water reserve for Portland and Seatle is so large that we might think we are on the lake. It takes 25 minutes to the inland ferry to cross the river. This fairytale landscape of water, forests and snowed-up summits with all these trees which, in spite of the late October, keep still the leaves glowing in red, yellow up to light green colours.
Few minutes drive from Nakusp on the lakeside, we fall on "Halcyon Hot Springs", a small spa with limestone water coming out at more than 50°C. Big log building of Halcyon welcoms people with its three pools, one at 38C, the second at 42C and the small one at 12C. From the pools, we have an unimpeded outlook on the Columbia River (here called Upper Arrow Lake) and on the mountains.

Captain Robert Sanderson baught the lot in 1890 from the Crown. Since the construction, the Halcyon Hot Springs Hotel was a popular destination, a kind of local Deauville, up to 1955 when a boiler explosed and the hotel burned to the ground.
This magical place of rest in the unique surroundings is part of the real pleasures during a trip in Canada.
The Park Story
As the road winds up the mountain, you'll see flourishing rain forest give way to open snow forest. Near the top of the road, wide meadows are scattered with stands of trees. In late July and August these meadows bloom with a flamboyant carpet of wildflowers. Higher still is the treeless alpine. Deep snow blankets the mountains and valleys each winter. It dictates the growth and habits of all plants and animals in Mount Revelstoke National Park. Up high, the snow season stretches from October to July.
Green Gables Loft B&B à Revelstoke en Colombie Britannique Canada - Map
L'Etoile Guesthouse is looking for 1 motivated trainee, with training course contract from May 20 till September 20. Internship in France

Old romantic Hotel, L'Etoile Guest-House is a mountain retreat in the South of France. With a beautiful park along the Allier River, L'Etoile Guesthouse is located in La Bastide-Puylaurent between Lozere, Ardeche and Cevennes. Many hiking trails like GR®7, GR®70 Stevenson trail, GR®72, GR®700 Regordane way, Cevenol, GR®470 Allier river, Margeride. Many hiking loops. The right place to relax.
Copyright © etoile.fr