| | | |
| --- | --- | --- |
| | Reciprocal invitation and exchanges ideas between Golden Dreams Bed and Breakfast in Whistler British Columbia Canada and L'Etoile Guesthouse in La Bastide-Puylaurent Lozere France. | |
Golden Dreams Bed & Breakfast The Skiing appointment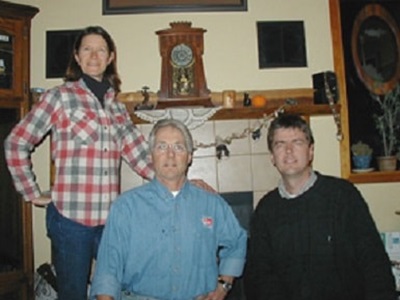 As the night falls, we are driving to the dense obscurity of the winding Sea to Sky Highway leaving Vancouver. 111km further North we enter Whistler Village which looks a bit like "Val d'Isere" in France, the kingdom of the ski. During the last twenty years the town went through a real boom, and has become one of the most fashionable ski resorts of North America.
Ann and Terry Spence own a beautiful house in the residential area with Alta lake and Rainbow Park at their doorstep. This district of town is still preserved from real estate developers and faces the valley where Terry takes us in the morning , along the Valley Trail. A tiny footpath winding in woods is being used by local residents to pick mushrooms or walk their dogs. The always present sun makes us think that it never rains here, or rather that we are very lucky.
Ann and Terry have a business which is running pretty well, they are both happy and we can feel it in their house and through the contact with them. Outgoing, openminded and very positive. They have already made up their trip to L'Etoile Guesthouse with their two children, it's going to be probably next May. It was 15 years ago that they embarked on the adventure of welcoming and lodging people. At that time, the only requirement to start was to inform the municipality and the neighbours that we are opening the Bed and Breakfast, explains Ann. It has changed since, the conditions are now strict and costly.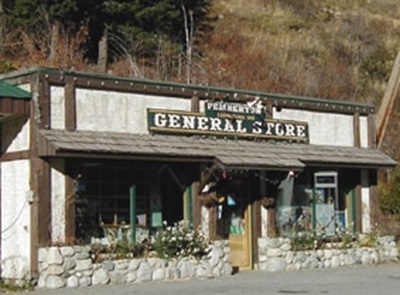 In the afternoon we drive to Pemberton, a small town about 35 km north of Whistler. At the end of the route just before the native lands are gravel roads used by lodging trucks, Pemberton reminds me of Willow Creek in northern California, where the prospectors used to come in their old pick-ups once every two weeks to buy supplies. The locals are in the streets and look rather idle. They live in their mobile homes and ugly cabins in Mount Currie.
If you go to Pemberton you must stop at the "Pemberton General Store" on Prospect street. It is a family clothing shop where you can find everything from trapper hats, lumberjack shirts, mocassins up to thick winter coats. You could even buy a guitar and ask the boss on advice about the area. It was here where they used to exchange gold nuggets against clothes. Do not continue your journey on the gravel roads heading north without picking up supplies in Pemberton. The local public library is pretty useful to check emails, the lady at the counter is nice and always smiling .
After about 30km of gravel road from Pemberton you arrive at Meagger Hot Springs, eight levels of water at different temperatures and for $5 you can enjoy it as long as you want. But the gravel road is far too rough and long for a small tourist car like ours. The off-road trucks and pick-ups belt along at top speed and we have to yield and pull into the roadside, as in Australia on the wide gravel roads in the Northern Territories.
Here in the valley on flat and fertile lands grow the best seed potatoes . Several beautiful farms from the old times, with huge hay barns built from wood and painted maroon, are surrounded by magnificient mountains covered with snow.
The decoration of the kitchen in Ann and Terry's Bed and Breakfast looks a bit like the cottage of "chaperon rouge", very pleasant as well as the living room with the fire place.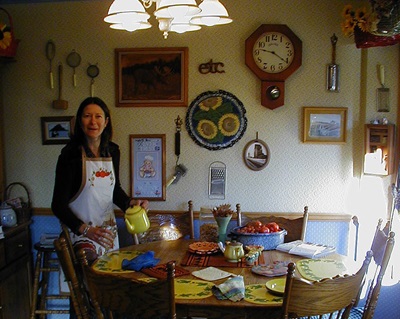 Terry, quiet, young and athletic, works as a ski instructor during the season. Then, he works seven days a week with his clients coming from the USA, Japan and Canada. He used to be the coach of the Canadian National ski team and he knows all the ski resorts in Europe. It's a very chic and high rated ski resort, his clients have lots of money, and are very wealthy. Some of them come by plane to Vancouver Airport and from there by helicopter to the bottom of the ski slopes.
A hockey match is taking place this evening at the new Whistler stadium.. Terry belongs to the team but he won't play today. It is difficult to realize that the average age of the players is about 50, as they are fast and good skaters. With helmets and wrapped up with protection parts they look like american football players. There are not many spectators in the terracing but Terry knows everybody, and very quickly I feel comfortable in this world which is strange to me. This is an environment which is away from all the classical tourist packages. My mind of "gold seeker" is satisfied, I feel wonderful and really in Canada.
The road leading to Lillooet, a town 100 km northeast from Whistler, plunges us into the Canada of lakes, mountains, coloured forests and rivers, where bears end elks come to drink. Lillooet, surrounded by native lands and with its 5000 inhabitants, is worth making the detour. Most of the inhabitants are native people, ancestors of "St'at'imcs", the tribe that lives on its own lands since more than 9000 years.
As a vestige of another, but not so distant time, the hanging tree... gives witness to the cruel life and of an efficient justice. The last look of the hanged on the valley is worth to come and see...
Wild Man John
With his battered black Stetson, red polka dot handkerchief and broken nose, John Millar, a hard-bitten wilderness man, had come from Texas to find peace in the Coast Mountains. John was one of the more amiable trappers, providing room and board for those travelling from Squamish to Pemberton on the Pemberton Trail. His stopping house became well known for its food, even though visitors often enjoyed items not found on any other menu, including possum and bear stew.
Golden Dreams B&B, Ann & Terry Spence, Whistler Mountain Village, BC, Canada - Map
L'Etoile Guesthouse is looking for 1 motivated trainee, with training course contract from May 20 till September 20. Internship in France

Old romantic Hotel, L'Etoile Guest-House is a mountain retreat in the South of France. With a beautiful park along the Allier River, L'Etoile Guesthouse is located in La Bastide-Puylaurent between Lozere, Ardeche and Cevennes. Many hiking trails like GR®7, GR®70 Stevenson trail, GR®72, GR®700 Regordane way, Cevenol, GR®470 Allier river, Margeride. Many hiking loops. The right place to relax.
Copyright © etoile.fr