| | | |
| --- | --- | --- |
| | Reciprocal invitation and exchanges ideas between Old Farm B&B in Cowichan Bay (Vancouver Island), British Columbia, Canada and L'Etoile Guesthouse at La Bastide-Puylaurent, Lozere, France. | |
Old Farm Bed & Breakfast Indian summer at Vancouver Island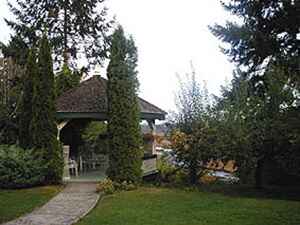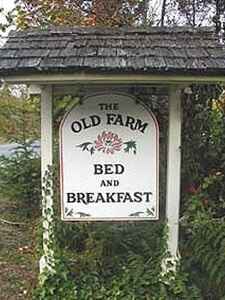 Vancouver Island is as big as Belgium and keeps the history in its atmosphere, history born together with native people coming from forests and river banks. Are there always spirits here? The typically american easy-going lifestyle seems to be opposed; roads do not really match with the leaves in autumn colours. Can we find the real tourism here? We should ask the native who lives in a mobile house what kind of thinking we need to understand the context of this magic place...
If we take the bus from Vancouver to Horshoe Bay and then the BC ferry to Nanaimo, the arrival to this giant island is soft and mild like the indian summer we encounter here. Barbara and George Mac Farlane, since few years innkeepers of the Old Farm B&B, welcome us with smile and simplicity. Both are relaxed and make us feel at ease.
From the suite usually reserved for honey mooners, we have the view of the bay and the storage of logs ready for saw mills a bit further. Canada is pretty well present.
Above the bottle of Cherry Point or Pinot Blanc Auxerrois, Barbara and George are talking about their lifes and how did they come to Vancouver Island. Barbara grew up in Zambia in Africa where her father worked as an engineer in copper mines and she left for Canada when she was seventeen. George came to the western Canada from Toronto where he used to work as a journalist for an important canadian newspaper.
Soon it's going to be 8 years since they have opened their B&B in Cowichan Bay. We appreciate their attention and disponibility in every moment of our stay at the Old Farm. Breakfasts are prepared with care and served on fancy tablecloths with silver cuttlery. At the age of 78, George remains young and very openminded, as the former journalist he seems to be interested in every subject of conversation, he looks distinguished and relaxed with a cup of coffee in his hand and sitting on the arm of the sofa.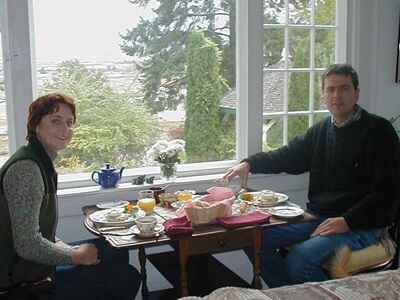 A plan is raised(drawn up) on the table of the dining room, a nouvelle cuisine in sight, better thought but which coutera dear, very dear(expensive, very expensive). Barbara in dream already, George follows and I I see " The Star " and the trap to invest(surround) too fast for a dream...
Duncan is a small town 10 km further in the North of Cowichan Bay. It is the "totem town". Wherever we go we bump to the totem poles of all sizes which are well exposed in downtown. The cargo train overpassing 1 km is slowly crossing the town centre. We can hear its strong and long horn honk. It makes us think about the America of western movies.
As many Canadiens do to escape long and cold winters, the Mac Farlane's will soon leave to meet the sun and the softness of Hawaian beaches.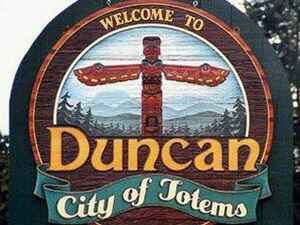 Following my jet lag I found myself in their gazebo, sort of small, round and covered terrace, at 6 o'clock in the morning. Watching the bay, an idea of berthing the conoe on the island comes to my mind. Exactly the same picture as 20 years ago when I met my prospectors after 5 days of walking. Eagle Creek, this tiny river lost in the Red Wood Forest in northern California. Take the time to discover to do not loose any of the atmosphere.
Cowichan Bay Village, a tiny fishing community surrounded by fertile farms hugs a quarter mile of sheltered coastline across the bay from majestic Mt. Tzouhalem. Once the hub of unparalleled fishing opportunities for first Nation's people and then a fleet of picturesque commercial fish boats, this quaint cozy village is electic mix of First Nation's culture, industry, commerce and boating experiences of every description.
Duncan City of Totems. Originally a whistle stop for the E&N Railway, the City really began to expand when a train station, now a national heritage site, was built in 1887 attracting new business and settlement to the area. There are over 80 Totem Poles erected throughout the City, each one a pictorial record of the Cowichan peoples' legends, myths and family ancestry.
Old Farm B&B, Barbara and George MacFarlane, Cowichan Bay, BC, Canada - Map
L'Etoile Guesthouse is looking for 1 motivated trainee, with training course contract from May 20 till September 20. Internship in France

Old romantic Hotel, L'Etoile Guest-House is a mountain retreat in the South of France. With a beautiful park along the Allier River, L'Etoile Guesthouse is located in La Bastide-Puylaurent between Lozere, Ardeche and Cevennes. Many hiking trails like GR®7, GR®70 Stevenson trail, GR®72, GR®700 Regordane way, Cevenol, GR®470 Allier river, Margeride. Many hiking loops. The right place to relax.
Copyright © etoile.fr