| | | |
| --- | --- | --- |
| | Lillooet is located in the Coast Mountains between Whistler and Kamloops British Columbia Canada. | |
Lillooet on the Coast Mountains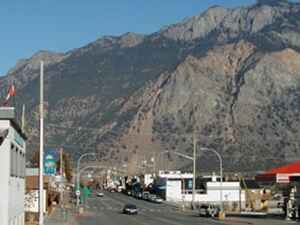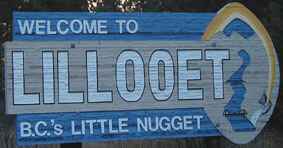 Lillooet is the regional hub, serving a population of approximately 5000. Our earliest residents were self-sufficient fishers and hunter-gatherers who lived in harmony with the seasons. Explorer Simon Fraser arrived here June 30, 1808, on his arduous journey down the river that bears his name. Except for fur traders' visits, little changed until 1858 when goldseekers poured in.
Lillooet was first known as Cayoosh Flat because of the good grazing that cayuses (Indian ponies) enjoyed here. Governor James Douglas named the town Lillooet in 1861, but his geography and his spelling were both suspect. Lillooet is a misspelling of the Indian word LEEL-wat, which refers to the people of the Mount Currie area.
In the 1860s, Lillooet was the second largest settlement north of San Francisco and west of Chicago. As Mile 0 of the Cariboo Road, it was a lusty, brawling place with 13 saloons, 25 licensed premises and a population of 16000. Though the prospectors moved on, the community survived.
In the 1890s the Golden Cache mine yielded a multi-million dollar strike. Lillooet prospered when the railway arrived in 1912, and the discovery of Bridge River gold meant another boom. Though good times and bad, some thigs never change. Lifelong residents and those drawn here from around the world echo those sentiments.
Forests are dynamic, constantly changing of plant and animal interrelationships. Some changes are long and almost imperceptible; others, such as fires, are sudden and cataclysmic. Fires are common in the hot, dry interior of B.C. and plants here have adapted to cycles of fire and regrowth. After a fire, new growth begins with sun-loving fireweed,alder and salmonberry bushes, and aspen and alpine trees. As these plants grow taller they provide shade for Douglas firs. When these trees age, they become susceptible to fire, and the cycle begins again a century later.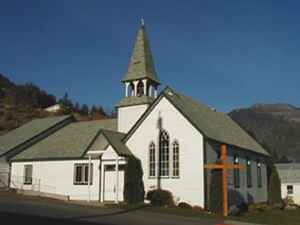 The types of trees and plants change from low to high elevations, and from sunny slopes to shaded areas. Trees found at lower elevations are Ponderosa pine and Douglas fir. As elevation rises, the trees gradually change to include Lodgepole pine, Engemann spruce and Sub-Alpine fir. The trees usually harvested in this area are pine, spruce, balsam and Douglas fir. In some of the wetter areas, towards the coast, cedar and hemlock are also harvested.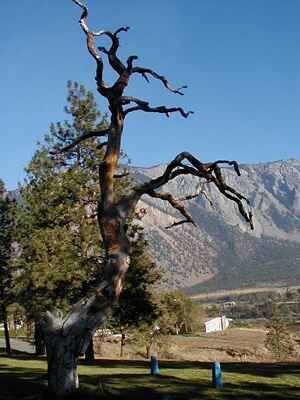 The St'at'imc tribes
The traditional territory of the St'at'imc is approximately 100 square miles extending from Pavilion in the north to Port Douglas in the south. They have lived here for 9000 years, with the Upper St'at'mic living in the region north of and including Anderson Lake.
The tribe consisted of many communities of family groupings that were inter-related through language, culture, shared resources, trading and marriage. Their economy was based on hunting, fishing, gathering plants and medicines, and trading goods and services. They were semi-nomadic, traveling in the spring, summer and fall to where food was plentiful. In winter, they occupied permanent dwellings known as pit houses.
The St'at'imcs had many chiefs or leaders in pre-contact time. Chiefs possessed special knowledge, skills and qualities that were valuable in ensuring the tribe's survival. Decisions were made by consensus for the benefit of all. At various times during the uear, the people gathered together to trade, socialize, present gifts (especially food), discuss and plan. They were known for their generosity, kindness, industry, spirituality and peaceful nature but defended their territory and honor as required. Often, they warded off raids by nearby tribes. The St'at'imc and their language and culture have survived in the face of adversity. The present and future generations will continue to maintain their language and culture, as they did in the past.
Hangman's Tree
This old Ponderosa Pin was used as a gallows for the administration of justice more than 100 years ago. At that time, the law was Sir Matthew Beghie, better known as "The Hangigng Judge". There is record that two thieves were hanged here and buried beneath, but legend has it, in all, eight law breakers swung from it. In 1859, Juge Begbie 's clerk wrote, "Lillooet is a thriving place, and beautifully situated on the Fraser".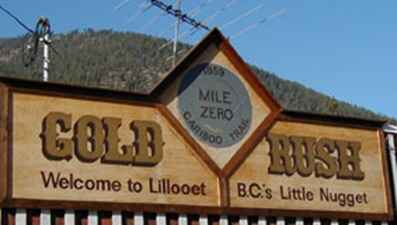 Lillooet is an important location in Aboriginal history and culture and remains one of the main population centres of the St'at'imc (Lillooet Nation), and today it is one of the southernmost communities in North America where indigenous people form the majority. Just over 50 per cent of the people in Lillooet and area are St'at'imc. First Nations communities assert the land as traditional territory since time immemorial. Considered to be one of the oldest continuously inhabited locations on the continent, the area is reckoned by archaeologists to have been inhabited for several thousand years. The immediate area of the town attracted large seasonal and permanent populations of native peoples because of the confluence of several main streams with the Fraser and also because of a rock-shelf just above the confluence of the Bridge River which is an obstacle to migrating salmon.
Many archaeological and heritage sites are in the vicinity of the town, including Keatley Creek Archaeological Site, one of the largest ancient pit-house communities in the Pacific North West. This rock shelf, known in gold rush times as the Lower Fountain, was reputedly made by the trickster Coyote, leaping back and forth across the river to create platforms for people to catch and dry fish on. This location, named Sat' or Setl in the native language and known as the Bridge River Rapids or Six Mile in English, is the busiest fishing site on the Fraser above its mouth and there are numerous drying racks scattered around the banks of the river canyon around it. by Wikipedia
Lillooet, British Columbia, Canada, Canada - Map
L'Etoile Guesthouse is looking for 1 motivated trainee, with training course contract from May 20 till September 20. Internship in France

Old romantic Hotel, L'Etoile Guest-House is a mountain retreat in the South of France. With a beautiful park along the Allier River, L'Etoile Guesthouse is located in La Bastide-Puylaurent between Lozere, Ardeche and Cevennes. Many hiking trails like GR®7, GR®70 Stevenson trail, GR®72, GR®700 Regordane way, Cevenol, GR®470 Allier river, Margeride. Many hiking loops. The right place to relax.
Copyright © etoile.fr