| | | |
| --- | --- | --- |
| | Reciprocal invitation and exchanges ideas between Olde Mill House Bed and Breakfast in Chemainus Vancouver Island British Columbia Canada and L'Etoile Guesthouse in La Bastide Puylaurent Lozere France. | |
Olde Mill House Bed and Breakfast The great Marion's welcome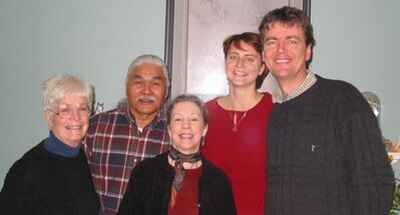 M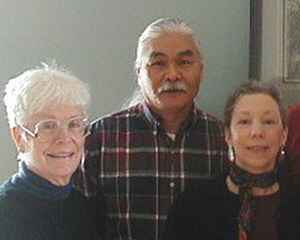 arion Hawkins, a lady in her sixties, has a real sens of welcoming people. Small, reserved and willful, she manages her Bed and Breakfast with generosity and attention. We feel like in the real B&B as we imagine it and hope it should be like,... Marion is the queen of B&Bs. We are at Marion's and the atmosphere is genuine. She is already serving an aperitif and shares it with us; three different kinds of wine coming with crakers, cheese and pate.
Originally from New Zealand, Marion moved to British Columbia 25 years ago. "A succession of good opportunities" she says to me, "and then... it was high time to leave and live something else and something more valuable". New Zealanders as well as Australians knew how to keep their freshness, they are always ready to leave if the time has come, always careful and opened to surprises the life brings.
For the evening meal, we are six guests at the table in a nice and old-fashioned dining-room in Victorian style, Wendy and Ralph Burgess, owners of the Bed & Breakfast "Wilp Gybuu" ("the wolf's house" in native language) in Tofino, small harbour town at the Pacific West Coast of the Vancouver Island; and also Colleen and Ron Wike, a couple from the next door who runs small store with handmade quilts "Sage House Studio".
The discussion is lively and then Ralph, who is native, launches us: "The great think about Europeans is that we can express ourselves freely and without complex even if it concerns politics !".
Why not and so much the better... but I can remember some discussions with set fire at my place in Gite de L'Etoile when I would encourage myself or rather take a glass of good Belgian beer and go to try to extinguish all fires to keep the friendly atmosphere at the host table.
Marion prepared us a delicious meal and now, she takes advantage of the discussion to get relaxed a bit and she is happy to see her guests enthousiast and bathing in the magic of the Olde Mill House Bed & Breakfast atmosphere.
Ron who comes from Washington state, USA, does not defend himself against any of some attacks towards United States and its power. It is quite strange but I can notice more and more often during this trip a kind of growing fellow feeling with Europe. Would they have an impression we are smart ?? Is this the euro which makes the Europe real for them ? I can hear more and more Bush is giving himself a rough handling and bad image, but, of course, we are not in Texas and Canadians don't want to impose their point of view to entire world and stay very tied up to the US economy; they are a bit jammed.
The small entertainment with the digital photos in my notebook has always an effect; France and La Bastide-Puylaurent surroundings seem to be like a paradise for my spectators . The trails as 'La Regordane ' or 'Le Cevenol' make them wish to go through the screen. And it is when they come across the photo of my crowded host tables than they do not understand any more; "and you do everything by yourself ?!" "And the supper as well ?!"... Marion, she understands though and she is already thinking about her next trip to the other side of the Atlantic Ocean. She will then take advantage of "L'Etoile" and have a good break there.

Chemainus is a small and cozy town at the seaside. There is one thing which will strike you immediately; all the big mural paintings scattered all over the town. You can go through and visit whole town of Chemainus only by following the footsteps painted on sidewalks all around the streets. Thus you will have the opportunity to see all the paintings and enter small handcraft and collectibles stores such as "The Old House" in Marion's neighborhood.
Founded as an unincorporated logging town in 1858, the Chemainus is now famous for its 39 outdoor murals. This outdoor gallery has given birth to many businesses, including a theatre, antiques dealers, and eateries. The tourist industry stemming from the murals helped rejuvenate the town after its large sawmill closed in the early 1980s and was replaced by a smaller but far more efficient mill.
The name "Chemainus" comes from the native shaman and prophet "Tsa-meeun-is" (Broken Chest). Legend says that the man survived a massive wound in his chest to become a powerful chief. His people took his name to identify their community, the Stz'uminus First Nation, formerly the Chemainus Indian Band. The railroad arrived in the 1880s and by the early 1920s the town's population had ballooned to 600 persons. Chemainus was eventually designated a census populated area by Statistics Canada comprising the more built-up residential and commercial neighbourhoods. Its population had further grown to 3035 residents by 2011. A larger more inclusive Chemainus area is customarily regarded as comprising part of the District of North Cowichan that lies north of the Chemainus River. This is the area covered by the Chemainus Advisory Committee set up as a consultation body by North Cowichan.
Olde Mill House B&B, Chemainus, Vancouver Island, British Columbia, Canada - Map
L'Etoile Guesthouse is looking for 1 motivated trainee, with training course contract from May 20 till September 20. Internship in France

Old romantic Hotel, L'Etoile Guest-House is a mountain retreat in the South of France. With a beautiful park along the Allier River, L'Etoile Guesthouse is located in La Bastide-Puylaurent between Lozere, Ardeche and Cevennes. Many hiking trails like GR®7, GR®70 Stevenson trail, GR®72, GR®700 Regordane way, Cevenol, GR®470 Allier river, Margeride. Many hiking loops. The right place to relax.
Copyright © etoile.fr