| | | |
| --- | --- | --- |
| | Reciprocal invitation and exchanges ideas between Horse Creek Guest-Ranch in Calgary Alberta Canada and L'Etoile Guesthouse in La Bastide-Puylaurent Lozere France. | |
Horse Creek Guest-Ranch On the prospector trail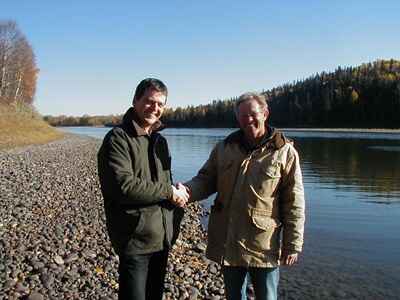 It's about five o'clock and our Neon is passing through a typical ranch style entrance gate. The ranch seems to be deserted but horses curiously turn their heads towards the noise of the engine letting us know that we are approaching civilization. The door of the house opens and Esther, the cook in her sixties, welcomes us warmly and with simplicity. "Are you the guests from France we are expecting? ", "Did you have dinner ?" Immediately, we feel better after a 1200 km trip from Vancouver throughout the large spaces of western Canada where we can already feel the winter coming.
Emmy has just left for Edmonton airport to pick up her husband Siebe coming back from Holland (their country of origin). They'll be back at the ranch late in the night. That's why we'll meet the Brouwer's, innkeepers of Horse Creek Ranch, in the morning.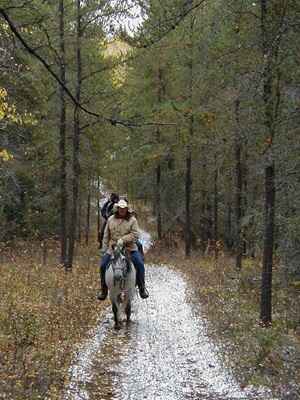 Fences, horses, barns, birches coloured from yellow to red and forming kind of artistic stains in the middle of spruce and pine forests. It is the real Canada of the Far-west with its Klondike trail of prospectors heading to Yukon. "It was around 1898 but even now", Esther tells us, "My son's friend returns there every summer as do many others !" Is that the real gold rush ?!
This judicious mixture of nature, vision of wellness and brotherhood between prospectors.
Esther knows many stories about these adventurers. She used to show horses with her husband, and after he passed away her life became quieter as she works as a cook at the local forestry and sometimes helps Emmy at the ranch. But she still remains a witness of the past. I really regret not bringing my tape recorder with me, because everything she says is so full of passion and life.
Fort Assiniboine, just 14 km to the northeast from the ranch, was the strategic location between 1823 and 1860 as the Hudson's Bay Company trading post. It is situated on the Athabasca river only two hours drive from Edmonton, the capital city of Alberta. To get there from Vancouver, we crossed the province of British Colombia by Merritt, Kamloops, Valemount and the Rocky Mountains by Jasper National Park. After crossing these impressing mountains covered with snow, we descended to the prairies and forests in the centre of Pacific Canada. It is very difficult to respect the 110km/h speed limit on the straight roads getting wider and disappearing to the horizon.
How did Siebe discover this lost location? It's a long story but above all his family became conscious of the fact that they were able to live elsewhere than in Holland. That there was certainly some place more suited to their demands, a place which would allow them to realize themselves, and eventually to expand. Siebe is convinced about this, and his energy is visible at every moment.
It is October, the 13th, nice and sunny weather, the leaves are still on trees, Canada is a very agreeable place to live. There's even a small restaurant in Fort Assiniboine run by a Cantonese man. Unfortunately, the only two words I know in Mandarin are : "xiexie" meaning Thank you and "nihao" meaning How are you doing? Two words I learnt during my first trip to Northern Territory in Australia. The place where the movie "Crocodile Dundee" was shot, in Katherine, a small town south of Darwin.
Cougars, elks, stags, wolves, deer, bears, beavers; the list of wild animals in these spaces is amazing. The cougar or lynx climbs up a tree and waits for its prey. He has to be more than one meter and a half above the ground so that his smell can't be located. Then he throws himself with his claws ready to kill.
When we went horseback riding we could see only deer, swirls and a partridge. Wild geese in the sky are migrating towards Southern America to spend the winter there. Siebe can recognize tracks of all the animals in the area; strokes of bear claws on birches, small bushes grazed by deer and then, all these trees with marks of beavers teeth.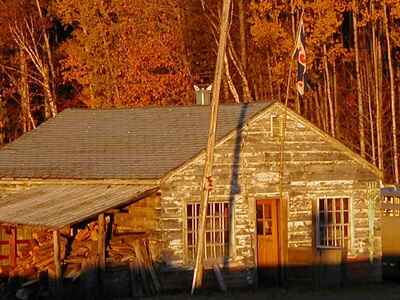 About twenty horses, forty head of cattle and one dog. Siebe and Emmy don't regret having left Holland where they used to be farmers. "There is no future for the farmers in Holland" says Siebe. And what about the nostalgia ? The Gouda cheese, the Speculous biscuits and of course, peanut butter ? "We can buy all these products in the grocery store in Barrhead" answers Emmy. Barrhead is a small town where we can find everything. This is also the place where I bought my canadian jacket and my fur-lined gloves. A little surprised retail lady is curious about how we have landed here, in the real Canada of pioneers and of the still neat country music. Internet ma'me ! Internet !
The Athabasca River rises in the Rocky Mountains close to Jasper and gets wider and wider in Saskatchewan and the Northwest Territories before it flows into the waters of the Arctic Ocean. The river freezes in winter time, as it flows along in spite of its strong current.
It is on this river, where so many Indians and pioneers paddled, that we follow in turn. Three hours on the the water under the blue sky of an Indian summer. The Athabasca is strewn with islands where hunters sometimes come to disturb the bears, the run-up, the caribou, the cougar, the eagles and many others . Feel Canada, vibrate the earth, the forest, the river, and this rich silence which surrounds us. Go out finally of the tourist system and be welcomed with simplicity, and without falling into compulsory stereotypes.
Horse Creek Ranch, Siebe & Emmy Brouwer, Fort Assiniboine, Alberta, Canada - Map
L'Etoile Guesthouse is looking for 1 motivated trainee, with training course contract from May 20 till September 20. Internship in France

Old romantic Hotel, L'Etoile Guest-House is a mountain retreat in the South of France. With a beautiful park along the Allier River, L'Etoile Guesthouse is located in La Bastide-Puylaurent between Lozere, Ardeche and Cevennes. Many hiking trails like GR®7, GR®70 Stevenson trail, GR®72, GR®700 Regordane way, Cevenol, GR®470 Allier river, Margeride. Many hiking loops. The right place to relax.
Copyright © etoile.fr